Happy Wednesday, hope your week is going well. I think I'm still recovering from the weekend!
Although I didn't eat massively unhealthily at the festival, I did eat a lot, especially white rice which always makes me feel yuk, and along with the side affects of the alcohol I've been feeling full, bloated and lack lustre. On Monday morning my face looked swollen and puffy! I have definitely been feeling the need to eat simpler food these last couple of days – this is what I ate yesterday :-)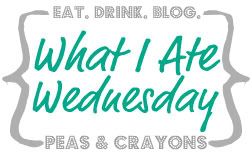 I started the day with a Challenge Detox Yoga Podcast from Yoga Download which was wonderful and just what I needed to stretch out! I then had my usual lemon juice in warm water and vits followed by a gorgeous green smoothie:
This one contained spinach, frozen mango, a pink lady apple, coconut water, mesquite, spirulina, barley grass, ground flax, msm crystals, ice, xanthan and guar gum for thickness and topped with fresh strawberries and some raw sprouted buckwheat.
Lunch started with a chopped green apple and a sweet and juicy persimmon:
Followed by an amazing simple salad with the most delicious new dressing:
Salad containing romaine, cucumber, carrot, red and yellow pepper, sugar snap peas and my Dreamy Creamy Avocado Dressing:
Dreamy Creamy Avocado Dressing (vegan, makes about 1 cup)
1 ripe avocado
1 clove of garlic, minced
juice from one medium lemon
1/2 cup of tightly packed parsley leaves
pinch of salt or splash of soy sauce or braggs
Add the avocado flesh and all other ingredients to a food processor and blend. You may need to add a touch of water to loosen it up to your desired consistency:
This dressing is so creamy and full of flavour, I could sit and eat it with a spoon which is always a good sign with dressings if you ask me! You could also replace the parsley with coriander for use with Mexican themed dishes.
Mid afternoon I snacked on some medjool dates and another green apple along with what must have been my 5th cup of rooibos tea:
I headed to the gym and did 30 minutes of cardio intervals on the machines followed by yet another awesome body pump class! Unfortunately the instructor is on holiday for two weeks and they have no cover so I'll be winging my Tuesday evening strength workouts for a while.
Dinner was a simple but very tasty meal. I had the biggest craving for broccoli!
Roast spaghetti squash with courgette noodles and a tahini miso sauce along with some steamed broccoli and shoyu. For something so basic this was lovely, that tahini miso sauce makes everything taste so good!
For dessert I whipped up a quick and simple smoothie with freshly made almond milk, ice and a scoop of Vega choc a lot protein powder:
This was ultra creamy and chocolately, yum!
After those eats I feel like I'm almost well and truly recovered!
How do you feel after eating more 'indulgently'? I do think that we all have our own definition of 'indulgent foods': for me its eating more than usual rich, processed and sugary foods and too much caffeine and alcohol, along with a lack of veggies. When I eat like that for more than a day or so I start to feel rubbish!
I'm really glad that my body seems to naturally crave healthier, simpler foods after a period of indulgence, this helps me truly enjoy eating indulgently without any guilt what so ever as well as putting my 'oh my god I might gain all the weight back' thoughts to rest! What would life be without a little indulgence every now and again anyway? Those Sailor Jerry's are so worth it!
Have a great week!