Hello everyone, hope you've all had a great weekend! Last night was my best friend Claire's 30th Birthday Party. She decided to go with an 80's theme so we had lots of 80's music and 80's food like vol-u-vents, cheese and pineapple on sticks and lots of sweeties:
The buffet was fabulous! My other best friend Kate and I bought her this amazing birthday cake:
It was wonderful – all decorated in an 80's theme! I'm sure your all dying to know what I went as ;-) may I introduce Laura the Punk:
Pulling my punk attitude face! My costume was mostly home made. I bought the plain t-shirt for £2.50 and painted the union jack and 'destroy' logo myself, as well as ripping all the seams up and ripping some holes in it. I got the tartan skirt from a charity shop for £2.99 and just cut it short. I ripped up and old pair of tights and wore them with my big boots. I got the wig and the spiked collar from a fancy dress shop. These two pics were my inspiration: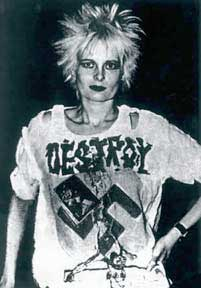 Vivienne Westwood and Siouxsie Sue
James went as an 80's rocker (I enjoyed putting some 'guy' liner on him!) and my Mam and Dad looked fantastic as the Blues Brothers:
Here's me, Claire and Kate striking a pose:
We've been friends since school, I love these two so much they are like family :-) I enjoyed a couple of glasses of red wine and lots of picked onions, salted nuts, veggie sticks and sweeties. I woke up feeling a bit worse for wear this morning – even just two small glasses of red don't sit with me well these days – but if you can't indulge at your best friends party when can you?!
We stayed at my Mam and Dad's last night so I prepared some overnight oats ready for breakfast:
1/2 cup of oats, 1 tbsp of chia seeds, raisins, cinnamon and stevia with a chopped apple. I love how the raisins get so plump and juicy. We've spent most of today lying around on the sofa and all I could face for lunch was a smoothie so I blended up some beet greens, frozen blueberries, chocolate hemp protein powder, water, ice and gums then topped with cashew butter and muesli:
This totally hit the spot! I had a fridge full of veggies from my organic veg box so for an early dinner tonight I had a bit of a random mix of roast kabocha, parsnip and red pepper mixed with some lentils, parsley and topped with some green goddess dressing. I served it up with some broccoli and leek stir fried in ginger, chilli and tamari:
Yum, so random but good.
I was very glad that I got my weekend run in yesterday morning as there's no way I would have been able to manage one today! I did another random route that included a few hills – 7 miles in 1.01 average pace 8.51, this time I managed to remember my mittens so my hands were toasty warm :-)
So a brilliant weekend has been had! How was your weekend? Next week is my 'set back' week in my training plan and I'm planning on doing a bit of healthy feasting again to give my body a break from caffeine and sugar and to really give it some TLC with lots of simple foods. 
I enjoyed the party so much and it started to make me think of what I would like to do for my 30th Birthday celebrations next year. If you were having a party what theme would you chose? As my birthday is in August I'd love to have an English Summer Garden Party with Pimms, vegan cupcakes and lots of candles and fairy lights!
I've also spent today sending out all the emails for UK Bloggers Secret Santa, so excited! Hope you all have a great week!