Hi everyone, happy Wednesday! Half way through the week already :-) Hope you are having a good one!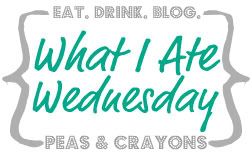 This is what I got up to on Monday. As usual I started the day with some warm water and lemon before making myself a pumpkin scramble:
I scrambled a couple of farm eggs with some egg whites then added tinned pumpkin, cinnamon, ginger and a pinch of salt. I added a nice big spoon of almond butter on top. Love this meal!
I also had a mug of my favourite Clippers Indian Chai tea with unsweetened almond milk and stevia:
I was working from home so it was great to be sat at my little desk getting things done at 7am! Another great thing about working from home is being able to make multiple pots of tea and stay warm in slipper boots:
I think I must have made about 4 pots of loose leaf green tea throughout the day to keep me going.
Mid morning I took a break and decided I fancied a smoothie. I blended frozen spinach, a couple of cooked beetroots, chocolate sun warrior, unsweetened almond milk and a little ice with some added water and stevia:
I topped with some bee pollen and it was delicious, I love beetroots in smoothies no matter how random it sounds ;-)
For lunch I went with leftovers from the night before. I had been mentioning to you that I was going to try eating some red meat again and I did! I bought some organic lean minced beef and fried it with garlic, onions, celery and courgette then added some tomato passata and Italian seasoning:
I had it with roast spaghetti squash. I just loved this and my body was totally fine with the meat. It certainly helped me with that red meat craving!
Mid afternoon I started getting the munchies so had a chopped apple and carrot with a pot of peanut flour paste for dipping:
Then a little later I was practicing a recipe for some one I'm doing some health coaching with – 3 ingredient no bake breakfast (or snack) bars! These were so easy to make and of course I had to try a couple for tasting purposes ;-)
3 Ingredient No Bake Protein Bars (makes 6, can be vegan if using vegan protein powder, can be gluten free if using GF oats)
1 cup / 100g of porridge oats
3 scoops of protein powder of choice (I used peanut swirl spiru-tein)
2 tbsp of nut butter (I used peanut butter)
Combine ingredients in a bowl, adding water a few tbsp at a time until the mix becomes doughy. Line a square pan or lunch box with cling film and press the dough into the pan (I used another sheet of cling film on top as it was sticky!) Leave in the freezer for up to an hour to firm up then take it out of the pan, remove the cling film and slice into 6 bars. Wrap in foil and store in the freezer.
Due to the protein powder already being quite sweet, these didn't need any sweetener so you will have to see what works with your ingredients. You could also add dried fruit, nuts, seeds, cocoa powder etc to change up the flavour. I just ate mine pretty much frozen and they had a great chewy fudgy texture.
Those bars fuelled me nicely for my yoga class! I did mention a couple of weeks ago that I was going to stop traveling to Newcastle for Hot Yoga now that the nights are getting darker and I'm getting busier. I emailed Jambo the yoga teacher just to let him know why I wasn't coming to class anymore and he said his colleague Conrad ran a class in Durham – not a hot class but still the Forest Yoga style that Jambo teaches. I was chuffed to try it!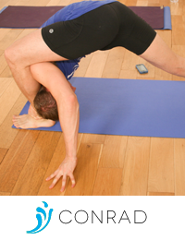 Source: Jambo Yoga
I love yoga but the more gentle styles don't seem to suit me very well – and the other classes going on around Durham tend to be too gentle for me. This class was awesome! It was a very small class and we did a few challenging sequences and even practiced headstands up against the wall. I was knackered after the class and I can still feel my quads two days later! The class is also held just a 5 minute drive away from home. I will certainly be doing this every week from now on :-)
It was getting a bit late by the time I got home and as those bars had fuelled me pretty well I just enjoyed a big mug of Leek, Greens and White Bean Soup:
Followed by a mug of cococardio with some mint extract added for a minty hot chocolate!
After that I chilled out with James and had some cuddles then made a hot water bottle for bed:
I know its not that cold at the moment but I've been finding that just warming the bed up slightly helps to relax me into a deeper sleep.
How is your week going?
Have you busted out the hot water bottle yet? Even though the temperature hasn't been that cold this week, it has been so grey and foggy its just nice to have it for comfort! 
If you're a yogi, what style of yoga do you prefer?