Hello guys, hope you are having a great week so far! I'm doing something a bit different this week for WIAW, I thought I'd share a full week of food with you instead of just one day.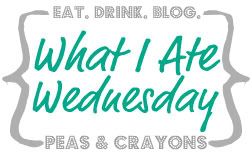 The reason I still do a regular food diary style post is because I personally find these types of posts interesting and full of meal ideas, and therefore I hope you guys do too! I also like that I can reflect on some of my eating habits – good and bad. I sometimes think that just showing one day doesn't always give a full picture so last week I tracked what I ate everyday, here it goes…
Butternut smoothie with vanilla sun warrior protein powder, tahini, pumpkin seeds, cranberries, chai tea with unsweetened almond milk
Chicken salad (leftover from Sunday's roast) with veggies, avocado and home made balsamic dressing
chopped apple, plain full fat yoghurt (1/3 pot)
lentil soup, 3 rice cakes with lots of peanut butter
cococardio hot chocolate x 2, frozen raspberries and unsweetened almond milk
Exercise: Rest Day
Pear, courgette, cranberry and pistachio muffins, butter, maple syrup, black decaf coffee
lentil and root veg soup, apple
nakd bar
coconut oil stir fried brussel sprouts, omelette with wensleydale cheese
pumpkin protein pudding with coconut milk, double cococardio hot chocolate
Exercise: 45 minutes cardio, Body Pump Class
Had a late night meeting so had to eat around that, didn't get home till 9
Courgette bread oats with egg whites and pecans, cranberries, maple syrup, green chai tea
salad with chickpeas and balsamic hemp oil dressing, apple
Thai chicken coconut soup (home made chicken bone broth blended with full fat coconut milk and thai red curry paste), apple, persimmon, raw bar
3 rice cakes with various nut butters, honey, jam, maple syrup, sea salt, extra spoons of nut butters and a couple of spoons of full fat coconut milk straight from the fridge, herbal tea
Exercise: 45 minutes cardio at the gym
pumpkin scramble with almond butter, decaf coffee with unsweetened almond milk
chicken curry, white rice, potato wedges (we were delivering training at work so had a lunch put on, no healthier options!)
apple
Veggie chilli, spinach
chocolate blueberry protein ice cream + full fat coconut milk, cococardio hot chocolate
Exercise: 20 minutes yoga
caramel peanut butter apple oats, black decaf coffee
salad with beets, avocado and harissa hummus
pear, big piece of wensleydale cheese, mocha made with cococardio and coffee
thai chicken coconut courgette noodle soup (made with the chicken bone broth, full fat coconut milk and thai curry paste) with veggies, kabocha and soya beans
pumpkin protein ice cream with honey roasted almonds and peanut butter sauce
Exercise: 20 minutes cardio, 30 minutes strength training
Gingerbread latte, pain au chocolat with a pat of butter
Banana
Salad with hummus, beets, avocado
roast kabocha and full fat coconut milk
roast cauliflower, stir fried sprouts + kale with a farm shop beef and beetroot sausage
chocolate berry protein ice cream with chocolate sauce, salted soy nuts, gojis + lots of tahini straight from the jar
Exercise: Rest Day, unless you count carrying shopping bags ;-)
blended coffee with coconut oil, green juice (cucumber, celery, parsley, ginger, lemon)
Date and walnut scones x 2 big ones and 2 little ones with butter, vanilla berry smoothie with unsweetened almond milk, black decaf coffee
Butternut squash, brussel sprouts and farm shop bacon with a maple vinaigrette
3 corn cakes with hummus
Home made apple and cranberry sauce and full fat coconut milk, persimmons x2
Chopped carrots and peanut flour dip, cococardio hot chocolate
Exercise: 45 minute spin class, 45 minute kettlecise class
All days started with a mug of warm water and the juice from half a small lemon and include approximately 5 mugs of green tea and glasses of water as needed
So there we have it, a whole week in the life of my belly! I actually found this very interesting indeed, as on the whole I feel really happy with the balance of foods I'm eating. I'm eating quite seasonally, mostly whole unprocessed foods, getting in plenty of fruit and veg, whole grains from oats and other carbs from root and sweet vegetables, a variety of fats, protein and a couple of treats here and there. It did highlight that I have some issues with sometimes over eating nut butters (nothing new there!) and I did notice on Sunday when I didn't eat a proper dinner I found myself feeling really snacky the whole evening.
As I said in Monday's post, I am trying to just let go and relax myself around food a bit more again, it was nice to be able to enjoy that pain au chocolat and several scones guilt free! Seeing my eats like that reminds me that I'm eating very healthily (in my opinion!) most of the time anyway.
Do you keep a diary of your food intake or have you done so in the past? I know that keeping a diary can be a bit obsessive for some, but I still find that after my weight loss days it can be a good tool for keeping me aware of what I'm eating. As with everything, different things work for different people. If you do keep a food diary or participate in WIAW, why? What does tracking do for you?