Hi everyone, I'm just popping in to say hello and highlight some of my lovely sponsors for you this month!
As I write this there is a thick layer of snow outside, it may almost be the end of February but its not spring just yet! To help you stay warm take a look at NukuNuku Haramaki. These belly bands help to keep your core warm making you feel very snug! They are also great for supporting your belly if you are pregnant or offering additional coverage to clothing that might ride up.
This is the last chance to get that 20% off so  don't delay and treat yourself!
If you are looking for some tasty healthy snack bars check out My Trumi!
You can read my interview with My Trumi founder Camille Meskill, she is an inspirational lady!
If pretty jewellery is your thing, you have to check out Lazy Giraffe.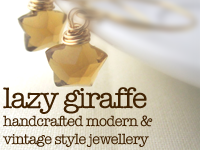 Deepa's designs are stunning and suitable for a variety of different occasions. I am still in love with my Limoncello gem stone necklace.
Looking for a new healthy living blog to check out? Then hop on over to The Runner Beans!
You can find out all about Charlie in Introducing…The Runner Beans!
Another new February sponsor is Health Codes.
This site is awesome! If you buy a lot of health products on line and are looking for best value, take a look at health codes to find some great discounts on all your favourite sites.
And speaking of a few favourite sites, don't forget to take a look at the products available at MyProtein, especially their awesome giant tub of almond butter!
iHerb is still one of the best sources of unusual health products – particularly those only available in the US otherwise. Use the code for a discount and if you are unsure about the ordering process, see my How to order from iHerb post for full instructions!
If you are interested in advertising with me, please get in touch. It's a great time to work with me as this blogs audience continues to grow rapidly. I can supply my media kit full of details of my audience and website traffic, just drop me an email!