Free checklist from Laura Agar Wilson
Rock your homepage with this handy checklist of what to improve on your site to help make sure you get your message across so more of your ideal clients stick around.
This free checklist will help you audit the homepage on your coaching website or help you create it if you're starting from scratch!
Two copy formulas to make sure you're getting your message across
The six key things you need to cover on your homepage to attract your dream clients
Discover the most important elements of a highly converting homepage 
You'll want to download this FREE guide if you:
Already have a website for your coaching business and want to double check your homepage is the best it can be. 
You're about to create your coaching website and you need some ideas for what to include on your homepage and how to structure it.
You're looking for some handy copy formulas to boost your copy on your sales page and better communicate what it is you do and how you can help people.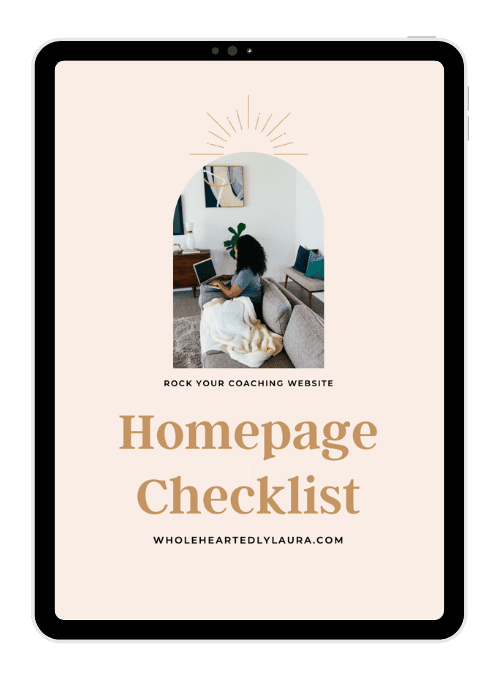 'This Homepage Checklist is soooo useful, I've made a couple of tweaks to my homepage already and it feels much more professional' – Charlie
I help heart centred coaches build a business that honours who they are and what they need to thrive.
I'm all about helping coaches and solopreneurs own their awesome and build their brand which is why I created this handy checklist to help you make your homepage as fabulous as it possibly can be!
Before I started designing websites I would always get stuck with my own and what I should be including on all the main pages, especially my home page.
I hope you find this checklist super useful in making tweaks to your homepage so that you're really showcasing what you offer and that it will help more of your ideal clients stick around when they come across your site.