Want to create a brand and website for your online business that you can be proud of?
I got you…
Ok, so you need some branding and a website for your business. You have two options: Go Pro or Do It Yourself.
You like the idea of doing it for yourself (less expensive and you get to have total control) but you literally have no idea where to start with designing branding or setting up a website. You aren't sure what you need to have in place and you feel stuck!
You're worried you'll end up spending hours working on something that ends up, well, looking a bit shit by the time you've finished.
if that sounds familiar read on:
Does this sound like you?
You feel a overwhelmed with where to start and you aren't sure which options are right for you (WordPress? Squarespace? What do these even mean?!) Maybe you've been trying to build a website for yourself for a couple of months but haven't gotten anywhere with it.
You're afraid of the tech and you're not sure if you have the right kind of creativity to get brand design right yourself.
You like to feel in control of things but you don't have time to research the best software, all the different plugins etc and you wish someone could just tell you exactly what you need to do.
You know that creating a brand and website which looks professional and stands out is helpful in getting clients but you're not sure how to package up all the things that make you, you, into a standout brand.
There is a better way to design your own Brand and Website
You can design your own brand and website without hours of tech headaches that end with you wanting to throw your laptop out the window.
Let me guide you through my simple design process to create a brand and website you'll be proud of which will help you grow your business, attract your ideal clients and help you stand out from the crowd.
You had a beautiful brand and website you can't wait to share with everyone. You feel so proud of what you've created.
You could create your brand and website in just a few weeks from start to finish with the confidence that you have everything in place you need to create a thriving online business.
You feel confident with editing and making changes to your site so your website and brand can grow as your business grows too.
Your brand and website attracts your ideal clients with a clear and compelling message and gorgeous visuals that communicate what makes you different.
Rock Your Brand & Website
Rock Your Brand & Website Course is a self paced online course which will teach you step by step everything you need to get clear on your message, niche + coaching package, create your own brand, design your own website and set up your email list systems – because all of these elements are essential to setting up your brand and website.
The course also includes support from me and my team via our course Facebook group so you never get stuck.
How would it feel to know exactly what you need to do to set up a successful coaching business with every single step laid out for you and the support to get it done? 
No confusion, no scary tech, just a simple plan of action for you to follow to get your business set up the right way so you're ready to welcome your first paying client.
the programme is broken down into four modules:
Get clear on who you are and who you help
This module includes:
Defining your niche and message – the wholehearted way!
Defining who you are in your brand – owning your awesome!
Crafting your brand statement and brand differentiators 
Deciding your business name
Crafting your coaching package
Create your visual brand
This module includes:
Creating a brand inspiration board
Essential design tips
Creating your brand assets using free / low cost design software
Personal / brand photography tips
Stock photography resources
Preparing your designs for your website and other uses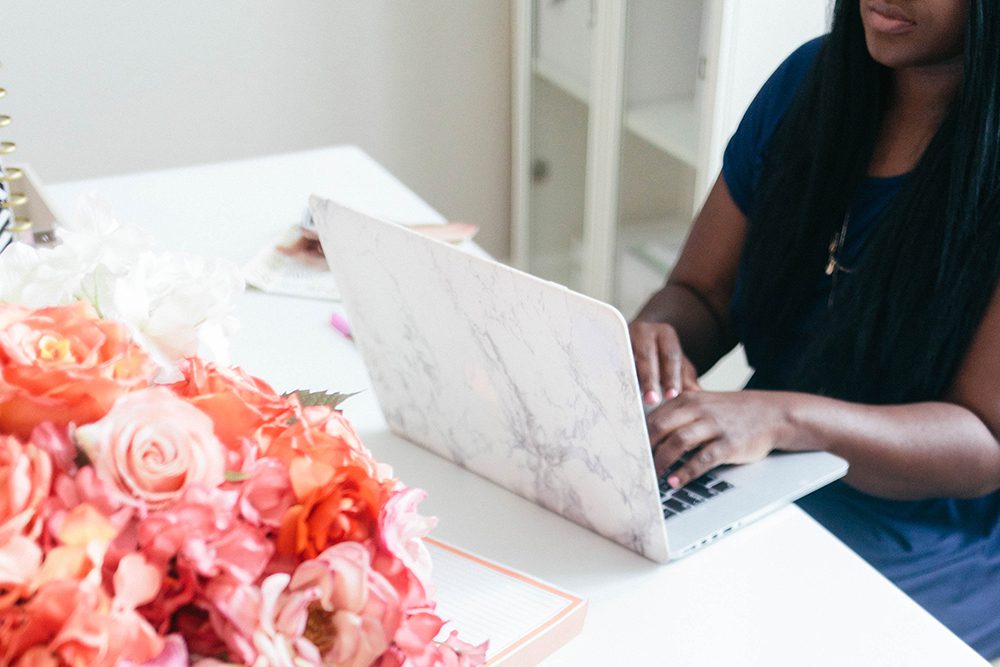 developing your website
This module includes:
Setting up hosting, domain name and WordPress
Creating the copy for your key pages
Installing your theme and custom page templates
Creating your coaching package and sales page
Setting up a blog page
Making your website optimised for mobile / cell phones
setting up your email list + marketing
This module includes:
Email lists overview training
Designing a PDF opt in
Hosting your free content
Plugin and play email welcome sequence template
Full email set up instructions
Adding sign up boxes to your website and stand alone opt in pages
GDPR, privacy and cookies
Designing your sustainable marketing strategy
Don't take my word for it…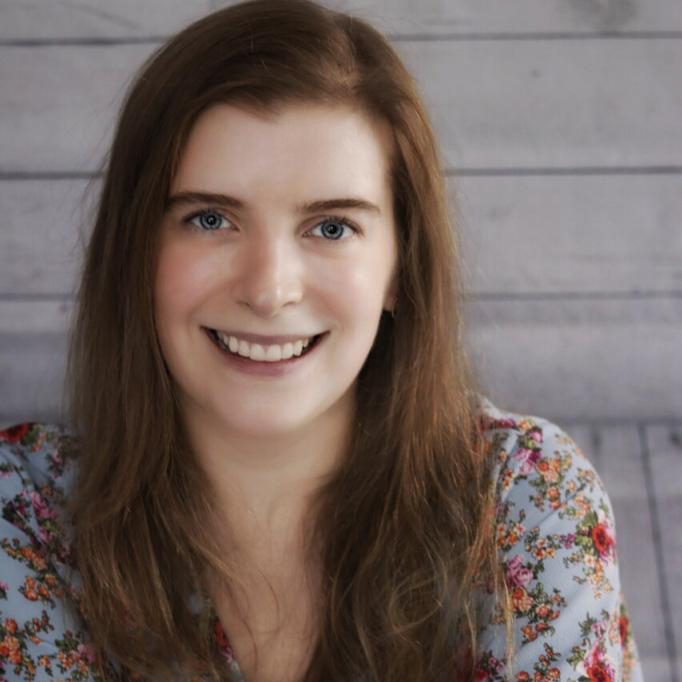 I found the course really easy to follow, I'd never used WordPress before and the course made it so easy and enjoyable. The modules were broken down in a way that meant I could work on my site whether I had a spare hour or an entire afternoon set aside. 
I now have an attractive, well designed site that will be flexible for my future business plans –  health coaching and yoga teaching.
Thank you Laura!
Lilian Zahra – Former Lawyer / Future Health Coach and Yoga Teacher
I absolutely LOVE Laura's Create Your Coaching Biz course!  For someone like me who likes to feel in control (& therefore build things myself & know how things work so I can make changes in the future) but doesn't necessarily have the time to do all the research on the best software, creative sites etc, Laura's course is perfect.  Laura takes you through the different stages, step by step, in really easy to follow tutorials & is on hand if you have any questions.  She also let's you go at your own pace which has been great when the rest of life gets in the way!  I highly recommend this course if you are starting your own business & need that helping hand to get things up & running!
Tori – Health Coach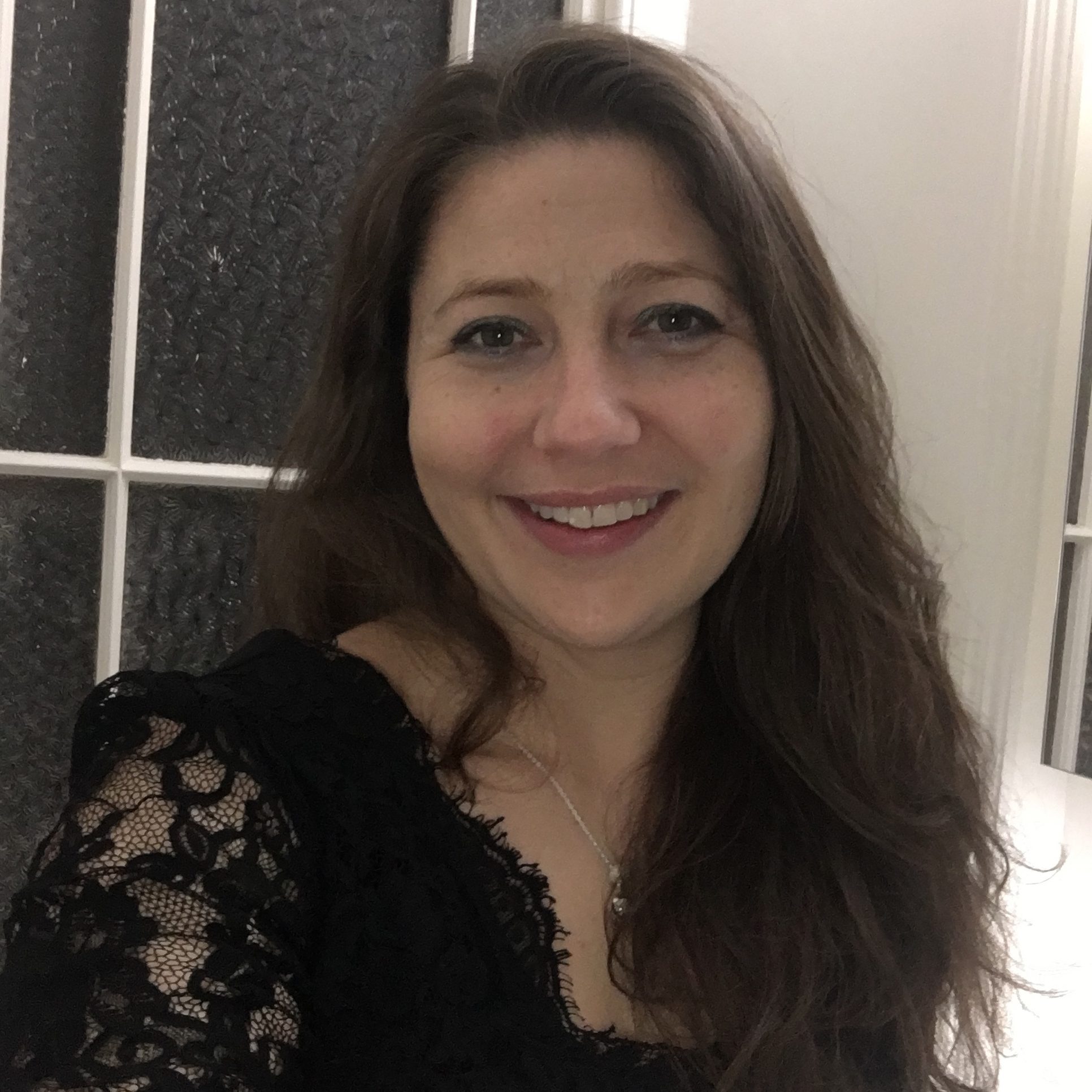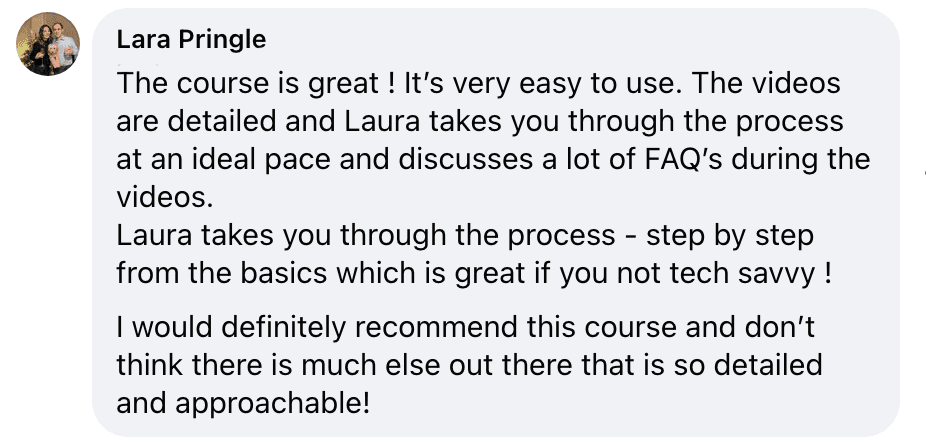 Successful coaches know you need:
A niche and message that connects with your clients and a set of values and brand voice that make you stand out.
A gorgeous visual brand that diferenciates you from everyone else and creates trust.
A website that is functional, professional and fully optimised – as well as being able to be used effectively as your business grows
An email list set up that effortlessly transforms sign ups to clients
Rock Your Coaching Brand & Website helps you tick all of the successful coach of the future boxes!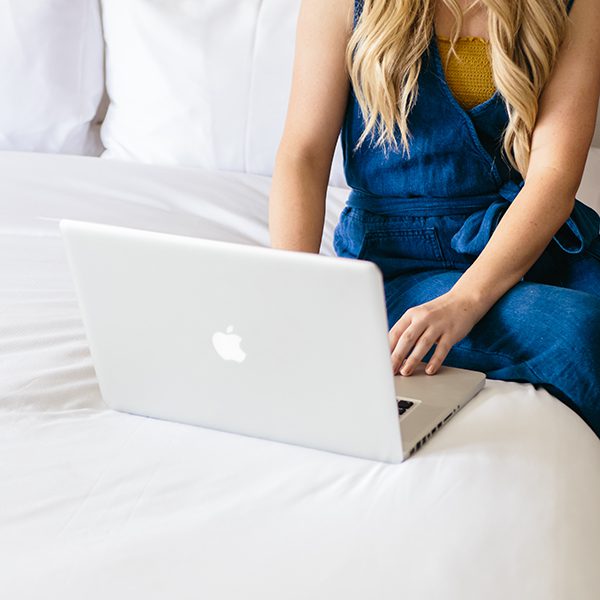 What's the value inside Rock Your Brand & Website?
Trainings and worksheets $700
Website design theme $200
Custom website page templates $100
Private Facebook Group $100
Plug in and play email welcome sequence $100
Total value $1200
Get the whole programme for just $830 / £597
Who is Rock Your Brand & Website for?
🌟 Coaches! – thats' health coaches, career coaches, life coaches, money coaches, business coaches – if you coach people, then this is for you! It can also work well for service based businesses like nutritionists, personal trainers etc
🌟 Coaches who are just starting out and who want to set up their businesses the right way – maybe you've recently finished your coaching training programme, or you'll be finishing it in the next 3-6 months.
🌟 Coaches who don't have a solid niche, a cohesive brand or a good quality website but know they need these things to make their business work.
🌟 Coaches who know they've been procrastinating and not developing their business because they feel stuck!
🌟 Coaches who might have been doing their thing for a while, but who are ready to change direction and nail down a new niche, rebrand and create a brand new website.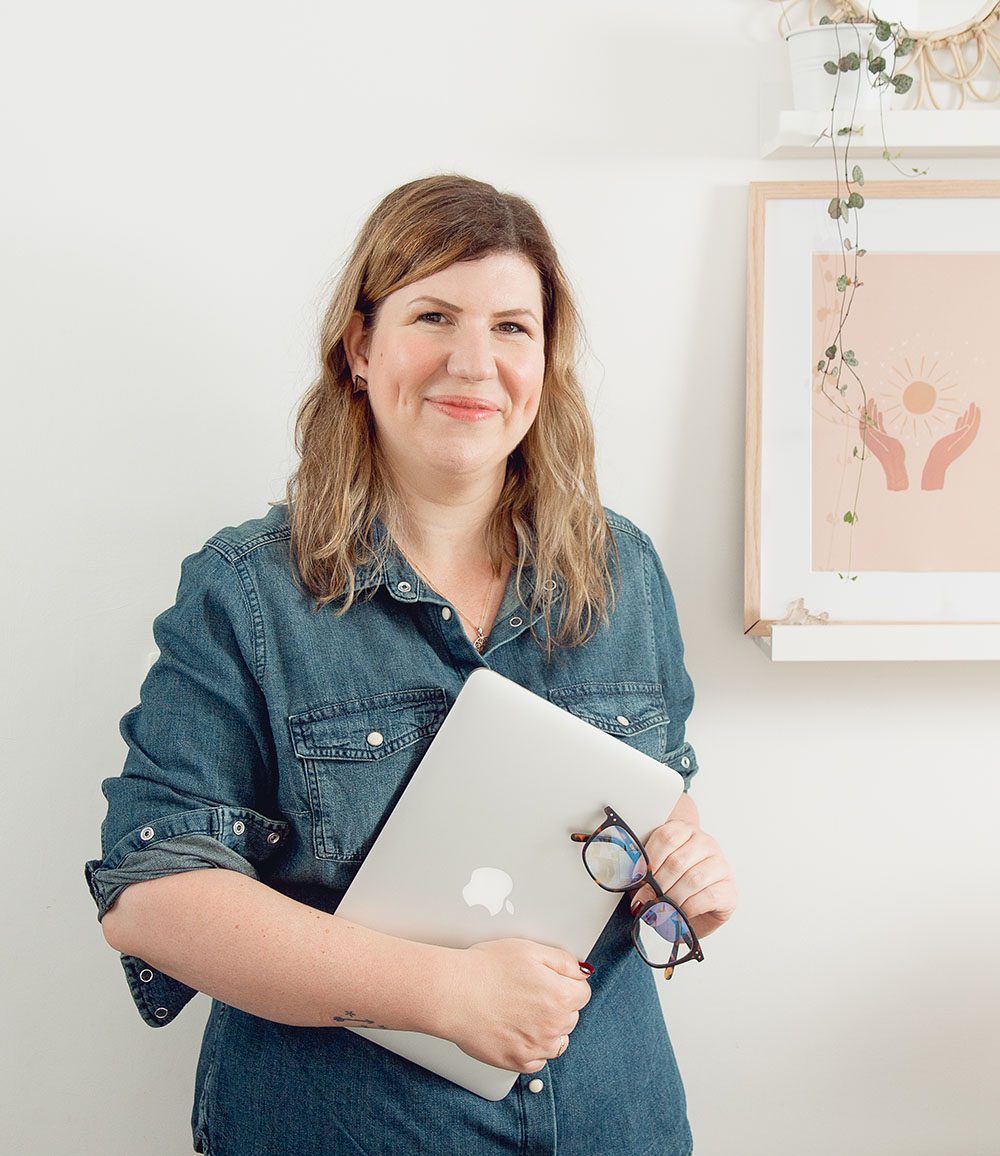 Hi, I'm Laura!
I've been running my successful health coaching business since 2012 and supporting other coaches to get their businesses set up the right way for the last 5 years.
In my business as a health coach I went from confused and overwhelmed to my first 10K month, all by using these steps.
I know what makes a coaching business work, and what makes it fail – and so much of it relies on what you get right at the start.
When I first started out, I spent years and $$$$ fixing the things I didn't get right at the beginning – I could have saved myself so much time and money – and fast tracked my success with a course like this one.
And that's why I created it, a simple step by step programme to take you from your coaching qualification to a fully fledged successful coach!

Why should I not just do a cheap DIY website on a platform like Wix or Weebly?
These platforms don't offer your business any longevity and have minimal functionality when it comes to some of the simple but really effective forms of marketing. They can also look poorly designed and basic, which doesn't instil a lot of confidence in potential clients! Starting with an industry standard and best practice WordPress website from the start, and learning how to use it, is a valuable skill that will save you $$$$ in time and expenses as your business grows. It's one of the best business investments you will ever make.  
Would it not just be easier to pay a developer?
Ask yourself these questions first. Do you have the budget to pay a quality designer? Will that designer ensure your website includes an opt in, email list set up, and all the copy installed (mine many years ago didn't!). Will you end up paying more further down the line when you need to make changes to the site? If you do have the budget, I do offer a Done for You version of this course priced at £2997 where I include installing all the copy, setting up the email list and opt in too.
I could just work with a cheap website designer?
The issue I've found with paying a website designer is that they simply don't understand coaching businesses and their online needs. Most run of the mill designers create websites for industries wildly different to coaching – what a gardening business needs on their website is hugely different to what a coaching business needs. This course teaches you how to create your own site based on what you will actually need as a coach now and in the future.
Is all of this really that important to my business?
In a word, yes. I know I'm biased, but let me break this down for you. The coaching industry is crowded. If you want to stand out, you need to be really clear about what you're offering, your brand needs to communicate this verbally and visually (remember we live in a hyper visual digital world nowadays) and your website needs to be easy to navigate, communicate the right info in the right order and look awesome. Your website is your online shop front, having a poor website is like hosting a yard sale compared with running a designer boutique!
I not very creative so I worry I can't do this…
The good news is you don't need to be massively creative to use this course. I teach you how to develop your brand from scratch in a really simple way – no big creative skills required to get great results.
There's even places you can purchase designs at a really cheap cost to use in your branding so you don't have to design a single thing – instructions for this are included in the course.
I'm also on hand at all times in the Facebook group so if you do run into any tricky bits I'm there to help you and give feedback on anything that might keep you stuck.
I'm not techy at all, will this course still work for me?
It does help if you're at the very least familiar with a computer, can use programmes like email, word etc easily. I do take you through every single step showing you the way, and I am available inside the Facebook group to offer hands on support should you need it. However, if you do join and find the tech element unmanageable, you can use your free 14 day no questions asked money back guarantee. I also offer a discount on my Done for You Services for anyone who has tried this course and found the tech element too difficult – but as yet no one has needed it!
The course is so user friendly and covers all the detail you need to start up your website. I love the fact you can work at your own pace and the bite size modules make completing the course achievable…thank you so much Laura!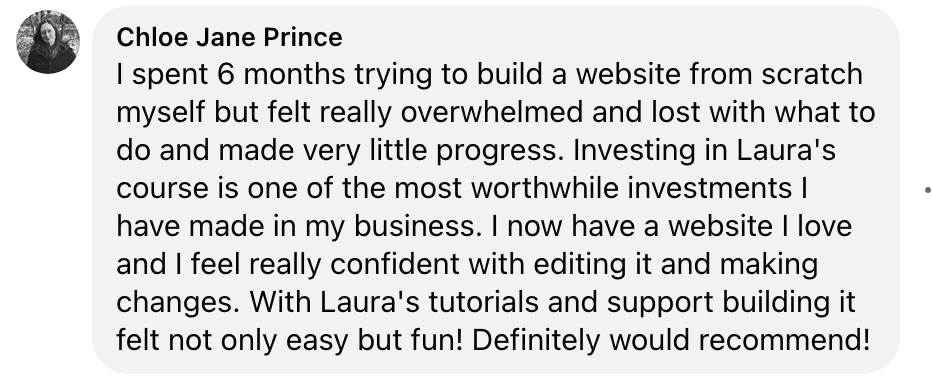 Get the whole programme for just $830 / £597
FAQ's + Important Info
Are there any other costs associated with the course?
You'll also need to purchase your domain name, hosting package and security certificate (approx $80 a year) of which full instructions will be given.
You might also wish to purchase design programme upgrades, illustrations, fonts and other graphics to support your branding design, however this is entirely optional.
Do you offer refunds if the course isn't right for me?
Yes I offer a 14 day money back guarantee. 
What kind of support is included?
The course includes access to a Facebook group of other members and myself – you can tag me with any problems or issues and I'll get back to you as soon as I can – if I need to login to your site to figure something out or create a new training video I'll do it! I'm very hands on with my support so you're not being left to do it all alone!
Got any other questions? – Just hit the chat button in the bottom right corner and I'll be happy to help!