So perhaps you've heard of Pinterest and don't really understand how it works or maybe you're a Pinterest fan (like me!) but so far you've only used it to plan your new living room decor and have no ideal how you can use it to grow your coaching business.
Well in this blog post I'm going to share 5 simple things you can do to use Pinterest to get more clients in your coaching business.
When Pinterest is set up with intention, it really can be one of the easiest ways to generate leads and grow your list without your constant input every single day.
Include what you do in your account name
Rather than just being 'Laura Agar Wilson' I'm using my brand name Wholeheartedly Laura along with a brief description of what I do. You could actually add in more keywords than I have as well and then you have much more chance popping up in your ideal clients feed.
Create boards based on the content you create and what topics your ideal clients will be searching for
Think about how you would categorise your content – in fact if you're blogging you probably already have some kind of way to categorise your content. Now think about what search terms your ideal clients might be typing into Pinterest. You can even have a go yourself:
See those suggested terms? That's Pinterest SEO. Create board names and descriptions that you can pin your content to using some of those terms to make sure your content gets shown to the right people.
Create pins for your freebies
It's not just your blog content that you can share on Pinterest, create pins for your freebies too. Have the URL of the pin lead to your opt in page so people can sign up for your freebie easily.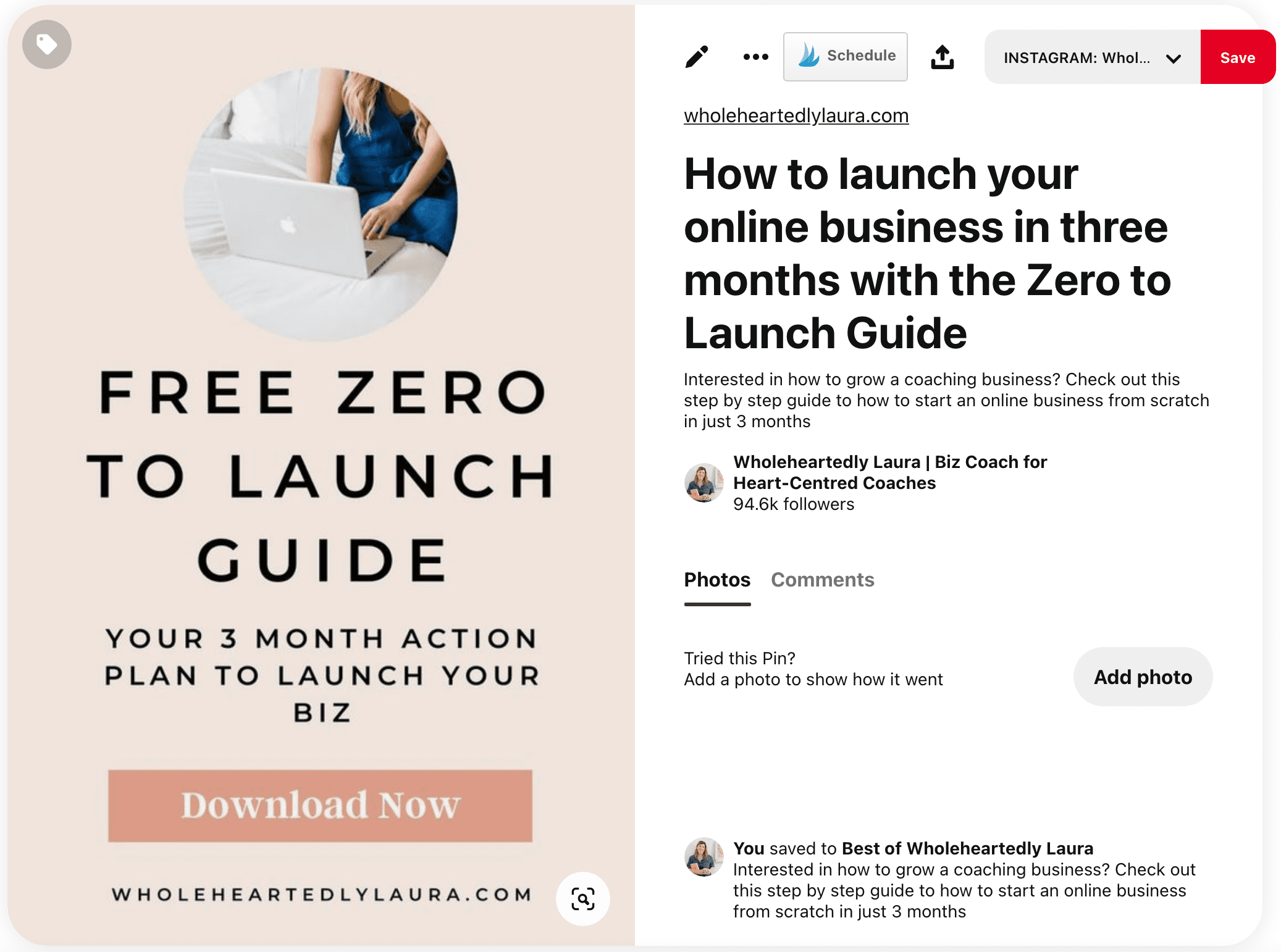 When a particular piece of content is doing well, think about creating a specific content upgrade
If you notice that a particular blog post is getting a high number of click throughs from Pinterest consider creating a specific 'content upgrade' – basically some kind of freebie which serves as an extra piece of information in addition to the blog post. It could be a checklist, workbook etc, anything that is closely related to the posts topic. This works better than your general freebie because it's more like an extra piece of the original content than something separate.
For example, this is a content upgrade! 👇🏼
Have a welcome sequence / sales funnel in place
Once people join your list to get their freebie or content upgrade the best way to turn them into clients is to serve them some kind of sequence of emails that introduce them to you, how you can help them and your offer. I know 'sales funnel' can sound a bit scary but it really is just a simple set of emails (3-5 is usually enough) designed to take your people on a journey where working with you makes sense to them and they're excited to find out more.
Hopefully those tips have given you a few things to try out on Pinterest so you can get more email list sign ups and more clients!
Interested to learn more about how you can use Pinterest to grow your coaching business on autopilot? Grab your free Pinterest Marketing Planner for Coaches to get started!