Got a dream or project you'd like to bring to life before the end of the year?
Now's the time to bring it into reality – and I can help!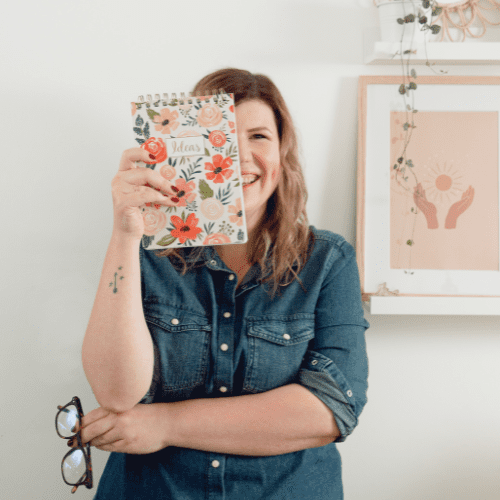 I know what it's like to have something you'd like to create and share with the world, but you feel stuck.
You're struggling for time, the tech to make it happen is unfathomable and it's all just feeling like a total faff.
You feel like you'd maybe be able to pull it off, but for some reason you keep procrastinating and nothing is moving forward.
The year will be over soon, and you'd love to end it feeling accomplished – and with some extra income in your business too!
Together, we can make it happen!
Receive practical hands on support – basically I'll do most of it for you! No more tech headaches!
Be kept accountable with kind and loving (but firm!) encouragement to get things moving.
A completely holistic approach – am a proud 'jack of all trades' so I can support you in everything from strategy, design, tech, mindset etc. You won't need to engage with a VA (who might not fully understand what you need) as I'll just be able to get it all sorted for you.
Focused on getting you a solid outcome – whatever we work on together will be a business asset that you can leverage for more income, time freedom and impact.
What kind of projects can we work on together in Get It Done?
Anything that we can focus on with a clear outcome, achievable in 3-4 months will work well in Get it Done.
Here's some quick examples from previous clients:
⭐️  Rebrand and website relaunch – I worked with the client to support them in designing new branding (I'm a designer too!), reviewed their copy and supported them through designing a launch and marketing strategy (which resulted in new clients and Press opportunities)
⭐️ Launch of a series of retreats – my client had the idea for running in person events and retreats for a long time but had struggled to just do it. I supported her with accountability and helped her develop a strategic plan to bring the idea to life. I created a page on her website to promote the events and suggested she run a launch event (which I helped her plan) that was a huge success. I also made other launch suggestions that resulted in a magazine feature.
⭐️ Marketing strategy for list growth – I supported a client to develop a new off of social media marketing strategy. I set up her email list and embedded it all into her website for her.  I also designed her freebie guide and designed some ad images and wrote ad copy so she could run some ads to build her list.
Other types of projects I can support you with: course creation and launch, designing a new email freebie or social media posts or other designed assets you can use, plans and strategies to help move your business forward, creating and launching a new offer, launching a new content platform, such as YouTube (I can edit video!)
Anything we can achieve together in 3-4 months that gives you a solid outcome is going to work in this programme.
Why work with me in Get It Done?
Hi, Laura here 👋  I've been running my own business and supporting others to do the same for over 12 years. I have a range of knowledge and skills across a large area of online business and coaching businesses in particular.
I know tech inside out and back to front, I love me some strategy and most of all I really enjoy supporting others to move the needle on their businesses!
I only generally offer slots for this particular programme in September / October because I love helping people achieve something their might not have been able to bring to life yet before the end of the year.
This is one of my favourite programmes to offer because it allows me to bring all my skills and passions to the table in one project – it's like having a business mentor, coach, designer and VA in one!
4 months of comprehensive business support
Three 1 hour mentoring and strategy sessions
10 hours of practical hands on 'work' (tech stuff, designing things, setting things up, reviewing copy etc)
Unlimited voice note support between and around our calls
Up to 1 additional 30 minute check in call at any point in the programme
Let's get started
*Only 3 2 spaces left*
Not sure if Get It Done is right for you? Book a free chat below:
Any type of coach – health, life, spiritual coaches etc
You have a fairly good idea on what you'd like to work on – we can discuss that further however and make sure the outcome you want is the right one (just book a free chat)
You're excited to work with someone in a truly holistic way to move your business forward
FAQ's
What happens when you click buy now? 
You'll be taken to make your purchase or set up payments and then you'll recieve a link to book in your first call. I'll also be in touch directly to get you set up for voice note access etc.
When are you available for calls?
I'm flexible, you'll see some available slots once you've paid. However, if you can't find one that works just pop me a message and I'll take another look at my calendar and find something for you. I'm in the UK time zone.
How far in advance can I book my session?
You can book up to 120 days in advance.
Got any other questions?
Email me laura@wholeheartedlylaura.com or use the message me button on the bottom right.