Wholehearted Self Care Bundle
Ditch the guilt, find time for you, recharge and refresh with the Wholehearted Self Care Bundle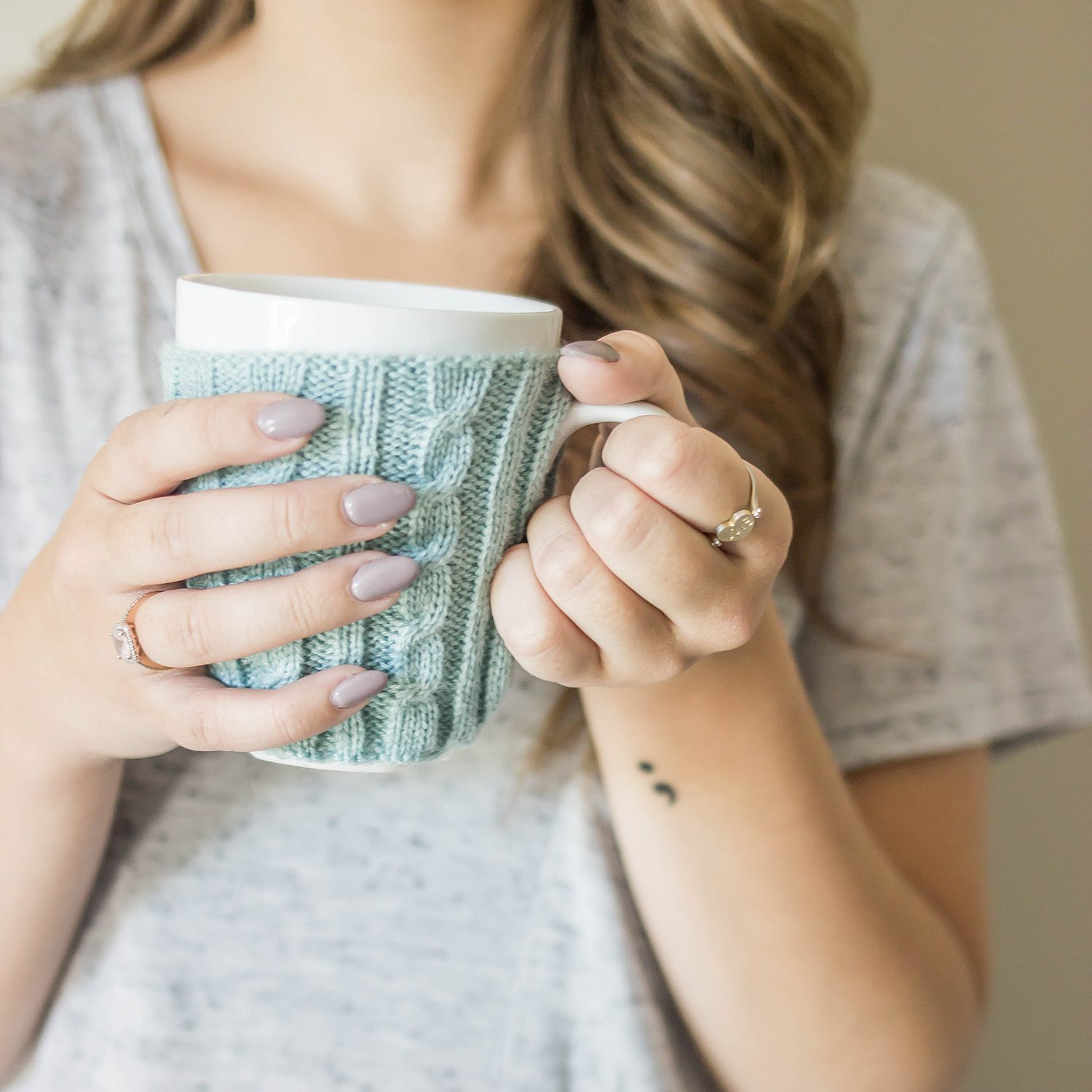 Fed up of feeling exhausted, burned out and frayed around the edges?
You know that you'd benefit massively from self care but you feel guilty whenever you try and have some time for yourself or when you do something you enjoy.
You struggle to eat well and get exercise and your sleep is pants as well! Plus you never seem to find time to relax.
If that sounds familiar keep reading…
Does this sound like you?
You struggle to find time to spend on self care even though you know how much you need it.
You've no idea where to start when it comes to taking better care of yourself and the idea of it all leaves you feeling massively overwhelmed.
You find it hard to feel balanced and often end up getting hyper focused on one area such as food or exercise to the detriment of other aspects of your wellbeing.
There is a way to do self care that isn't overwhelming
Yes you can do self care without feeling guilty, you can fit it into your day and you can enjoy all the benefits of it that people like me keep going on about 😉
You could fit self care into every single day easily without feeling overwhelmed or guilty.
You had more energy, more 'bandwidth' and more resilience to deal with everyday life.
You understood what your foundational self care needs are and are easily able to meet them.
Wholehearted Self Care Bundle
The Wholehearted Self Care Bundle brings together a 50 page PDF ebook and workbook with over 10 additional resources and bonuses to help you make soul aligned self care a regular thing for you in your everyday life.
This bundle is designed to support you to create a transformational self care practice no matter how little time you have, it's an overwhelm free method to getting your needs met, remember self care really is the foundation for a healthy happy life!
A full guide to incorporating self care into your life as a new mum or mum to a baby or toddler (cause boy do we need it!)
8 PDF guides including: developing routines, total body scan, decluttering, upgrading, positive visualisation, things that make you feel good. 
From the lovely Cheryl at HonestForYourSkin.com a guide to decluttering your beauty products!
Here's what's we cover in the Wholehearted Self Care Bundle
Four Foundations of Self Care
You'll discover the 4 themes of self care you need to be getting covered to ensure a well rounded self care practice that actually gets you results.
Getting Past your Barriers
We'll cover the barriers you might face to getting self care in place such as guilt, lack of time and mindset and help you overcome them all.
Comprehensive Self Care Workbook
The comprehensive self care workbook will support you to take a 360 view of self care and how you can include it in your life. We'll cover your current self care needs, morning and evening routines, self care for every day no matter how little time you have and more.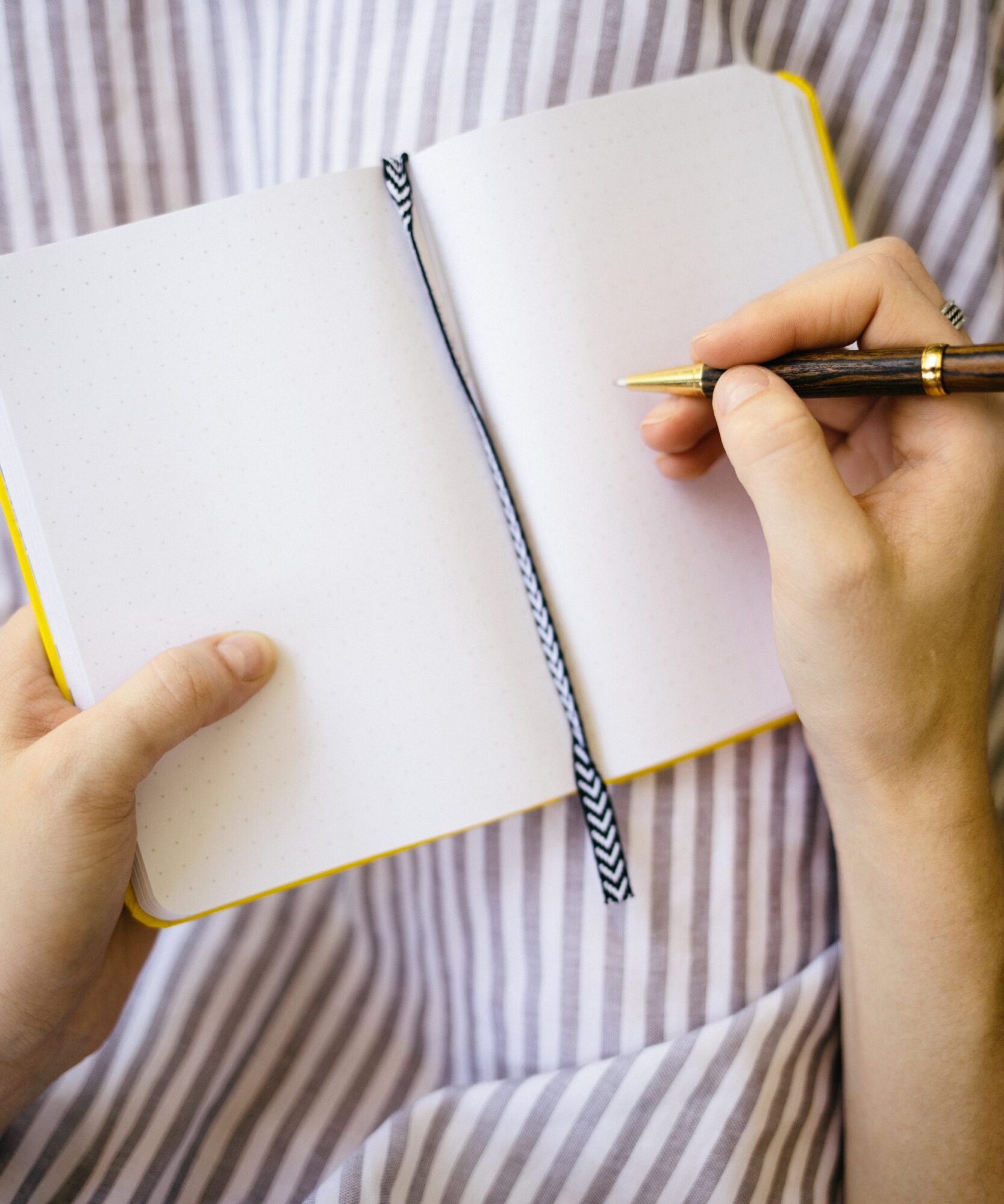 Home Retreat Guide
Your step by step guide to creating a home retreat including recipes and a suggested schedule for your day
Self Care Tool Box Kit
Creating a self care tool box is one practical way to incorporate self care into your life. Get a how to guide for creating your own!
Habit Tracker & Apps
A private Yoga YouTube Playlist, my favourite apps for self care and a habit tracker worksheet and guide!
60 Done for You Self Care Ideas
Last but not least you get 60 done for you self care ideas to inspire you!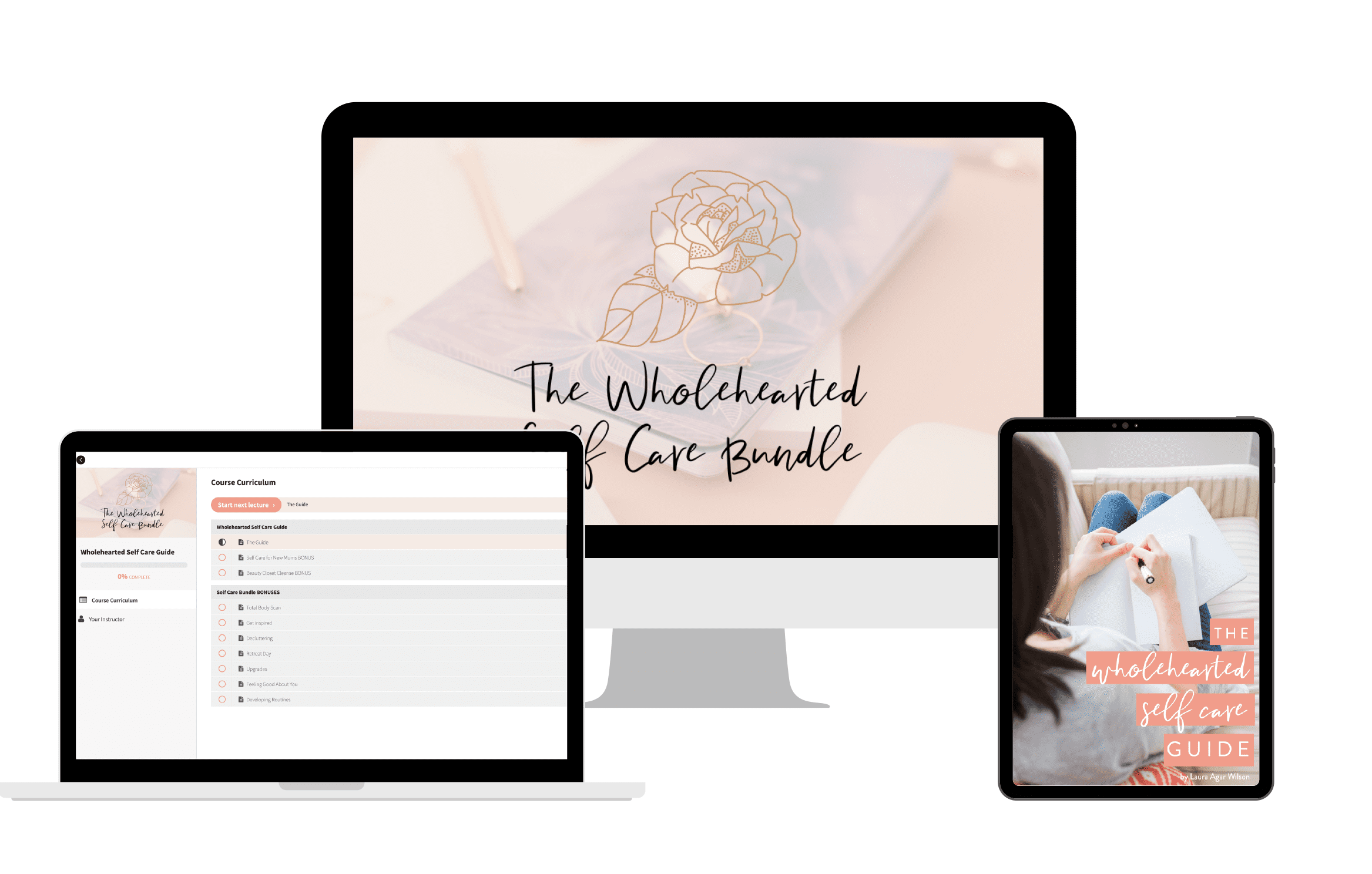 Here's the thing, your self care isn't going to look the same as anyone elses
Yes, including that blogger with the 'perfect life' on Insta 🙈
What you need to thrive is going to shift and change depending on what phase of life you're in. My self care now as a Mum of two is completely different to what it was before I had kids – and even now it shifts depending on what we have going on (hello teething baby!)
This bundle of resources well help you take a flexible and responsive approach to self care so you can always apply what you learn no matter what's going on in your life.
This is self care the wholehearted way…
This isn't about trying to match some unachievable standard of self care. It's about starting to see your health and wellbeing through the lense of self care so that you take a holistic view of what you need to thrive each and everyday.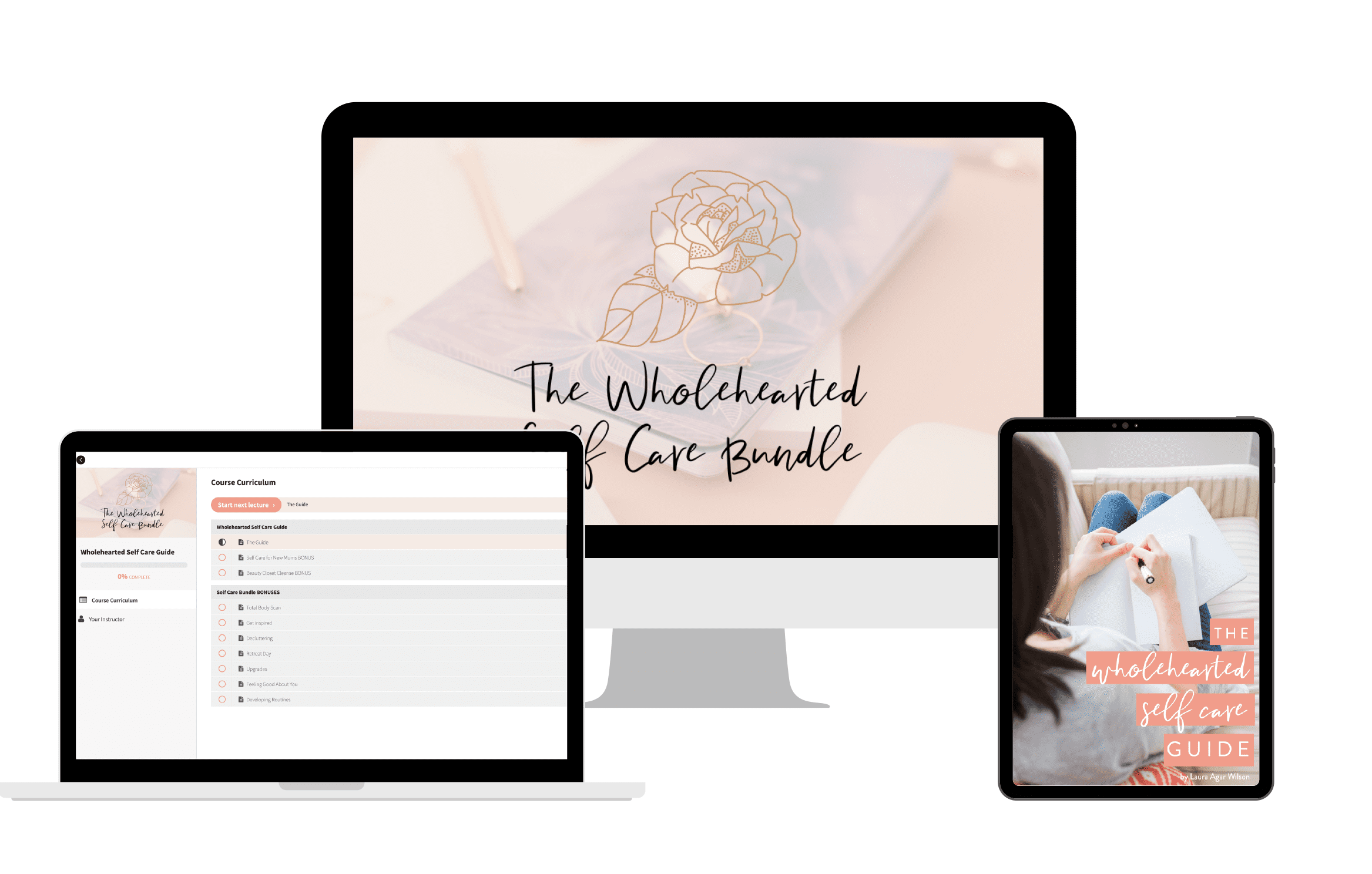 What happens when I click the Buy Now button?
You'll be taken to a secure check out page with my payment processor Teachable where you'll be able to make your purchase and create an account to access your guides.
Do you offer refunds if the Self Care Guide isn't for me?
Unfortunately we do not offer refunds on this product.
Where can I get help?
If you have any questions about your order contact hello@wholeheartedlylaura.com