If you've never heard of freekeh, get ready because I think this is going to be a new trend. I've already seen it called the new superfood on MarieClare.com and due to it's nutritional profile I think it will only become more popular which is nice to see in a world that seems to have become quite anti whole grains! Before you click away thinking it's one of those hard to find health foods, you can actually find this in Tesco. I get the Artisan Grains brand.
As you'll see when the recipe book I've been contributing to comes out, I've been experimenting with lots of different ancient grains including Freekeh. Up until a few months ago I'd never heard of this grain, although technically Freekeh is not a grain, but a process. Wheat is harvested while it is young and green, then dried in the sun before being roasted and cracked. It's nutritional benefits include:
Low glycemic index — for slowly released sustained energy
High in fibre — up to four times the amount of brown rice and twice as much as quinoa
Acts as a prebiotic — nutrient able to fuel the growth of healthy (good) bacteria in the digestive tract, which is important for bowel health and immune function.
Rich source of lutein and zeaxanthin — phytonutrient carotenoids known for supporting vision and eye health.
Good source of plant based protein
Low in fat
Rich in calcium, iron, and zinc
It's even been touted as a contender to rival quinoa. Freekeh is not gluten free, but could be easier to digest for people who are intolerant to gluten rather than having a full blown allergy. As with all foods, I think it's a case of giving it a try to see if you can tolerate it well. It has a texture similar to bulgur wheat when cooked and can be quite creamy. It would make a lovely porridge for breakfast! Plus you've just gotta love that name. Whenever I cook this I start singing 'Get your Freak On' by Missy Elliot, it has to be done ;-)
I decided to use it in a version of a delicious curried chickpea salad that I made a week ago for one of my community groups. I wanted to show them an easy cheap meal that tasted good, so made them this with couscous instead. It was pretty popular and when I tasted it I definitely thought it was more than blog worthy!
You could of course swap the Freekeh for any other grain you fancy, quinoa or millet would work especially well or you could go grain free with cauliflower rice. Freekeh is nice and easy to cook though, you just place 1/2 cup / 100g in a pan with 2 cups / 500ml of water and simmer it until the water has been absorbed, about 15 minutes. It has a nice chewy, filling, savoury taste that is really satisfying.
The rest of this recipe is just as straight forward with only a handful of ingredients. This is absolutely the way I love to cook: healthy food which tastes good and is simple to make. You could easily make a big batch of this to sit in the fridge for lunches during the week.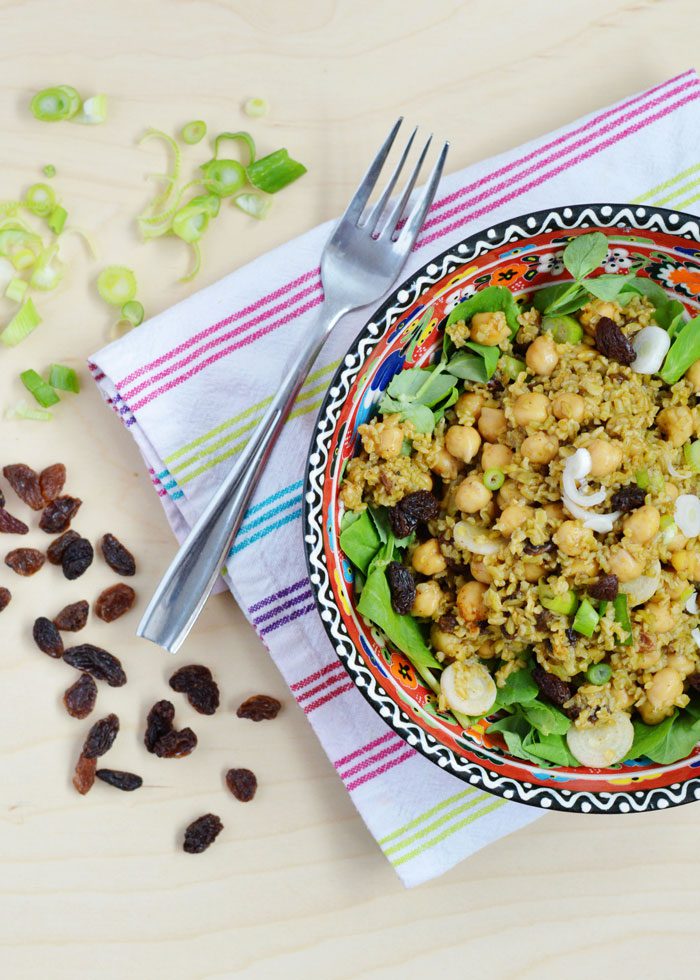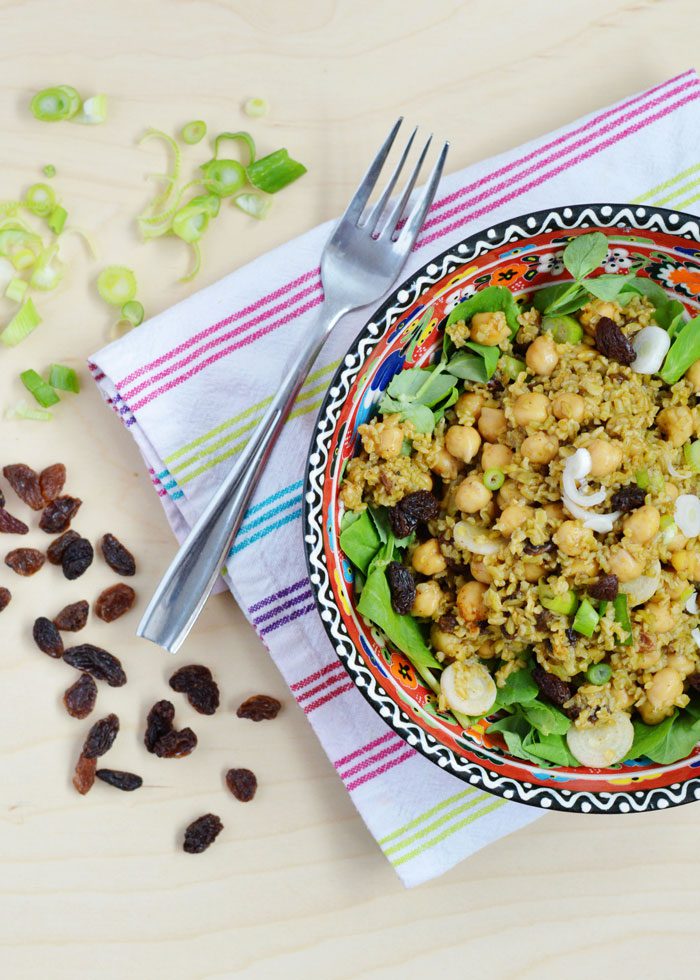 Curried Chickpea and Freekeh Salad
2014-08-11 17:00:16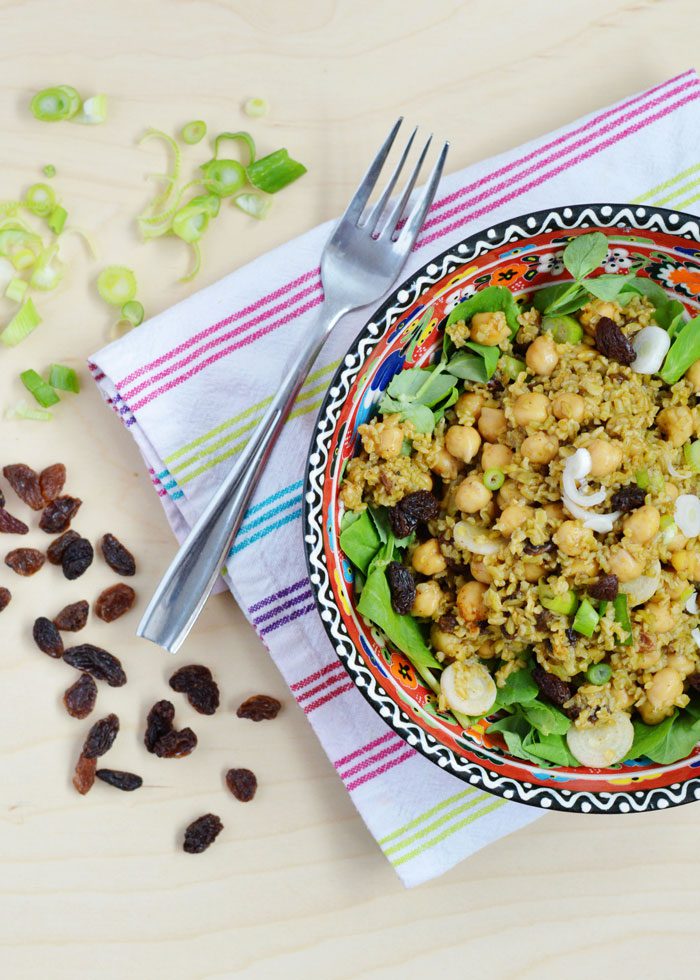 Serves 2
Ingredients
1/2 cup / 100g Green Wheat Freekeh
2 cups / 500ml water
400g tin chickpeas
4 spring onions
1/2 cup / big handful of raisins or sultanas
2 tsp mild curry powder (or to your personal taste)
Salad or steamed veggies to serve
Instructions
Boil the water and place in a pan with the freekeh. Bring to the boil, reduce to a simmer and cook uncovered until all the water has been absorbed. At this stage you can leave the freekeh to cool or if you'd like to eat it warm continue. Drain the chickpeas and slice the spring onions then add to the freekeh along with the curry powder and the raisins. Season to taste with some salt and serve with a green salad or steamed veggies.
Notes
I like to add the raisins just as the freekeh is about to finish cooking so they can pump up in the heat and moisture.
Wholeheartedly Laura https://wholeheartedlylaura.com/
Simples right? What I also love about this is how it could be made at any time of the year. Eat chilled in the warmer months with salad and warm it up and serve with steamed kale in the cooler months. I'd also be tempted to add some roast butternut squash in the autumn!
Have you heard of Freekeh before? Would you give it a try?