The New Year is usually the time for making big changes, but I'll let you into a secret: September is the new January! I find the energy of the autumn much more inspiring and proactive than that of the winter so I really embrace September as an opportunity for reevaluation and goal setting. Something I started back in January was keeping a positivity jar. If you've never heard of this before, it's really simple. It's a jar that you keep on your desk or bedside table and every time something good happens you jot it down on a piece of paper and place it in the jar. At the end of the year (or whenever you fancy) you empty out the jar for a lovely reminder of all the good things that have happened.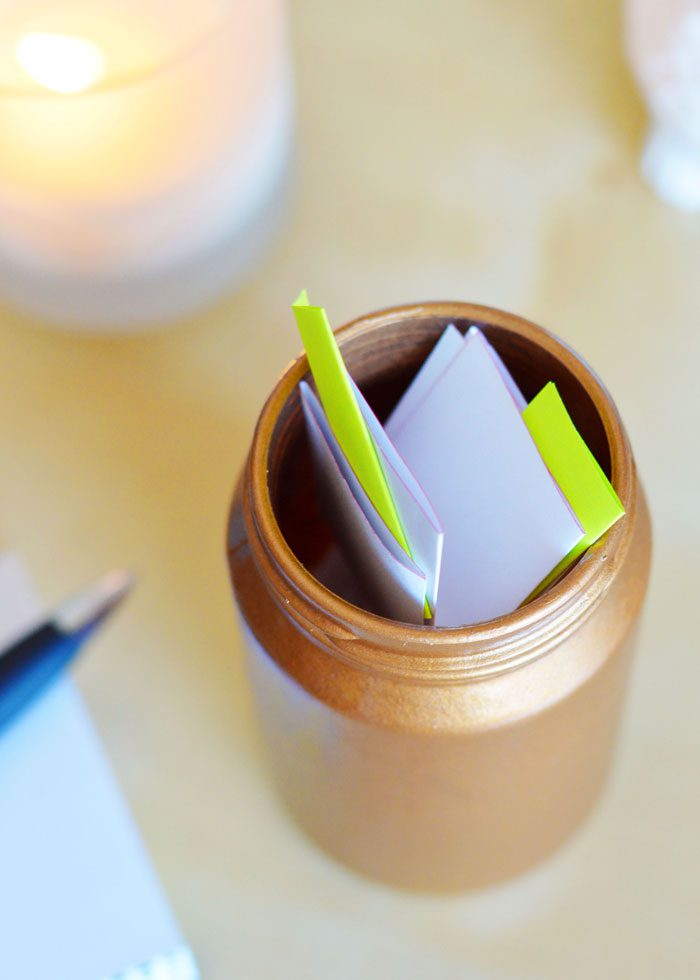 I think it's a really great way of bringing the positive things in your life to the fore in a natural and not too forced way. What I did start to find was that my old plain glass jar was getting a little neglected and I was forgetting to add new positive things. With it being my birthday last weekend I thought it might be nice to start again and then look at everything on my 33rd birthday next year.
I thought that making the jar a little more stand out in some way would be useful for reminding me to use it more, and hence this little Something for the Weekend project was born! Making your own positivity jar is as easy as grabbing an old jam jar and a stack of post its, but I found that taking the time to prettify it is worth it, and doesn't actually require that much additional effort!
Here's what you'll need:
A clean dry glass jar – this can be any old nut butter, jam jar etc
A spray can of Rust-Oleum Hammered All Surface Paint*
Newspaper or scrap paper
A stack of post its or a memo pad and pen
I was given the Rust-Oleum at the OPR Bloggers event I attended. They are a local firm with a base in my home town in Gateshead and I was very excited about trying this! I was pleased I got the copper as I find that a very positive attractive colour, but of course you can use any colour you feel works for you. Golds, coppers, yellows etc are very positive colours. You will see that the paint can doesn't actually state that it can be used on glass, but it does work brilliantly.
I would definitely do this outdoors, another reason why this time of year is good for this project! Just place the glass upside down on the paper and spray it as evenly as you can all over. Leave to dry for about 2 hours and apply another even coat. Leave for another 2 hours then turn the jar the right side up so you can see if you've missed any areas and so you can get to the rim of the glass. Spray again and leave to dry fully. Your glass should be totally opaque.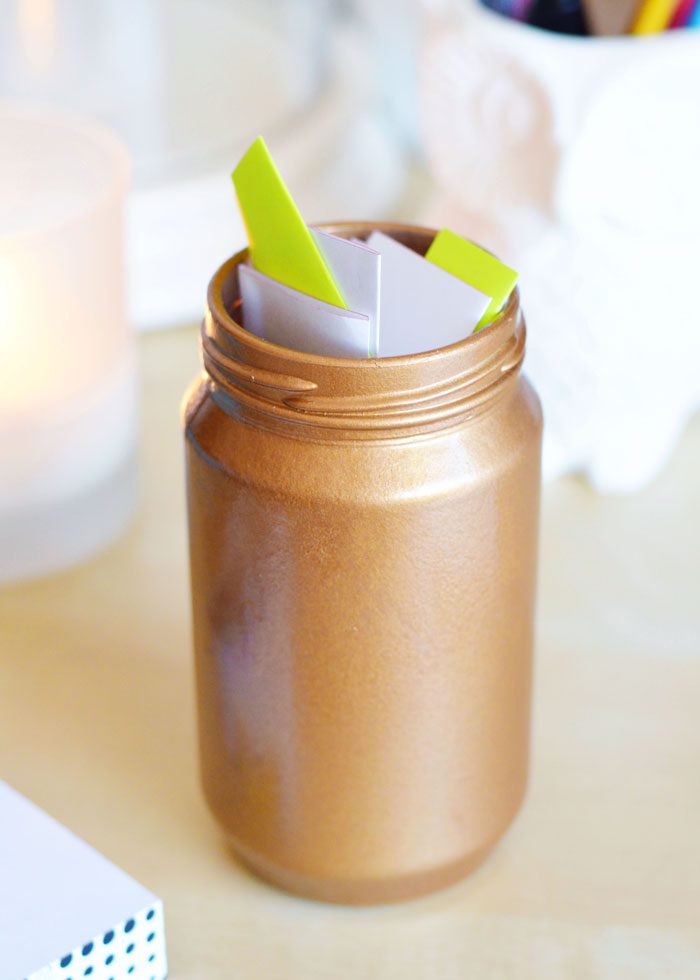 Then it's just about finding a nice spot for it! I have mine on my desk and now that it's this gorgeous copper colour, I've been reminded to add new positive things to the jar. As well as using it for that purpose, you can of course use it for a number of different things as well…
Spiritual stuff:
Manifestation Jar – instead of positive things, write down the things you want in your life like big goals and dreams. Keep them in your jar to remind you of what you'd like to manifest in your life
Gratitude Jar- each day write down something you are grateful for an store it in the jar to re read at the end of the year
Affirmation Jar – write down lots of different affirmations (which are basically positive statements worded in the now, for example 'I am healthy and vibrant' or 'I am loved'). Each day, or whenever you need a boost, pull out an affirmation to read to yourself
(I've got a few posts floating around my head on the topics of manifesting and affirmations so watch for them coming soon!)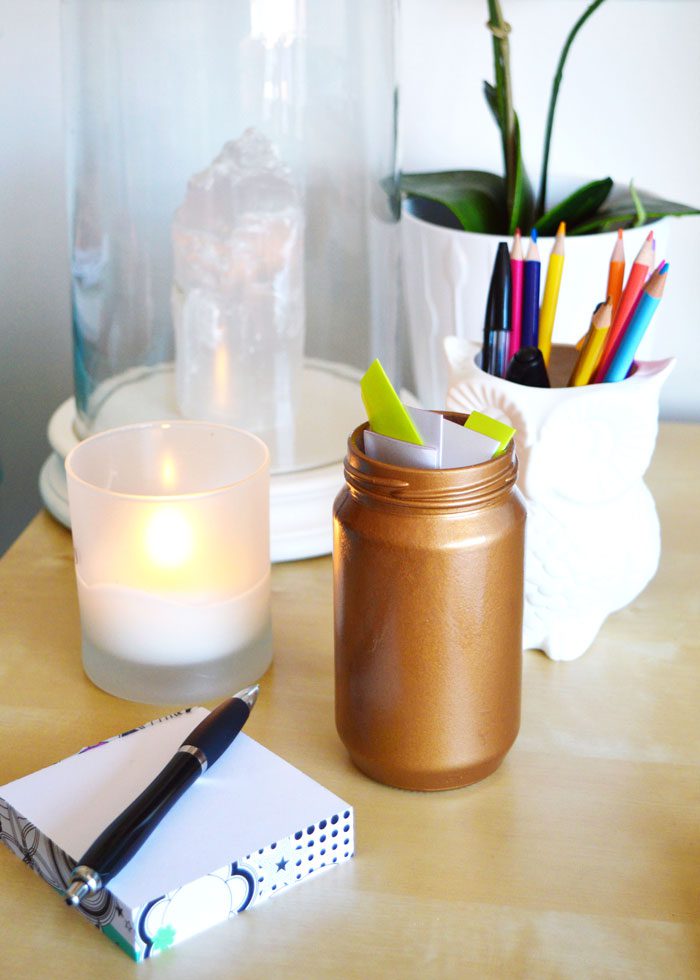 Practical stuff:
As a pen holder for your desk
To hold make up brushes in the bathroom
As a toothbrush holder
To store cotton wool / cotton buds etc
As a vase for flowers (how gorgeous would some greenery look with that copper colour!)
To store loose change
I'm sure there would be many more uses as well!
Would you use a positivity jar? What other ways would you use something like this? What do you think of September as the new January?