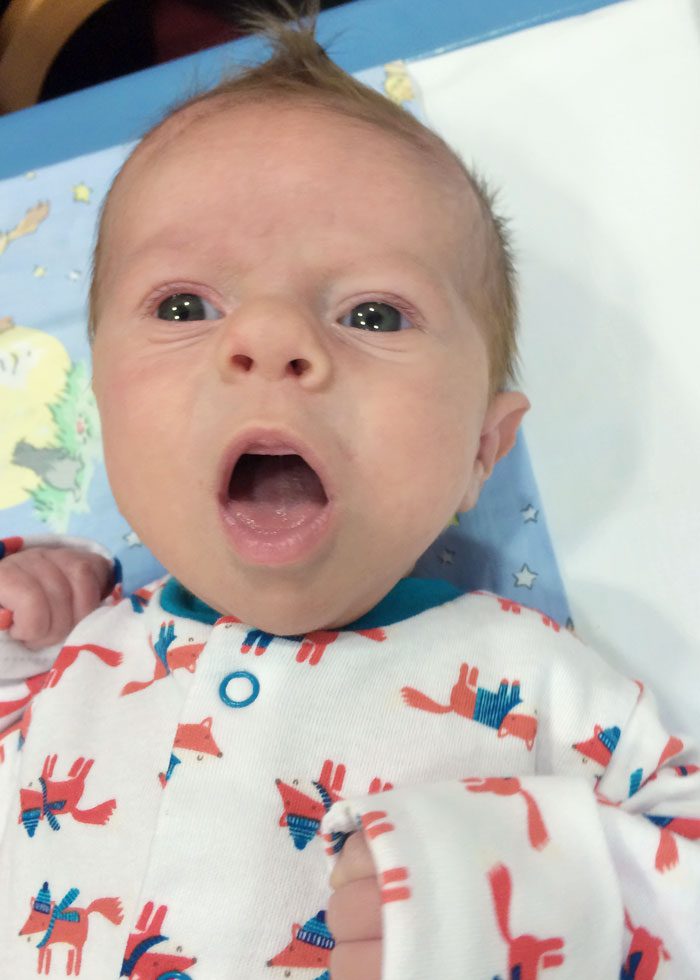 4 days after open heart surgery!
If you follow me on Facebook, Twitter or Instagram you will have seen that Finley had his open heart surgery last week. We were admitted to the Children's Heart Unit at the Freeman Hospital on Sunday evening and Finley's surgery took place on Monday afternoon. It was without a doubt the worst day of my life. Leaving him on the operating theatre was just awful and when I first saw him in the PICU covered in tubes and wires I totally broke down.
The op needed to go ahead as despite tube feeding Fin in addition to my breast feeds he wasn't gaining weight and the time had just come. I was very nervous about him being so small, and no one really expected him to recover so quickly. He was in theatre for 5 hours and then in PICU for 36 hours before he came down to the ward. I'll never forget seeing him cry but being unable to make a sound due to the ventilator, or the big tubes left in his tummy to drain away the excess blood. However, he did make wonderful progress and has just been thriving since! I'm breastfeeding him exclusively again which is just the best, and he's even more alert (which I didn't think was possible). He does have a pretty big incision down the middle of his chest, but given his age it should be hardly noticeable when he's older.
We brought him home on Saturday afternoon and it just felt like a dream, my beautiful baby boy has been fixed and we can start and settle back into little family unit and look forward to Christmas without worry! I don't think I'd realised how much it has affected me, but since he's been ok it feels like a veil has been lifted off me and I notice the world again, it's so strange.
He had his large VSD and small ASD closed, basically a big hole between the lower left and right ventricles and a smaller hole between the upper chambers. Congenital heart disease is as common as 1 in 100 babies, theres very little known as to why it happens, although in our case I suspect there could be a genetic link as my grandmother had a small ASD that only needed to be closed recently. Luckily, Finley has one of the easiest to treat CHD's and as I've mentioned before, so many other babies and families we've come to know while Finley has been treated have got it so much worse.
No parent should ever have to go what we've been through, but every time I felt like I couldn't handle it I thought of how strong parents of other heart babies are and that helped me get through it. Words simply can't express our gratitude to everyone at PICU and Ward 23 at the Freeman and especially Barry his surgeon. If anyone reading ever finds themselves in a similar position to us, please email me as I would happily support anyone else looking after a child with CHD.
Finley is such a tough little boy, he's amazed us all with his recovery and I have no doubt that this whole experience, despite not being aware of it at the time, will be a source of strength for him in the future.
Thanks so much for all the well wishes on social media over the weekend, I'm the happiest Mama in the whole world!