James has been gluten free now for 6 days and so far it's been very interesting for him! He's managed pretty well, but it's lunches on the go where he has struggled. Everything that comes in a packet seems to have gluten in, and considering his usual lunchtime choice would be a hot baguette from Greggs, you can see why it might be a challenge! And yes, I have suggested he takes a packed lunch in with him, but he likes to get out for a walk on his break and enjoys getting his lunch while he's out.
James has experienced a range of issues for a while now, and although I suggested gluten could be the culprit ages ago, isn't it just typical of men wanting to figure it out for themselves? He's had a blood test which came back negative, but we know that's often not a useful measure, so we are going to continue for a few weeks and assess if he's feeling better. To be honest I think the switch from processed to real food will make a huge difference, as well as him being more experimental with his diet.
As a nice little gluten free treat, I created these muffins for him. Now I am so proud of this little recipe because I basically winged it completely. Usually I'd base a baked recipe on an existing one, crediting the source of my inspo of course. However with these I just thought sod it I'm going to chuck some stuff in a bowl and see what comes out. I was very pleased with the result!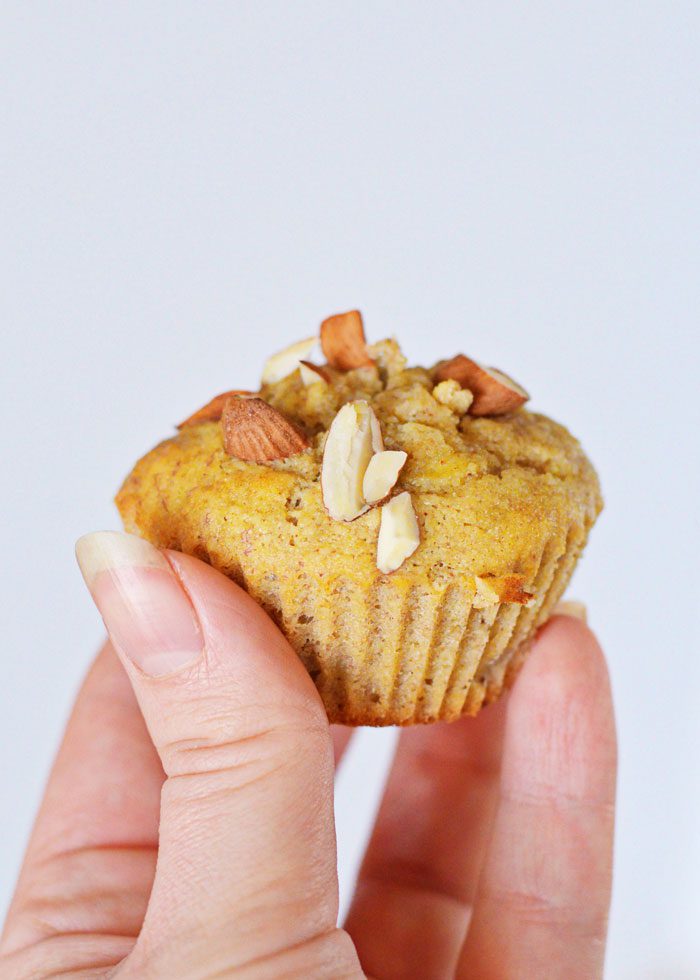 I wanted to use gluten free buckwheat flour, one of my favourite ingredients from Grains as Mains. I also had some super ripe bananas to use, and a natural add in for me was James favourite nuts, almonds.
What I ended up with was a sweet and nutty gluten free treat, free from refined sugar, that would be perfect for breakfast or a mid morning snack with coffee.
Now you guys know I'm a little obsessed with Pinterest, and I was invited to create a board full of healthy coffee and baked treats that would be ideal for breakfast or brunch as part of their Breakfast Club campaign. You can check out my board here:
Follow Laura Agar Wilson's board Breakfast Love: healthier coffee and pastries on Pinterest.
So much deliciousness! Lot's of unusual healthier coffee variations too.
But back to these muffins!
Buckwheat, Banana and Almond Nut Muffins
2015-03-11 19:27:40
Ingredients
1 cup of buckwheat flour
1/4 cup of ground almonds
1 tsp of baking powder
2 ripe bananas
2 eggs
1/4 cup + 2 tbsp honey
2 tbsp of coconut oil
1/3 cup almonds - or nut of choice
Instructions
1. Pre heat oven to 180c (fan 160) and prepare muffin pan or cases
2. Combine the dry ingredients in a bowl
3. Mash the bananas and whisk together with the eggs and honey. Melt the coconut oil and whisk in as well.
4. Mix the wet into the dry until combined.
5. Fill muffin cases 3/4 full. Roughly chop the almonds and sprinkle on top.
6. Bake for 10 - 15 minutes until risen and golden and when a toothpick comes out clean
Wholeheartedly Laura https://wholeheartedlylaura.com/
A nice simple recipe that tastes fab!
Do you like baked treats for breakfast or brunch? Do you eat gluten or have you experimented with gluten free?