Soup weather has well and truly arrived. As I type, it is bucketing it down and I even *gasp* have put the heating on! Meals like this soup – which to be fair is bordering on becoming a stew – are perfect for this time of year.
The idea for this recipe came from enjoying one of my favourite healthy living 'cheats', the Skinny Goan Chicken and Lentil Soup from Covent Garden. It's delish, and the spices in it help to make it taste really full of flavour and therefore more filling.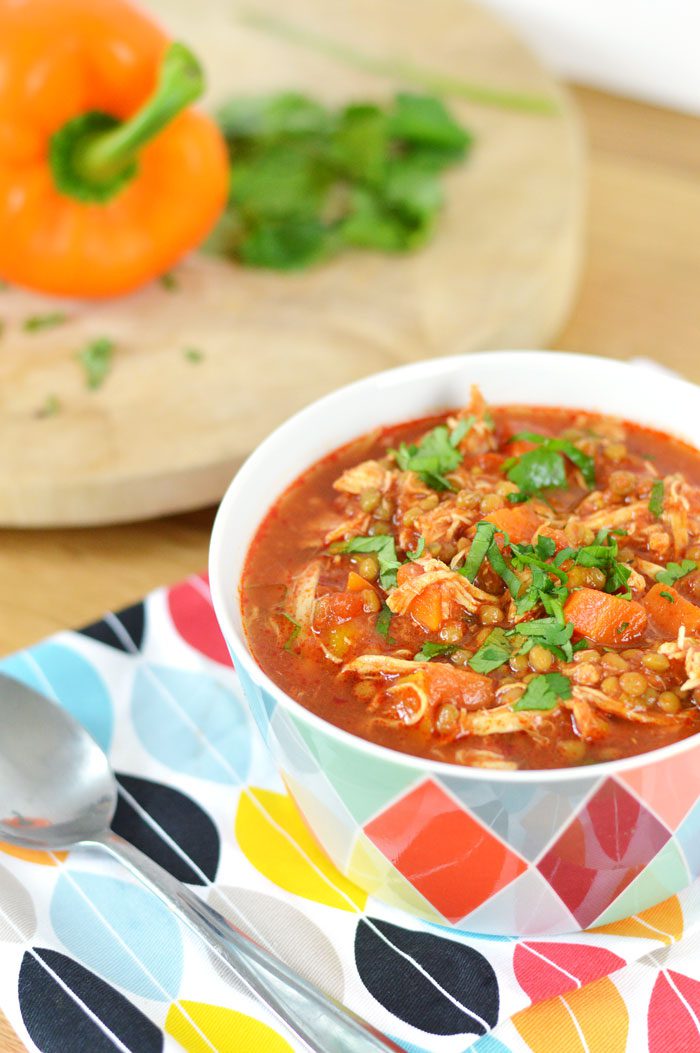 I decided to come up with my own similar version using harissa paste which is one of my fave things ever. If you haven't tried it before, it's a middle eastern paste made with chilli, oil, garlic and aromatic herbs. I use Belazu Rose Harissa paste which seems to be available in most supermarkets. I have a couple of recipes on the blog using harissa such as my harissa chicken salad, but as well as pairing it with chicken, it goes really well with chickpeas, and in fact you could easily switch out the lentils for those in this recipe.
I made mine in my slow cooker which makes this super easy recipe even more easy to make, but it could also be made on the stove too.

Harissa Chicken and Lentil Soup
2015-09-21 15:06:04
Serves 4
Ingredients
2 chicken breasts
2 medium sized carrots
2 peppers
1 carton of chopped tomatoes
1 cup / 250 ml chicken stock
1-2 tbsp harissa paste (depending on how hot you like it!)
1 carton of lentils
Fresh coriander or parsley to serve
Instructions
1. Chop the carrot and pepper into small pieces.
2. If making in a slow cooker, place the chicken breasts (whole), the chopped veg, chopped tomatoes, harissa paste and stock into the slow cooker (give it a quick stir) and cook on low for 6-8 hours or high for 4-6 hours. Remove the chicken breasts from the slow cooker and shred with forks, then mix back into the soup along with the drained lentils.
3. If cooking on the stove, chop the chicken into small bite-sized pieces and add to a large pan along with the veg, chopped tomatoes, harissa paste and stock. Bring to a simmer and cook until the chicken is cooked through and the carrot is tender. Add the lentils and warm through before serving.
4. Serve with fresh herbs.
Notes
For a more soupy texture, add more chicken stock.
Wholeheartedly Laura https://wholeheartedlylaura.com/
As I said, this soup is so thick it's almost a stew, so if you'd prefer, you can add an extra cup of chicken stock to create a more soupy texture.
Recipes like this really are my style. Healthy, seasonal, full of flavour and simple to make!
Have you tried harissa paste before? Have you busted out the slow cooker yet?