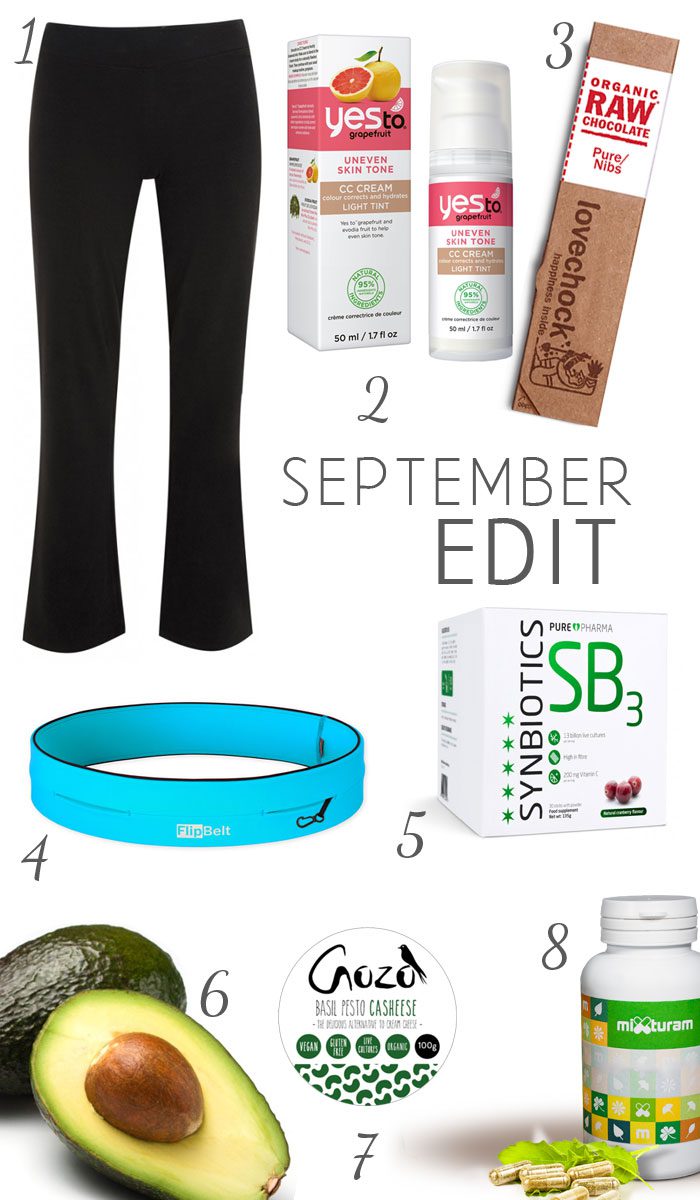 This month I've tried out some great new products. Here is my edit of my faves!
1. Manuka yoga pants – I got these from TK Maxx as my old ones didn't survive the capsule wardrobe cull. Every woman needs a good pair of yoga style pants, not even for yoga ;-) These are lovely and have a nice embroidery of a lotus on the back.
2. Yes to Grapefruit CC cream – I found this in Holland and Barrett during their Buy One Get One Half Price sale. I did love REN's BB cream but this is much better. It is easily applied, suits my skin tone and gives just enough coverage. I don't need to put any powder on top so I get to keep that dewy glow. Definite beauty product fave of mine.
3. Lovechock Raw Chocolate* – I was kind enough to be sent some of this raw chocolate to sample and it is lovely. Each raw chocolate brand is different, but what I like about this is the chunky pieces and the variety of flavours like almond and fig :-)
4. Flipbelt* – Kindly sent to me by Runners Need, this is such a great accessory if, like me, you hate the arm straps for your phone. Those tend to chafe me, whereas this is perfect for holding your phone and keys. I wore it during the Great North Run and also carried a gel in there as well.
5. Pure Pharma SB3* – In the run up to summer it felt like my immune system took a serious hammering. I was very happy to try SB3, a cranberry flavoured probiotic powder which also contains vitamin C. It tastes great whether you take the powder straight or drink it with water and my digestion and immunity definitely seem to have improved.
6. Avocados!* – Or more specifically avocados from Peru. I was sent a big box full of them so went avocado crazy with chocolate avocado mousse, yum!
7. Gozo Basil Pesto Casheese* – This vegan, gluten free 'cheese' is made with organic cashews, live cultures and flavours and is absolutely delicious. I also tried the french herb and smoked paprika versions which to be honest I wasn't a fan of, but the basil is lovely. Great on corn cakes, yum!
8. Mixturam tailor made supplements* – This is a really unique take on supplements, Mixturam let you create your own supplement based on either the ingredients you choose, or the issues you'd like it to address. You can be guided, or simply choose the ingredients. It's then packaged up into a box of tailor made supplements just for you. You can also specify any intolerances or allergies to make sure they aren't in your supplement. The range of ingredients they have is impressive. My supplement included mama powder, organic MSM, ginger, echinacea and CLA.
What new products have you enjoyed this month?
Items marked * are PR samples which I received with no obligation to feature.