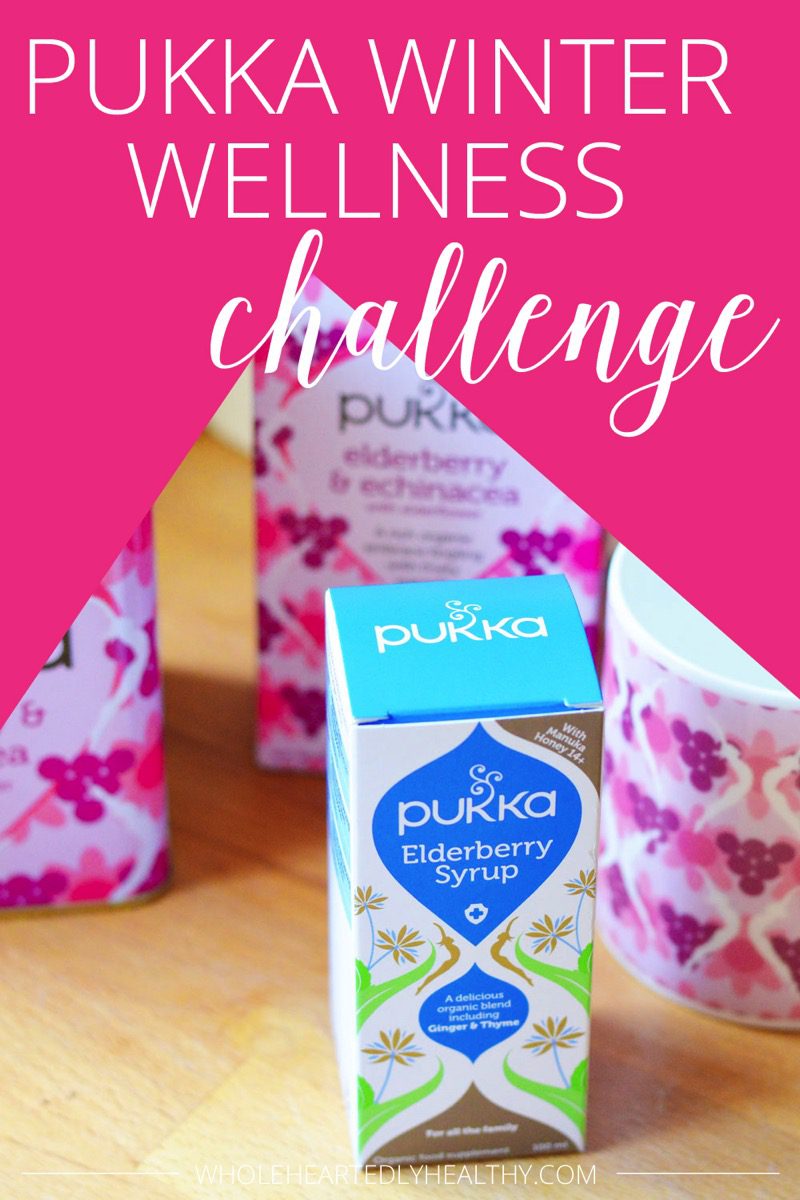 It's no secret I love this time of year, the colourful trees, pumpkin lattes and cosy nights in are just enchanting. However, there's a darker side to autumn and the coming winter, COLDS AND FLU, aaargh!!!
Last year I was ill so often, I even spent Christmas Day feeling like death warmed up and ended up in bed at 6pm. I know part of this was stress and lack of sleep related, but my previously great immune system seemed to have been crushed since I had a baby.
I already knew that I wanted to focus on my immune system this year so I didn't get a repeat performance, so when Pukka asked me to take part in their Winter Wellness Challenge I was chuffed to say the least!
The challenge involved following a bespoke wellness plan from Pukka's Sebastian Pole, their co founder and master herb smith, and keeping a diary to record how I got on. You might have seen some of my updates over the last few weeks on social media.
The wellness plan included:
– Take 3 teaspoons of Elderberry syrup a day
– Stay hydrated – with Elderberry and Echinacea tea as well as other liquids
– Get rest – maybe they didn't see that I have a sleep monster child haha! However Finley has been much better recently so I definitely tried this!
– Keep exercising – to help fight nasties
– Massage – to prevent aching joints with the cold weather, massage using warm oil
The Elderberry syrup is a really great product for keeping colds and illnesses at bay, just check out it's benefits:
– Elderberries are effective at maintaining a strong immune system because of the anti-bacterial, anti-inflammatory and anti-viral properties
– Elderberries are jam packed with Vitamin C and antioxidants
– Elderberries can ease flu symptoms like fever, headache, sore throat, fatigue, coughs and body aches
– Pukka's Elderberry Syrup is naturally sweet, so no more nasty medicinal flavours, which is great for kids too
Kids over two can also take this which is awesome and I'll definitely be using this when Finley is older. I loved this stuff! As well as the Elderberry it contains ginger, thyme and manuka honey. I took some of mine mixed in with the tea which made it taste really good. I'm not a huge fan of fruity teas and the added syrup made it taste a little spicer which I loved. Another secondary benefit of drinking the tea is that it crowded out a lot of other caffiene containing beverages and I feel I benefited from that as well.
I even took the tea and syrup on holiday with me to keep up with the challenge, which was definitely worth while as James came down with a cold and I could really feel one threatening to hit me so I made sure I was taking the tea and syrup religiously. Admittedly, I struggled with the sleep tip and finding time to fit in the massage with oil, but I still really felt the benefits of the challenge. I've already purchased more of the syrup so we can keep that up!
You can find the tea and syrup at independent health food stores or online at pukkaherbs.com. They're currently running an offer to get the tea free when you purchase the syrup here!
How does your immune system fair over the colder months? If you have a little one, did that affect your immunity? What are you doing to support your immune system this season?
*post sponsored by Pukka Herbs