Today I have an extra special treat for you, a guest recipe from the wonderful Ceri from Natural Kitchen Adventures. I've been following her blog for ages and just love her recipes which always feature amazing ingredients and flavours as well as her general outlook on health and wellbeing which is very close to my own. I was delighted when she agreed to a little post swap! You can check out my recipe for Cranberry and Macadamia Cookies over at Natural Kitchen Adventures. Read on for this delicious recipe and more from Ceri!
__________________________________________
I was thrilled when Laura asked if we could do a blog swap this week. Laura was actually one of the first healthy food bloggers I started following when I got into blogging some 5 years ago (initially I was writing a blog about running the marathon before this one was born in 2011), so it's kind of weird to be going full circle and posting on her blog now! I wish I could remember how I came across her blog in the first place, but regardless of how I found her it was her honesty and engaging posts that were what kept me reading. Apart from having a baby (!) much of Laura's recent journey; loosing weight, trying to keep it off, loosing too much, amenorrhea (suspended periods), regaining a bit of weight, playing around with a gazillion diets, but in the end deciding that health is more important than image is a journey I have also been on over the last 10 years. I decided to keep the focus of my blog to recipes since that's where I feel most comfortable chatting away, but doesn't mean I don't want to read or chat about this stuff. Over the years it has been a comfort joining Laura on her journey and watching her gain acceptance of herself to flourish into a super hero health blogger. A refreshing attitude.
On to the recipe… I thought I would share with you a classic Natural Kitchen Adventures style recipe. A roasted vegetable salad, topped with protein, a cheeky bit of feta cheese and that all-important herby dressing. In fact the only thing that is missing is a pop of pomegranate seeds, but I had to stop myself because quite frankly they don't go with everything and sometimes less is more. Whilst you can't beat the comfort of eating the vegetables warm in the salad shortly after they have come out of the oven, they are also brilliant cold, which means a big portion of this will keep you going for days. The permutations and combinations of this style of recipe are endless. I love to eat like this.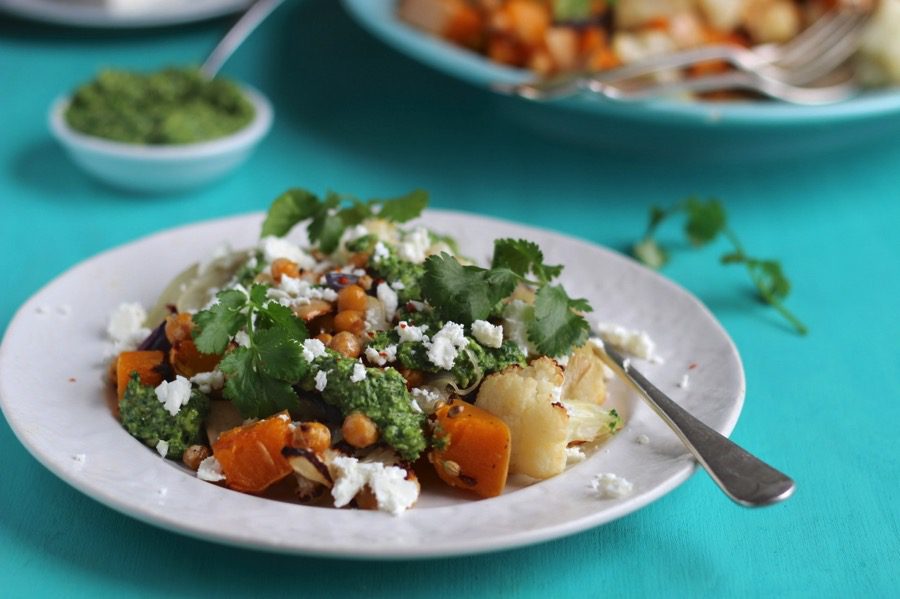 I've recently discovered the joys of toasting my chickpeas before adding them to dishes rather than folding them through straight out of the tin. With just a little bit of oil, a hint of garlic and the pop of some citrusy coriander seeds (which I like to leave whole), they take on an entirely new character. Because I added flavour to the chickpeas as well as in the pesto the flavours are roasted simply in oil and salt; let's not over complicate everything.
A bunch of shredded coriander was going to be my simple finishing flourish to this pile of roasted goodness but somehow it didn't seem enough. With a pack of store cupboard cashews to hand I decided a creamy pesto style dressing would be far more appropriate. Pesto can be made from any herbs and nuts and I love to experiment with different combinations. Next went in dried oregano, lime juice, olive oil and red pepper flakes. The use of dried oregano here is pinched from Mexican cuisine rather than Italian, and I think it goes rather well with the coriander chickpeas. If you can get hold of Mexican oregano all the better, but if not, the Mediterranean stuff works just fine.
Want a dairy free option? Leave off the feta and throw in some avocado. Want to stretch it a bit further without too much expense? Fold through some cooked buckwheat groats or quinoa. Not keen on chickpeas? Leave them out and serve this alongside a fillet of fish or piece of lamb. Versatility and seasonality at its best.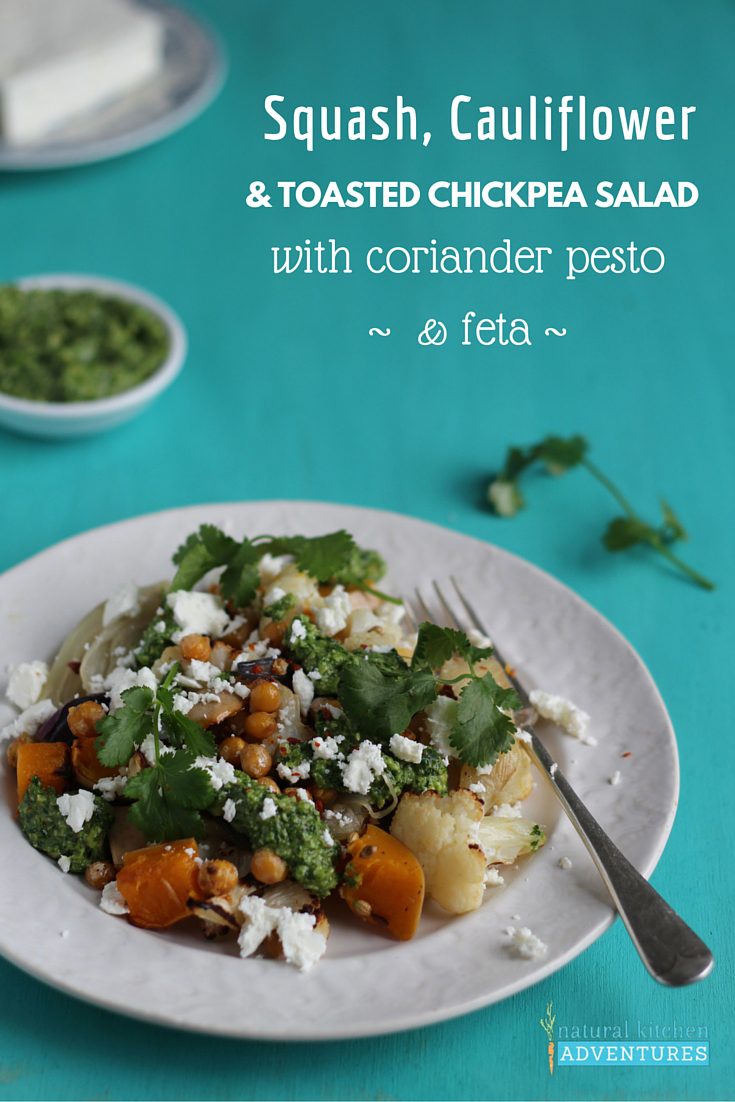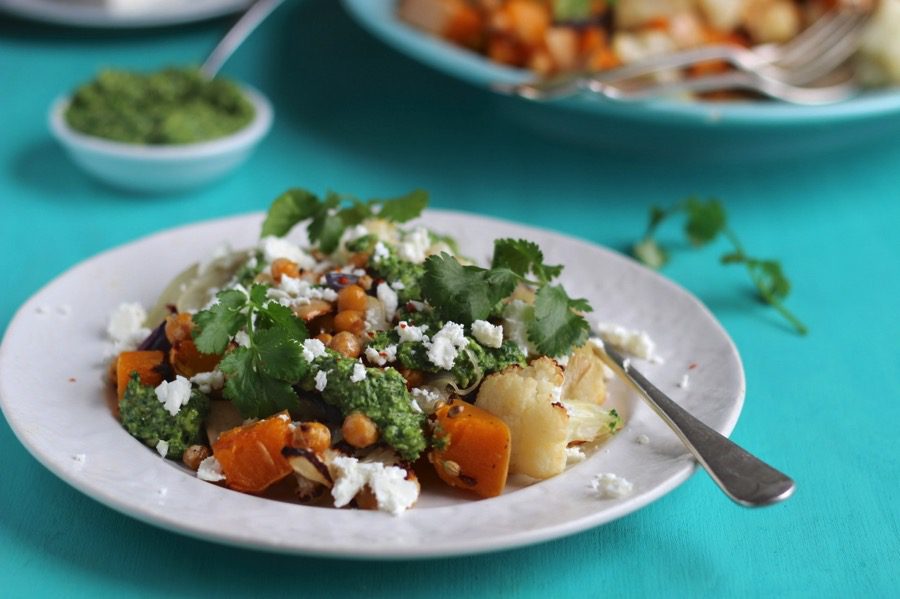 Squash, Cauliflower and toasted chickpea salad with coriander pesto and feta
2015-11-10 19:23:42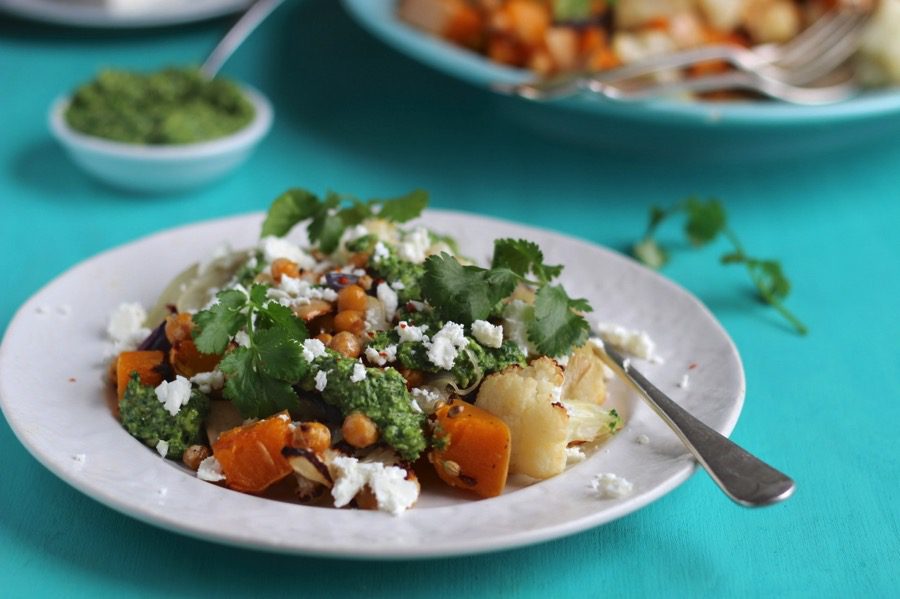 A warm salad using autumn's finest squash and cauliflower, toasty pan-fried chickpeas, and a coriander cashew pesto. Top with crumbled feta if you dare. Serves 2 very generously as a main, 3-4 as a side.
Salad
1 medium butternut squash, peel on, small dice
1 medium cauliflower, broken up into small florets
1 fennel bulb sliced into wedges
1 red onion, sliced into wedges
1 x 380g tin chickpeas, drained and rinsed
2 cloves garlic, minced
1 Tbs coriander seed
Olive oil
Salt and pepper
Red pepper (or red chilli) flakes
Coriander – cashew pesto
50g cashew nuts
Large handful of coriander leaf, around 50g
1 tsp dried oregano
3 Tbs olive oil
1 Tbs lime juice
½ tsp salt, to taste
Pinch red pepper flakes
Instructions
1. Pre-heat oven to 180°C
2. Toss the squash, cauliflower, fennel and onion in 1 Tbs olive oil and ¼ tsp salt. Lay on a lined baking sheet and roast in the oven for 25 minutes, until fork tender and charred.
3. Meanwhile heat 2 tsp of olive oil in a frying pan, and sauté the garlic for a minute until softened. Add the coriander seed and shake around the pan to coat in the oil, before adding the chickpeas. Cook on a moderate heat stirring frequently for around 10 minutes, until their skins become rather crispy.
4. Finally make up your pesto. Place the cashew nuts in a food processor along with the coriander (leaving a few sprigs for garnish), oregano, olive oil, lime juice, salt and red pepper flakes. Blitz until all of the cashews have broken down and you are left with a creamy green paste. Taste and adjust seasoning if necessary. Scrape into a serving bowl.
5. When the vegetables are ready, transfer to a large platter and scatter over the chickpeas. Serve with some coriander leaf as garnish, and allow the guests to dig in then garnish their own servings with the pesto, crumbled feta and additional red pepper flakes.
Wholeheartedly Laura https://wholeheartedlylaura.com/
Ceri Jones Ceri Jones is a Natural Chef and writer of the whole foods recipe blog www.naturalkitchenadventures.com. She trained as a natural chef at Bauman College of Holistic Nutrition and Culinary Arts in California and works in London as a food writer, recipe developer, healthy cooking instructor and yoga retreat chef.