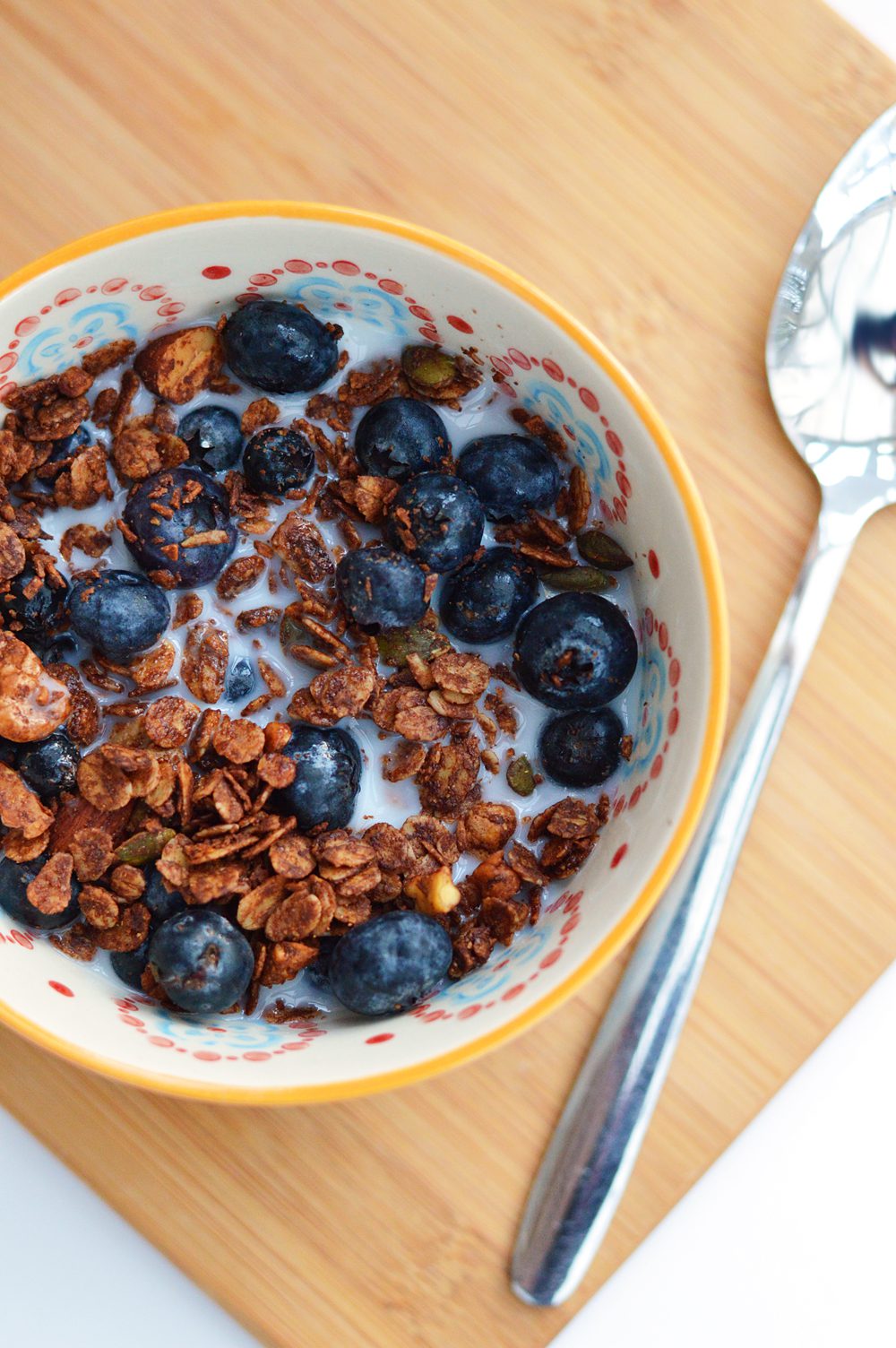 Breakfast still rates as my favourite meal of the day, and while I feel we're now well into porridge weather, I do like to change it up! This chocolate tahini granola recipe was one of those random things I made when I was out of my other nut butters, but it certainly was a delicious experiment!
If you're not familiar with tahini it's sesame seeds that have been ground down into a paste. It can be an acquired taste, but it's certainly worth a try. It has a rather unique flavour, suited to both sweet and savoury dishes. I love it mixed with lemon juice or apple cider vinegar as a salad dressing, and of course it's one of the key ingredients in hummus.
Tahini is a great source of non-dairy calcium and a range of other essential vitamins and minerals. It's also a good source of healthy fats and amino acids. Combined with good quality cocoa, this granola really is a nutritional powerhouse.
I love it served with almond milk (Rude Health almond drink is my current favourite and goes so well with this granola!) and berries, but it's just as good as a topping for a smoothie bowl or to be served with yoghurt. You can play around with the added nuts and seeds in the recipe, but definitely stick with the desiccated coconut which gives this granola added flavour. Don't skip on the honey either, tahini and cocoa without sweetness can taste a little bitter, although I kind of like that!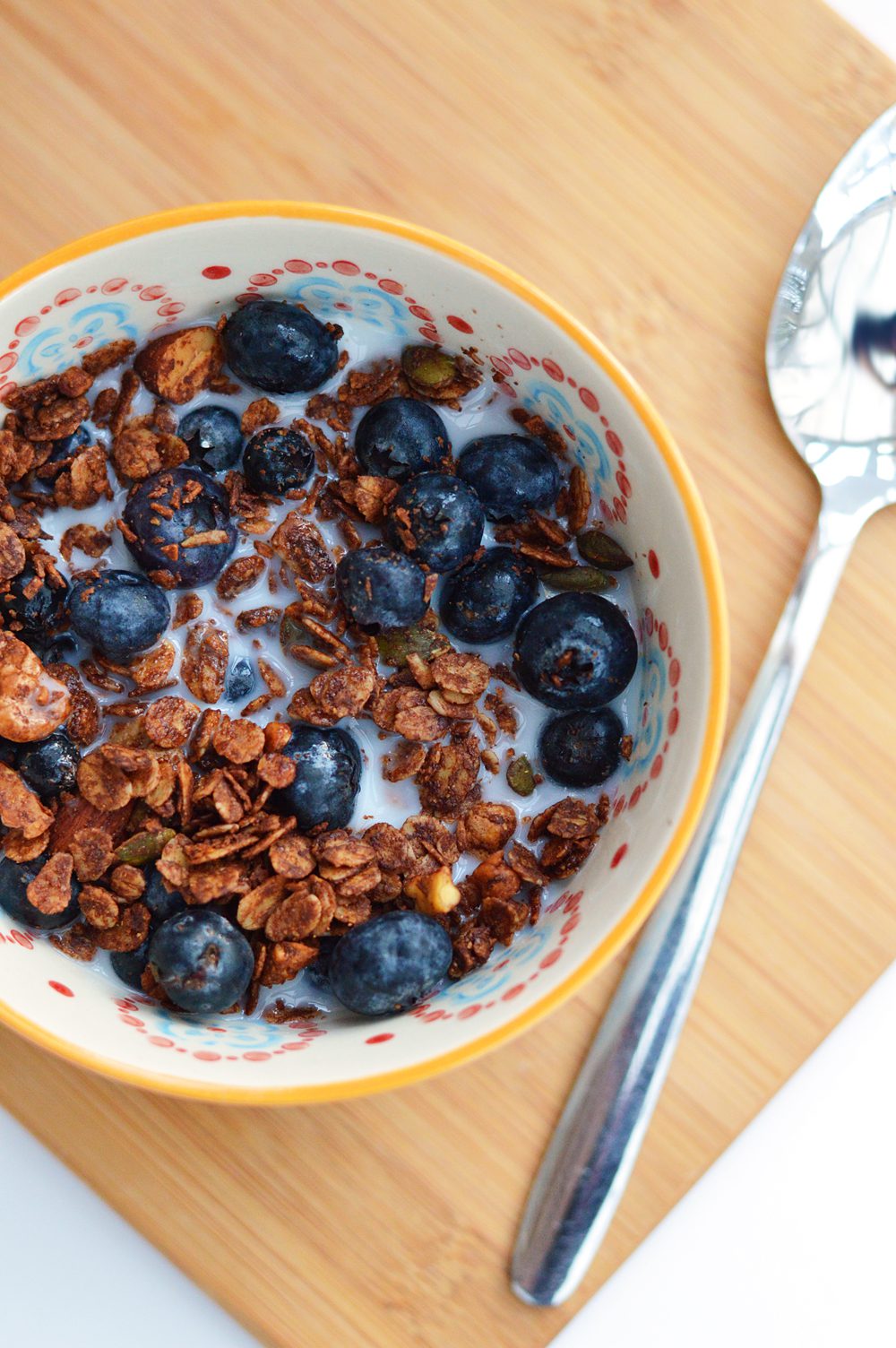 Chocolate Tahini Granola
2016-10-03 08:40:50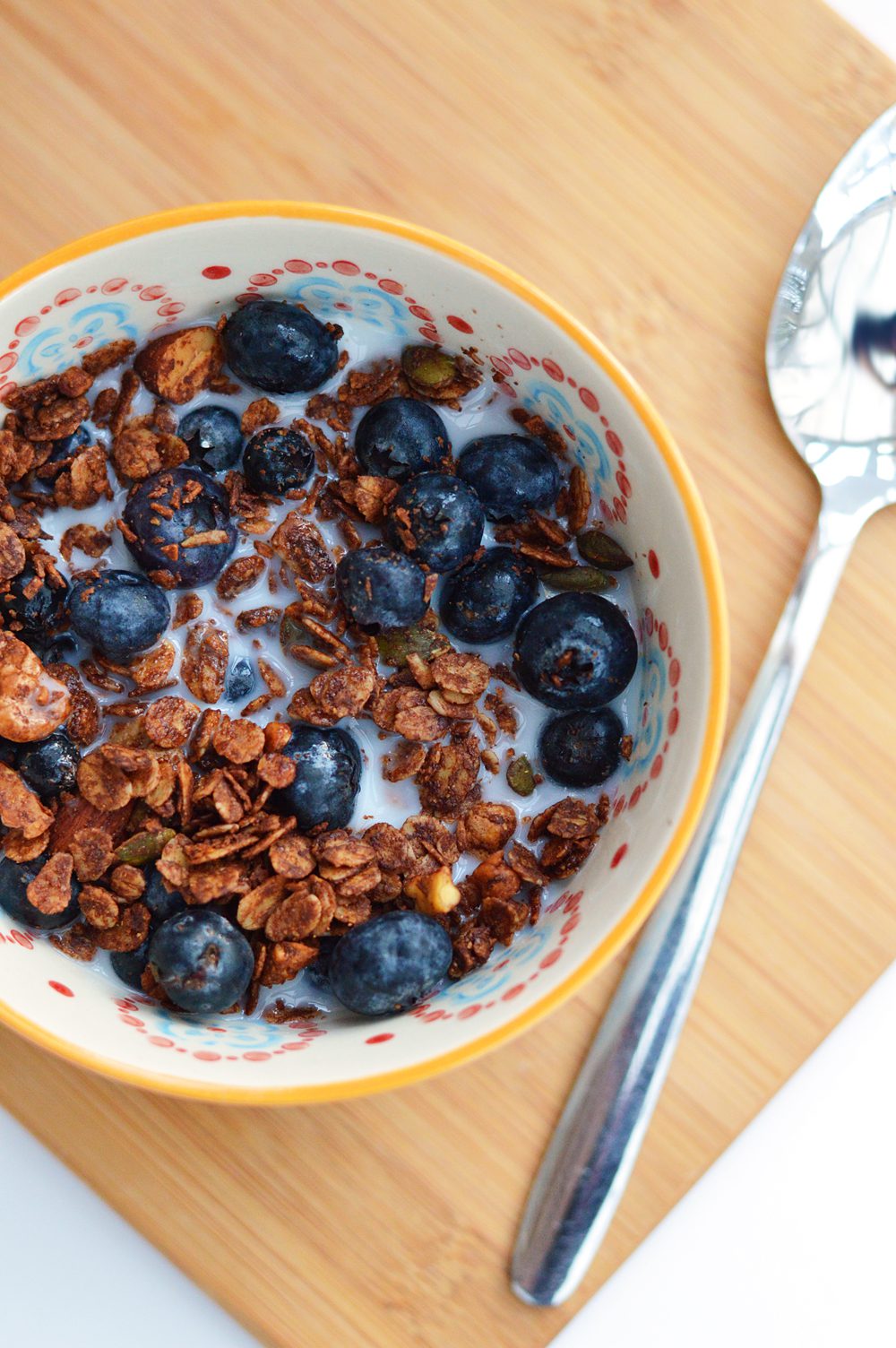 Ingredients
2 cups of jumbo / rolled oats
1 cup of nuts and seeds (I used a mix of almonds, walnuts and pumpkin seeds)
1 cup of desiccated coconut
1/4 cup of cocoa powder
2 tbsp coconut oil
1/4 cup of tahini
1/4 cup of honey (or other liquid sweetener)
1/8 tsp salt
Instructions
Pre-heat the oven to 180C and line two baking trays with greaseproof paper.
Roughly chop the nuts and seeds and combine with the oats, coconut, cocoa powder and salt in a large bowl.
Melt the coconut oil in a double boiler or the microwave and then combine with the tahini and honey.
Pour over the dry ingredients and mix well until everything is combined.
Divide the granola between the two trays and bake for 10-15 minutes, stirring often, until it has dried out and is crunchier (keep an eye on it as, with it being chocolate, you can't see if it's starting to burn!)
Leave to cool and store in an airtight container for around 10 days.
Wholeheartedly Laura https://wholeheartedlylaura.com/
This recipe is actually quite adaptable as you can easily use different nut or seed butters, liquid sweeteners and nuts and seeds to make it to your liking. It's a recipe I come back to again and again!
Have you tried tahini before? Have you made granola at home yet?