At the end of last year when I sat down with Danielle La Porte's wonderful Desire Map to come up with my core desired feelings for 2017, one of the words / feelings that came out was 'witchy'. I've slowly been starting to talk more about my spiritual / magic / woo woo side over the last few months, so I thought I'd share with you how I include a little bit of magic in my life everyday.
I first started getting into all things woo when I was about 15. I think I had seen The Craft, and that sparked something inside me to look further. We had just got a computer that hooked up to dial up internet (anyone else remember that sound as you would dial in? God I feel so old!) and I'd spend my time looking up wicca websites and browsing Fairuza Balk's online occult store. I bought my first set of Tarot Cards from one of Newcastle's 'hippy' shops and I even got myself a pentacle necklace. One of the things I find funny about looking back is that I never shared this side of me with anyone – no friends, no family, just me in my bedroom drawing down the moon and trying out love spells on the boy that lived down the street.
Fast forward just under 20 years and while I don't think that part of myself ever left, it was definitely dormant. From learning Reiki and working with angel cards in my last job (I had a very progressive manager who was a Reiki master) alongside the general reemergence of all things witchy, magic is something that is firmly back in my life.
For the same reasons that I loved this when I was 15, for me being woo and into magic is about feeling the energy that is bigger than myself and which is connected to everything and everyone. I've always known there was something 'divine' out there, when I was little it was the christian faith that my Nana talked to me about, but as I got older and found that no longer resonated, this was what set my soul on fire – to me this feels like truth, and by connecting myself with it, I feel like a more whole person. What's better for your wellbeing than that, right?
However, I really struggle with sharing this part of myself. It brings up so many feelings of vulnerability, not being good enough and not fitting in – which is really why I needed to write this. As I said in last week's post, I'm done with letting these kind of insecurities rule me and I'm ready to share all parts of myself, even if that feels scary as fuck.
So…how do I bring a little bit of magic into my everyday life so I feel that 'witchy' core desired feeling?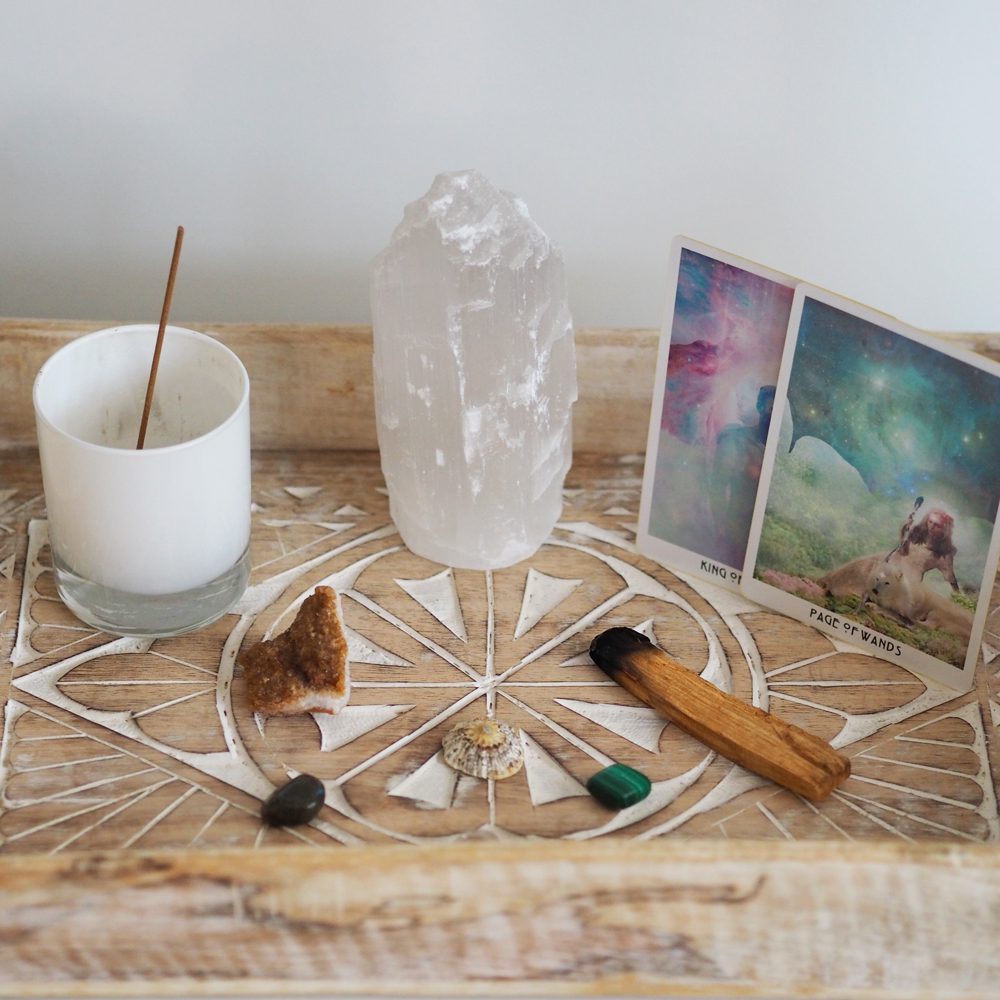 My (magic) morning routine
Every day as part of my morning routine with my bullet journal I sit down with my little altar and some incense burning (this is my favourite) and I pull a tarot card. The card is like a little self development prompt, insight for the day, as well as helping me get to know the meanings of the cards in more detail. Alongside this, in my bullet journal I always write down what I'm calling in, some affirmations and gratitude.
In tune with the moon
I always know what phase the moon is in. I love this app and I always draw a little glyph in my bullet journal every day. There's an energy to each moon phase, and alongside my menstrual cycle, it feels pretty witchy to be aware of that. Whenever I get the chance, I love looking up at the sky and seeing the moon, it really is beautiful. I love Ezzie Spencer and Jennifer Racioppi's work around the lunar cycle if you want to find out more about this.
Being aware of astrology
I recently had my birth chart read by the wonderful Lee Lam and it has totally changed my view of astrology. The Numinous post regularly updates on what's happening astrologically (I have their Facebook page set to 'show first' so I see their updates everyday) and sometimes I'm freaked out by how much of it resonates with where I'm at. Learning that I'm a Leo sun sign and a Scorpio rising (literally could not get any more polar opposite signs) alongside other aspects of my chart has deepened my knowledge of myself and made me realise why I always struggled to resonate with that totally extroverted, showy Leo energy.
Getting outside
Connecting with nature in someway, every day if possible, is something that brings me so much peace and joy. Just standing on the damp grass, looking up at the stars, feeling the sun on my face, all these really simple things help me to feel more connected.
Fire
Not wanting to sound like a pyromaniac, but I have this thing about fire. Maybe because I do have a bit of fire in my astrological chart, but I love to get a fire going in the garden, having candles burning and to cook on fire when I can. I also love to burn things I've written (like lists of things I'd like to call in on a new moon) in my mini cauldron.
Crystals
I've collected crystals since I was a child and still have them all now. I keep a citrine crystal in my purse, a selenite tower on my desk, a rose quartz in my bra – basically I have crystals all over the house! Not only are they beautiful but I do feel like they keep the energy flowing.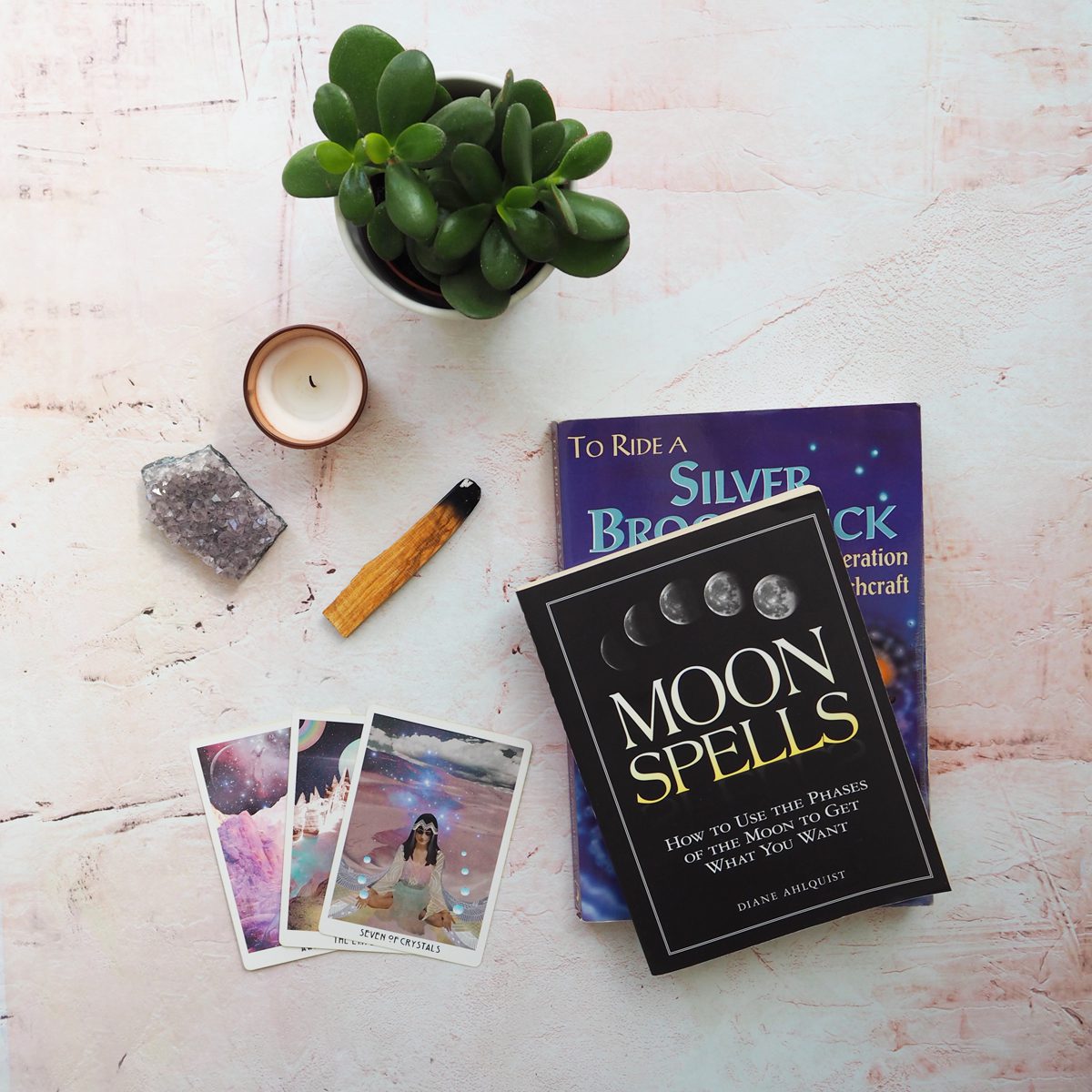 Over all, I've realised that this is something I want to bring into family life. Holly from Witch Cake (my current blog crush) shared this post and mentioned her Pagan upbringing and it has reminded me that marking the Pagan calendar, moon phases and generally having that connection with nature is what I want for Finley, because in all of this is a respect for the earth and an awareness of the cyclical nature of life, something that brings me great comfort and understanding. Alongside that, is a kind of personal empowerment – a way to know yourself more deeply, to understand your place in the Universe, to not feel so powerless. At least that's what it's brought me.
As always, I'd love to hear your thoughts on this one. As I've been hinting at recently, Wholeheartedly Healthy will be shifting gears a bit so I'm aware that this might not be everyone's cup of tea. But, I have to stay true to what is lighting me up these days, and this most definitely is!