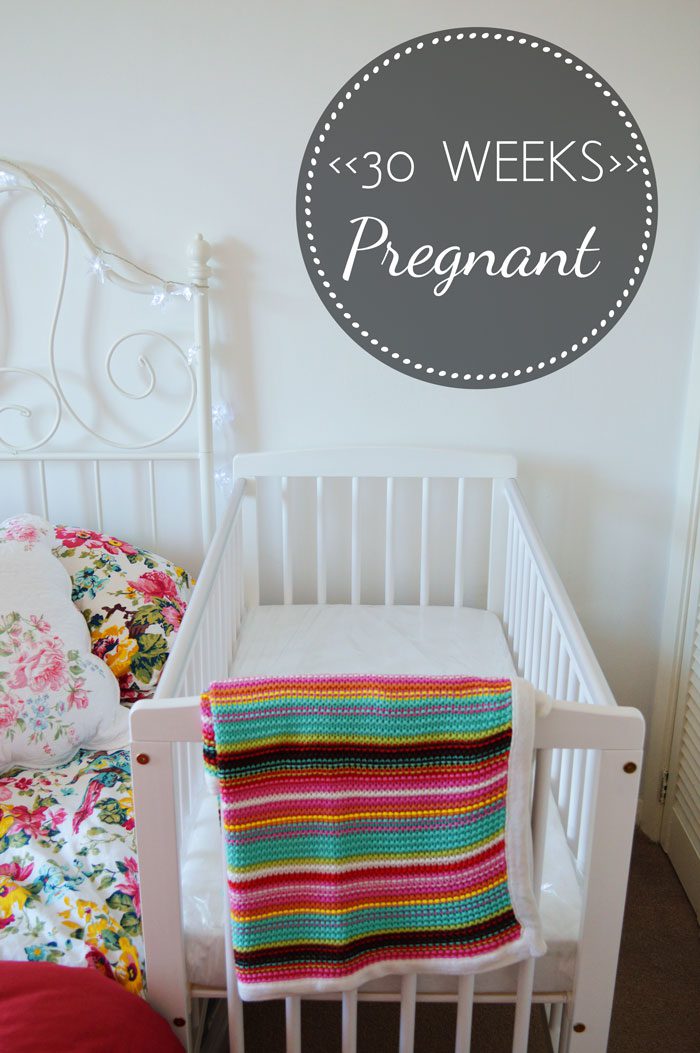 It's been a little while since I've posted a proper pregnancy update and I can't quite believe I'm almost 9 weeks away from my due date! Things have been good in general, the feeling of the baby moving around and giving me kicks is like no other and I spend as much time as I can enjoying that feeling. The other day I was lying in bed when he must have done a full turn, my stomach went completely lop sided for a few minutes it was very amusing! I'm also doing very well with all my health checks at the midwife and coming in perfect on all of them. However I have started to feel the strains of pregnancy, a couple of weeks ago when I was working on the new site and hence were stuck at my desk all day, my feet really swelled up which was strange! They've been ok since thankfully. The heat has obviously been hard to cope with at times, and some of the tiredness and random sickness I had in the first trimester has made a come back.
23, 27 and 30 weeks pregnant
I also have quite a lot to say about how I've been feeling body image wise. I'm saving most of that for a longer post, but I have had days when I have struggled with my size and being a 'big' mama. I often have had people say that I'm big, but when I look at other pics of pregnant ladies at the same stage as me, I would say I'm just average really. I'm measuring perfectly for my stage in pregnancy so I don't know, maybe it's just perceptions. I also think being hormonal and therefore a little more emotional has played a big part in how I've been feeling too (i.e. emotional Laura = crazy lady). I enjoyed having my maternity photos done, but they are not flattering at all and I think thats added to my worries. Over all I've had to remind myself, as I often have in the past, that I am healthy and most importantly, my baby is healthy and that is all that matters. I also think that I'd rather have a big obvious pregnant bump than be smaller, I've had some lovely conversations with random strangers who have obviously thought I'm pregnant rather than just having come from from a buffet!
As big as I may or may not be I still have no stretch marks, varicose veins or anything like that so I'm also happy in that regard, plus I'm proud of myself for the exercise I've been able to do. I'm hoping I can keep it up until my due date!
Now that the end is most definitely in sight, we've started to get more prepared and last week I ordered the cot and James has put it up ready as pictured above. We went for the Kinder Valley Kai Compact Cot and mattress. There's nothing like seeing the cot put together for a jolt of reality! I've also ordered a sling. I still need to get a changing bag, changing mat, bottles (I plan to breast feed and pump as well), steriliser, bouncy seat, play mat, sling and a few more sleep suits.
One of the nooks in our new unit with a glow in the dark bunny, fox felt cushion and a new blanket I ordered from Kiddicare
I've also signed up for a breast feeding and parent craft class through the NHS although these aren't until September so I hope he doesn't make an early arrival!
On Wednesday I visited a local nursery. It might sound like I'm being a bit quick off the mark, but I wasn't sure what waiting lists would be like. It's just a few minutes walk from where we live, and oh my word it is fabulous! It's quite a big nursery, but seriously, I wanted to have a play about in there! They have excellent indoor and outdoor facilities, lovely staff, a great kitchen and healthy menu and even extras like yoga and football classes once they are older. I'm very keen to have him in there at least one day, not even so much so I can work, but more so that he can benefit from what is clearly a fantastic environment.
Something else I've been up to this week is starting to drink red raspberry leaf tea. It's a herbal tea which when drunk in later pregnancy has been known to tone the uterus and help with a faster second stage of labour. It's worth noting that you do need to be careful with this but I've done my research, I've started with one, very weakly brewed cup drunk iced every other day and plan to gradually increase it towards the end of the pregnancy.
The Birth Plan
Beautiful sleep suit and hat received as a gift from my parents from Jojo Maman Bebe which they picked up in Brighton
To be honest, I don't have much of a plan! I've jotted down a few notes which go something like this:
I'd like to give birth as naturally as possible with as little medical intervention as is safe. I'd prefer to be able to move around freely rather than have to lie on a bed. I'd like to have the baby put straight on to my chest after birth and would like to try breast feeding immediately. However, I am willing to do whatever is recommended to unsure the baby is born healthy and safe.
That's kind of it. I know ideally how I'd like birth to go, but if I need an epidural or a c-section then so be it. James will be my birth partner and after our hypno birthing workshops (the second of which is this weekend) I'm really confident in his support. I'd also like to labour at home for as long as I can. I was told that once you are in hospital you are on a 'clock' where they will be more likely to want to speed up your labour with drugs or other interventions, something I definitely don't want. As I literally live 5 minutes from the hospital, I'd like to stay at home as long as I can. One thing the hypno birthing course has been brilliant at is getting me to think about how I can make myself really comfortable during labour and that's definitely being at home as long as I can. I'm hoping I'll be able to get an exercise ball to help me as well. I'm going to try and remember that actually, my body knows what to do naturally to birth this baby. My body has astounded me these last few months with what it's capable of and there's no need for me to stop trusting it now.
I'm also thinking that I'd like my labour bag packed and ready for the end of August, just in case!
If you've had a baby, did you think much about labour and birth? Did you have a birth plan? If you haven't had a child, have you ever thought about how you'd like your labour to go? What was in your hospital / labour bag?