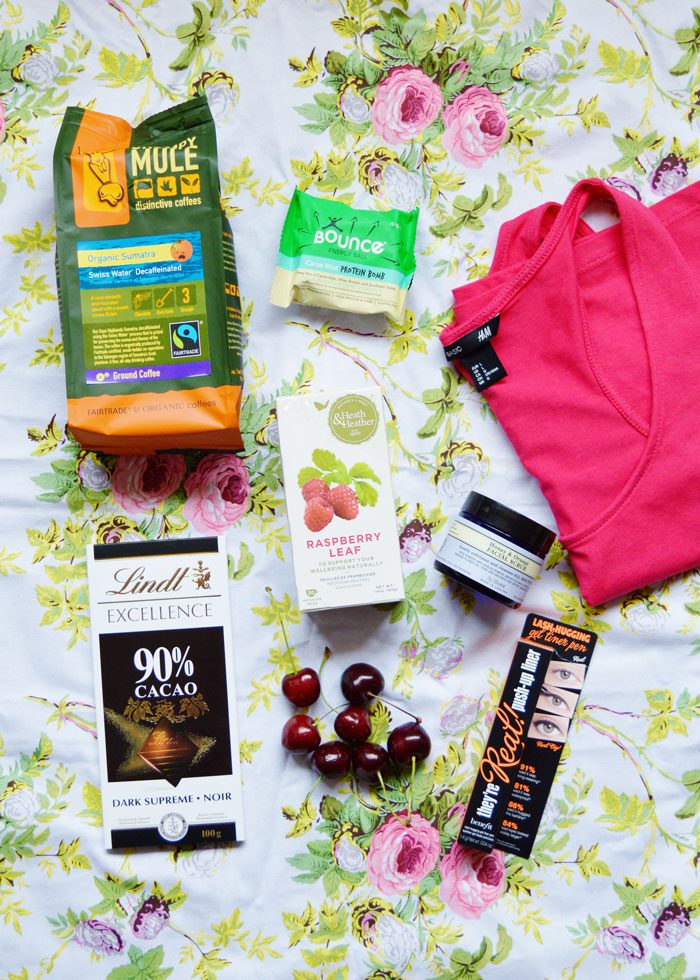 Helllooo! Hope you are having a tremendous Sunday so far and have had a lovely week. This week has been pretty good for me and has featured a little shopping including the bits and pieces pictured above. I feel like I must have bought half of H&M as their tops and leggings are so good for me and my pregnant shape right now. I also discovered cacao mint bounce balls (heaven!), got some organic decaf coffee to start making cold brew again, red raspberry leaf tea to start drinking as it's good in later pregnancy, 90% Lindt chocolate, fresh cherries, Neal's Yard Honey and Orange Face Scrub and Benefit eye liner.
Eat's wise it's been quite an indulgent week!
Eat
Mini cakes from the OPR bloggers event I attended mid week
Margarita pizza from Head of Steam in Durham (FYI they do the best pizzas!)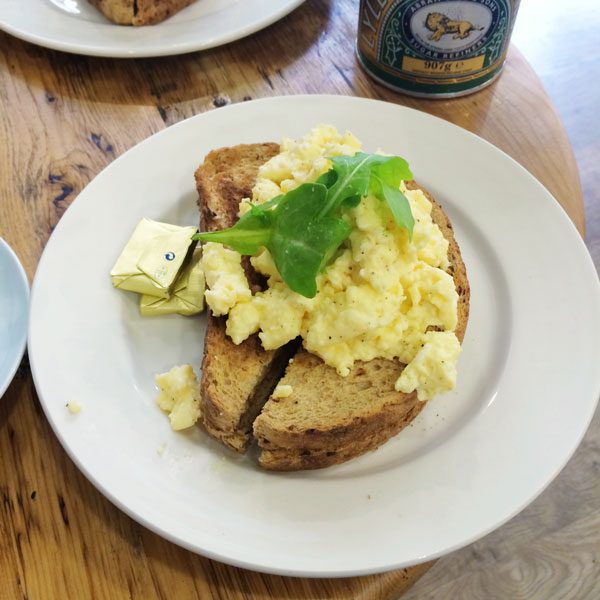 Yesterday mornings breakfast from Olive and Bean, scrambled eggs on toast
I have eaten out a fair bit this week and tested a few more indulgent recipes and although I certainly don't feel guilty for it, I can feel the effects of too much rich sweet food. I have balanced it out with my usual healthy eats of course!
Feta and avocado salad from M&S
Sausage and kale hash with fried egg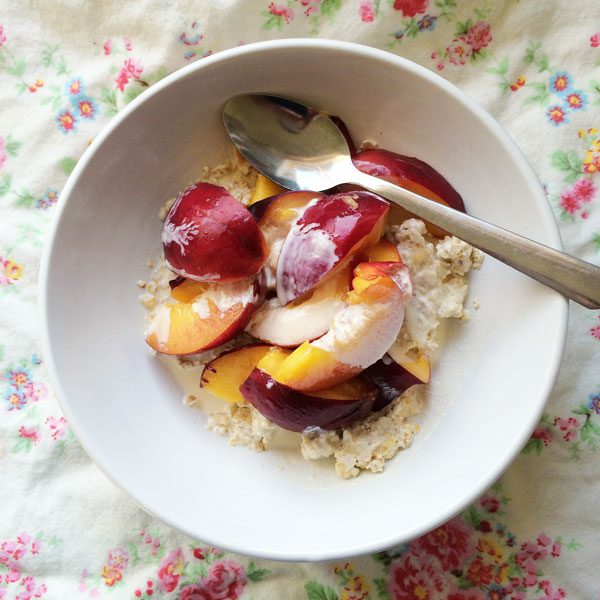 Nectarines, porridge oats and double cream
Chickpea and tahini salad
Chocolate cherry beetroot smoothie with cacao nibs, pistachios and dried cranberries
Move
Workouts this week:
Monday: Gym: 10 minutes step machine, 10 minutes bike, weights for 10 minutes and then my pelvic tilt exercises
Tuesday: Yoga and walking
Wednesday: walking round town and shops
Thursday: 10 minutes step machine, 10 minutes bike, weights for 10 minutes and then my pelvic tilt exercises // grocery shopping // walking around the park
Friday: walking round town
Saturday: walking round town
Sunday: Rest
I'm definitely counting things like walking round the shops, doing groceries and cleaning as workouts. That might sound daft, but seriously at this stage of pregnancy (and with this heat) they are counting as exercise for me, I am tired after them! Grocery shopping is especially tough when I'm on my own as I have to carry bags from the car into the flat and up the stairs. As long as I'm not sat on my arse all day I'm happy at whatever form movement might take.
Wear
Gold necklaces: Oasis and Topshop // purple long length vest: H&M // black maxi skirt: H&M, gold sandals: Primark
As I said I went a bit crazy in H&M this week, their basics are just perfect for me right now and so much cheaper than other maternity wear. I feel like I'm just starting to figure out the most flattering and comfortable combo of clothes, this kind of outfit being one of them. I definitely prefer tops that hug my bump instead of looser fitting ones which make me feel like I'm wearing a tent!
Love
Watermelon, oh my word I could eat this stuff by the cart load right now! Also…
My maternity photoshoot! Looking forward to sharing some of the pics // the OPR bloggers and brands event I attended on Wednesday, it was great to meet so many local bloggers and be able to meet a couple in person after reading their blogs for ages, looking forward to working with them all in the future // the baby's cot is here and all set up! // hitting the 10 weeks to go mark, can't believe the baby will be arriving so soon! // catching up with my Mam and Dad over a strawberry lime cooler in Costa // recipe testing some fabulous recipes // cake! // walking in the rain to cool off
Link
What have you been loving this week? If you are in the UK how have you been managing the hot weather? What forms of movement would you count as exercise?