All hail halloumi! It is without a doubt one of my fave foods ever! I first tasted halloumi when I made a Nigella Lawson recipe for roast sweet potatoes and vegetables that was topped with it. From then on I was hooked! It was my favourite thing to eat when on holiday with my best friend in Cyprus and the takeaway place opposite our hotel made simple grilled halloumi in pitta breads that I continued to make for myself when I got home.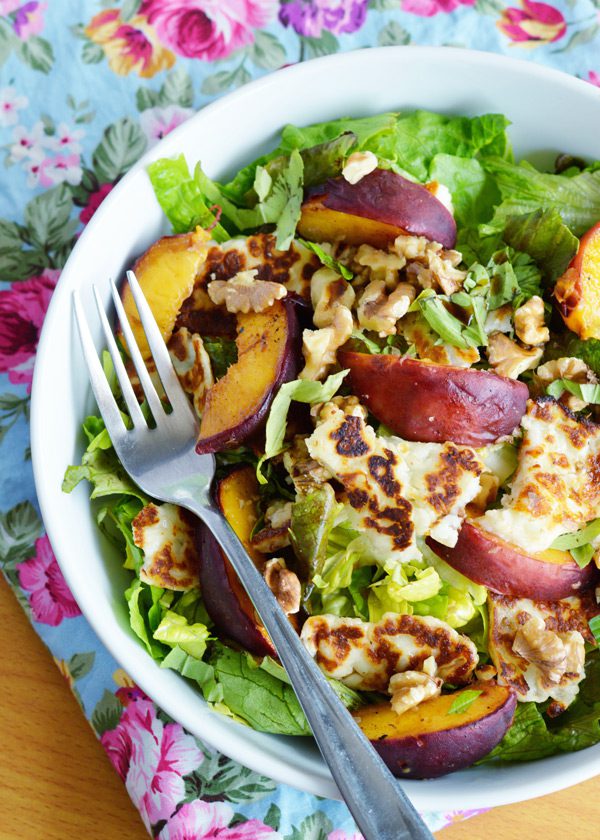 There is just something about it's salty taste and texture I absolutely love. It is fairly high in fat and therefore calories, so I do eat it on occasion rather than regularly, but for me I think that just makes it taste all the better. It's made with a mix of sheep and goats milk which means it could be easier to digest than some conventional cows milk dairy products for some individuals.
Since I stopped having so much of a fancy for bready things I started to enjoy halloumi in salads or with grilled vegetables. As I love the combo of cheese, fruit and nuts in a salad it wasn't going to be long until I tried it with halloumi.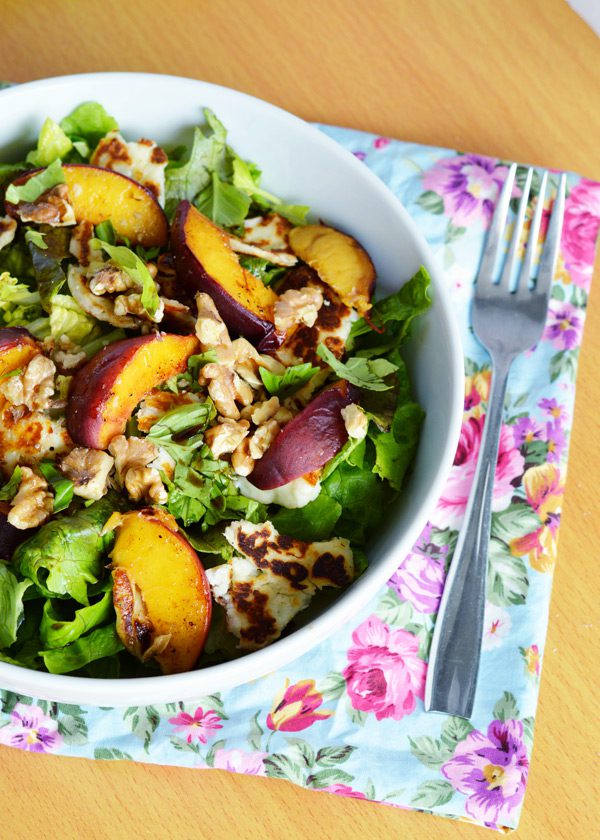 Other cheese, fruit and nut salads include my fig and goats cheese salad and my blueberry, buckwheat and feta salad. For this particular version I have to acknowledge Sarah Wilson for her salted caramel apple halloumi and Scandi Home's grilled peaches and halloumi salad, both of which inspired this one.
I choose to add toasted walnuts and basil to this and the flavours work together wonderfully. It would also work just as well with fresh mint, especially if the peach was replaced with strawberries.
I usually just dress my salads with lots of balsamic vinegar rather than mix it with oil into a vinaigrette but feel free to add whatever dressing floats your boat.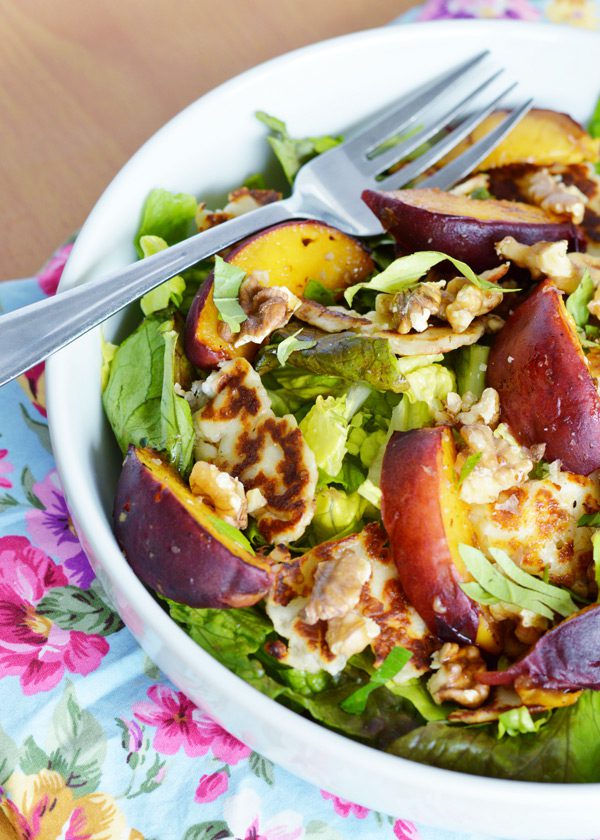 Halloumi and peach salad with basil and walnuts
2014-07-11 14:39:47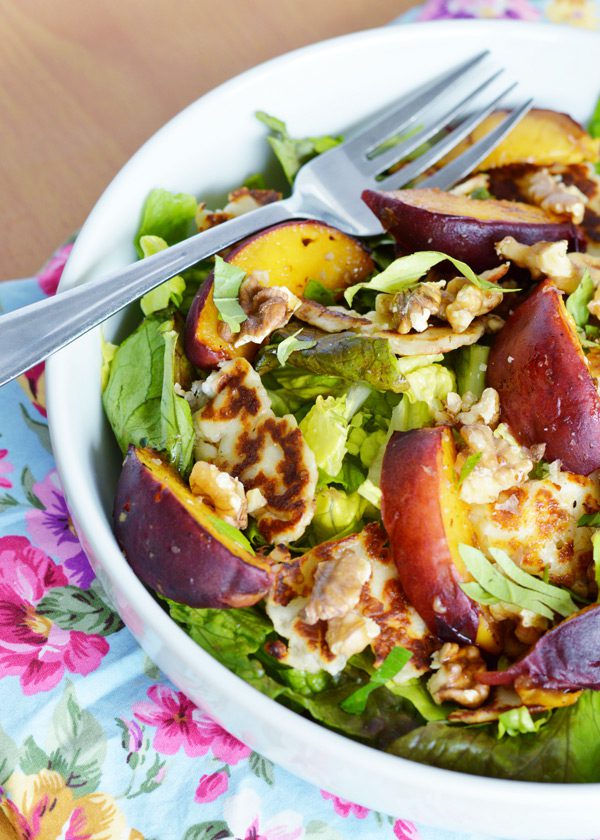 Serves 1
Ingredients
Approximately 1/3 standard block of halloumi
1 peach
15g walnuts
handful of fresh basil leaves
Mixed salad leaves
Balsamic vinegar
Instructions
Wash the mixed salad leaves and assemble in a bowl. Finely slice the halloumi and set a frying pan on a medium high heat. Slice the peach and set aside. Crumble the walnuts into the hot pan and toast for a few minutes to release the flavour. Set aside. Place slices of the halloumi into the pan and fry for 2-3 minutes per side. The cheese should be dark brown in places and well toasted. Take the halloumi out of the pan and sit on a plate. Turn the heat off and add the peaches to the pan. Give them a quick shake and flip about so they are just caramelised. Tear the halloumi into bite size pieces and put on top of the mixed leaves. Add the peach slices followed by the walnuts. Finely chop the basil and add on top along with a quick splash of balsamic vinegar. Enjoy!
Wholeheartedly Laura https://wholeheartedlylaura.com/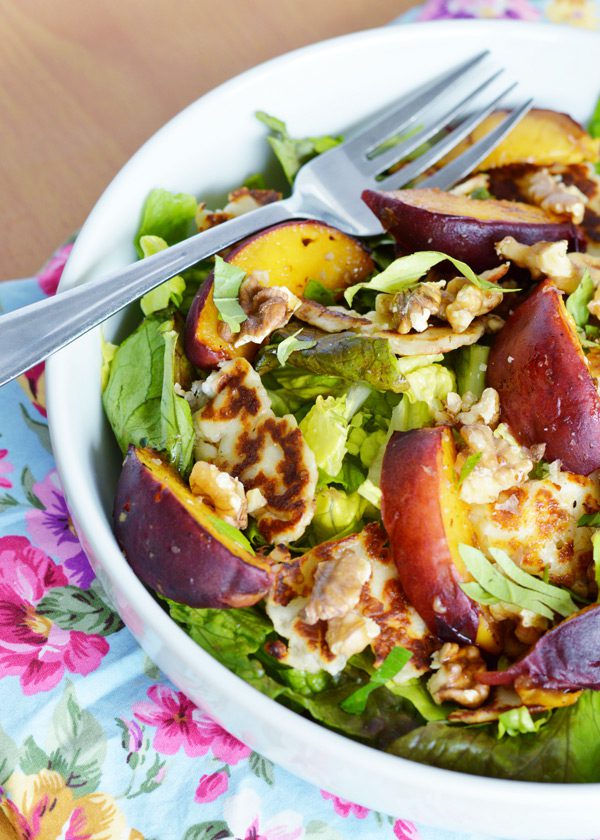 This is just a fabulous salad, and more than enough to win over any salad haters! This is a light dish while still being filling and absolutely full of flavour and textures. Sweet and salty never fails!
Are you a halloumi fan? Have you tried cheese and fruit together in a salad yet?