Hi everyone, I hope it's sunny where you are! The weather has been quite lovely here the latter half of the week, but I do have a love / hate relationship with the warmth. On one hand there's nothing I love more than waking up to sunshine and getting outside to enjoy it. However being pregnant I'm hot enough at the best of times so have been getting quite uncomfortable, as well as having swollen feet. I spotted those daisies out on my walk yesterday, so summery!
Eat
To keep cool I've been drinking lots of coconut water with ice, my iced coconut water mochas and these lovely ice lollies: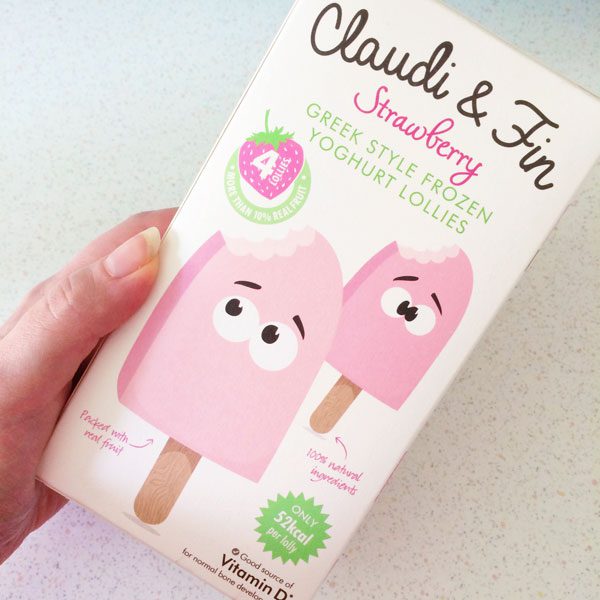 I discovered these greek yoghurt lollies in Sainsbury's this week from Claudi and Fin. How cute is the packaging and the name? They do contain some sugar but are a decent option when I haven't had the opportunity to make my own like my raw chocolate dipped strawberry ice pops at home. Other lovely eats this week include…
Baked sweet potato with organic broad bean and feta mash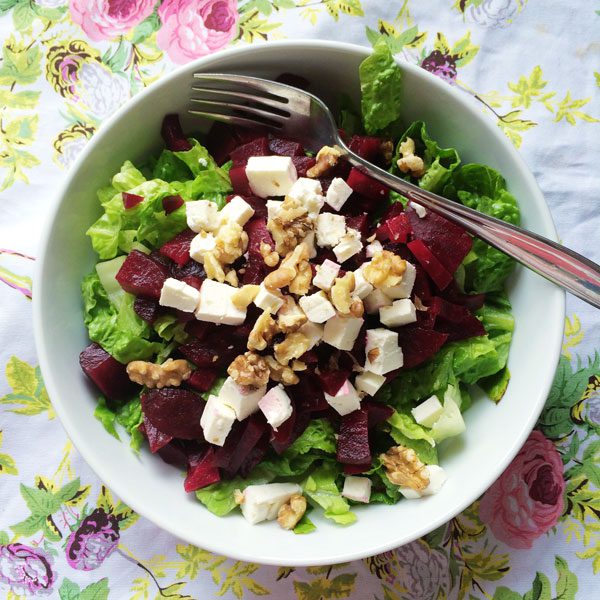 Salad with feta, beetroot and walnuts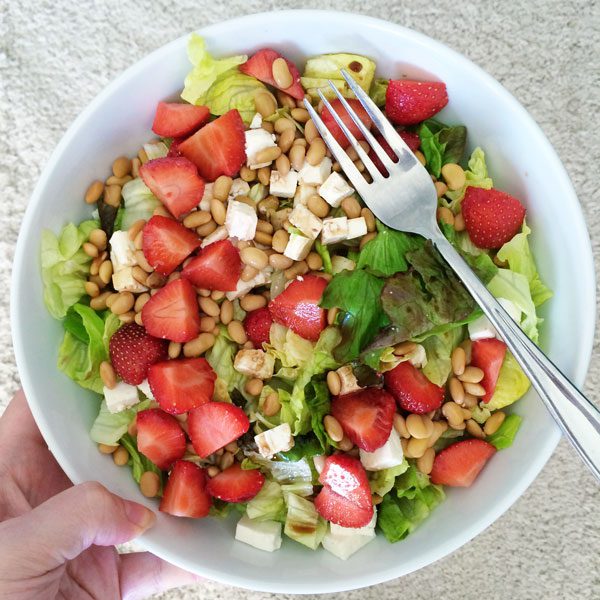 Salad with feta, strawberries and soya beans
Homemade lamb burger with baked sweet potato, broccoli and harissa spiced yoghurt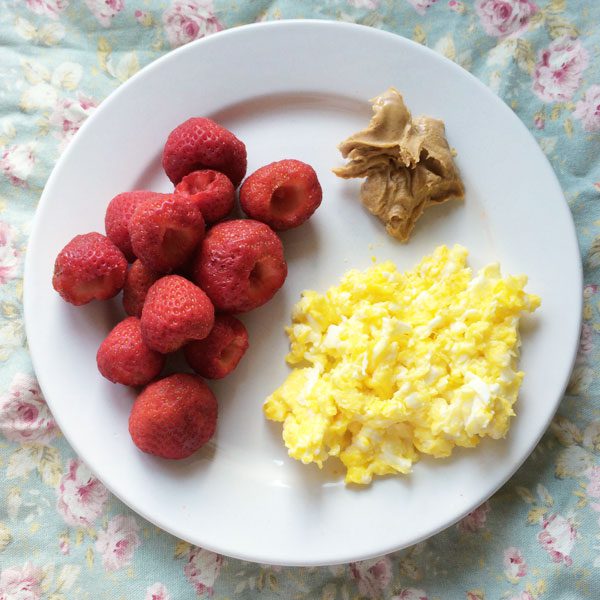 Scrambled eggs, strawberries and peanut butter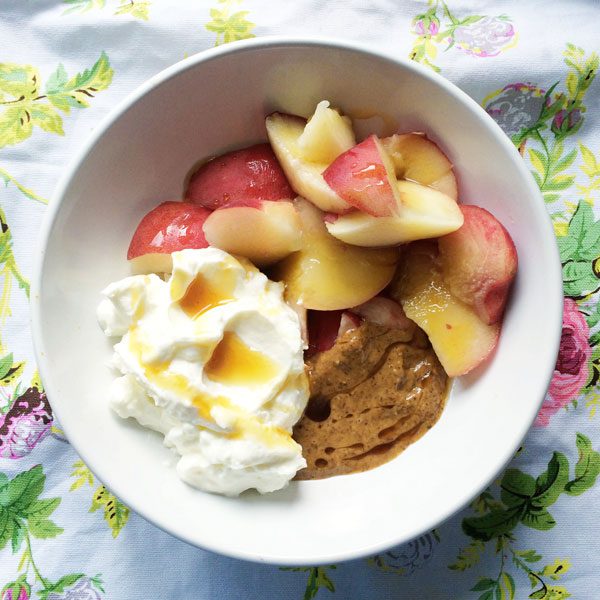 Peaches, yoghurt, almond butter and coconut nectar
2 squares of Lindt 90% with cherries and a few Tyrells sweet chilli crisps as a treat on Friday night
I have been a bit 'off' with eats this week, those were all great meals but a lot of the time I've found myself snacking more than eating proper meals. I think it might be a pregnancy thing as I find it get full quite quick, alongside all the recipe testing I'm doing right now for the book, but I don't like to feel as if I'm constantly eating! I think there's a balance to be found, so next week I'm going to refocus on making sure I eat more nutritious meals, even if they are smaller in size.
Move
Workouts this week:
Monday – Gym: 10 minutes step machine, 10 minutes bike, weights for 10 minutes and then my pelvic tilt exercises
Tuesday – Rest
Wednesday – Rest
Thursday – 30 minute pre natal yoga workout from Yoga Download on You Tube
Friday – Gym: 10 minutes step machine, 10 minutes bike, weights for 10 minutes and then my pelvic tilt exercises
Saturday – walk, 10 minutes in the morning and 10 minutes in the evening
Sunday – walk, aiming for the same today as yesterday although right now it's chucking it down so I might do more yoga
It's been a ok workout week, but on Wednesday I decided to give the gym a miss and keep working on getting the site ready. I regretted that as I think the lack of movement during the day was what left me with swollen feet! I've enjoyed walking when it's a bit cooler and I'm trying to keep up with a little bit of weekly yoga from You Tube. I'm thinking as of next week I might start and do the Davina DVD again as I'm about on that level now!
Wear
Necklace: Monsoon, floral vest: H&M, black maxi skirt: H&M, silver flipflops: Accessorize
Urgh, it's been one of those weeks where I haven't made much of an effort other than that! At least it is a good example of non maternity clothes working for the later stages of pregnancy. The clothes that fit me comfortably are reducing but I have bought a couple of new dresses which should help. I'm definitely at the point now where I don't want to spend any more cash on clothes I'm only going to wear for a few weeks and I'm starting to look longingly at the regular clothes in the shops!
Love
The big highlight of my week was of course getting all the changes made to the this site and lauraagarwilson.com! It was pretty stressful, at one point I thought all my recipes had disappeared and then all my followers on Bloglovin disappeared too! Luckily I've been able to iron out the issues, if any bloggers are considering the same thing I'd be happy to share my experiences. Ultimately it's top of my love list because it all got sorted and I love the new look of the site. Thanks again to all of you that have told me you like it as well! Also…
Spending time with my Grandma, I've been to visit her a couple of times this week and she always makes me laugh with some of her stories and never lets me leave empty handed. This week I left with a dress and apples! // my midwife appointment on Friday, getting a clean bill of health and hearing the bubs heart beat // getting the flat pretty much sorted with all the new furniture in place // shopping trips and coffee dates with James // making smoothies with some young people at one of my community projects
Link
It felt really weird not blogging last week! As I was so absorbed in getting my sites sorted I haven't really been that active elsewhere online, but here are a couple of great links I did click on!
Just when I was feeling like things might start slowing down for me, it seems I have another busy week coming up. I've got my usual community projects, recipe book testing and I've also been invited to a blogger breakfast event which should be interesting. Plus I really need to start getting my butt into gear with baby things now we have the space to store things I have no excuses!
How has your week been? Do you ever have days where you snack more than eat 'square' meals?