Yes, more buckwheat in a jar! As I noted in my blueberry buckwheat salad recipe, I'm having a moment with buckwheat due to it's easy preparation, nutty taste and excellent nutrition. Despite it's name it is actually a gluten free grain and when soaked overnight as in this recipe and the salad, it's nice and easy on the digestion for most people.
Over the last few weeks I've been enjoying it for breakfast with yoghurt or coconut cream and for this recipe I decided to take that idea a bit further and add a delicious raw cherry jam to the mix.
Chia seeds are nutrition powerhouses containing good amounts of protein and healthy fats including omega 3 and as I've blogged about previously they are great for filling you up and keeping you hydrated due to their ability to absorb so much liquid. As lovely as the chia jam is with this recipe, it is also fabulous added to oats, spread on toast or used however regular jam would be. You can easily make it with your favourite berries in place of the cherries if you'd prefer.
Alongside the fats from the chia, this recipe also provides healthy medium chain triglycerides from coconut, the form of fat that works in the body to help it burn fat rather than store it. Coconut fats can also support your immune system, metabolism and energy levels.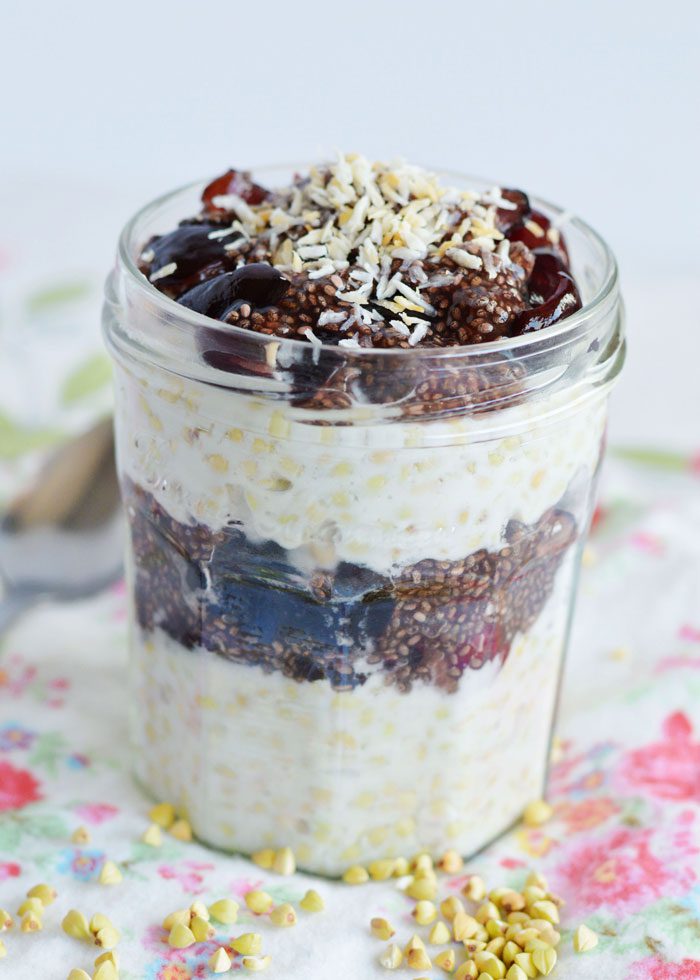 This recipe is ideal for the warmer months with it being chilled and can easily be made up in a jar like this for an on the go breakfast. It will also keep well in the fridge should you need to store it or if you want to make up an extra portion for a few days in a row. Although both buckwheat and chia are more unusual ingredients, it just goes to show that times are a changing as you can get these both easily in Tesco. Buckwheat is pretty affordable and although chia is a little pricey, it is one of those 'super foods' that has multiple uses so worth investing in.
Coconut buckwheat with cherry chia jam
2014-07-31 15:54:30
Ingredients
1/3 cup of dry uncooked buckwheat grain
1/4 cup thick full fat coconut milk or coyo coconut yoghurt
1 cup of cherries, pitted
1.5 tbsp chia seeds
1 tbsp liquid sweetener such as honey or rice syrup for vegans
1 tbsp toasted desiccated coconut (optional as a garnish)
Instructions
The night before you'd like to eat this, place the buckwheat in a bowl covered with water. Set aside on the counter top to soak. Mash the cherries with a fork so they start and release some juice. Mix in the chia and liquid sweetener and keep in the fridge covered. If you have the opportunity to give it a stir after about 15 minutes do so.
The next morning drain the buckwheat in a sieve and rinse well. Mix with the coconut milk or yoghurt. If serving in a jar, start and layer it up with the cherry jam or just serve in a bowl topped with the jam. Enjoy!
Notes
You'll want your coconut milk to be nice and thick, so if using tinned coconut milk pop it in the fridge the night before along with the chia jam so it can thicken up.
I haven't added any sweetener to the buckwheat as I find the cherry jam to be sweet enough when eaten with it, but feel try to add some sweetener if you like.
For a higher protein version, in place of the coconut milk, you can try adding a scoop of protein powder like Sun Warrior to the buckwheat and mixing with water to create a creamy consistency then layering that up.
Wholeheartedly Laura https://wholeheartedlylaura.com/
Have you tried buckwheat yet? How about chia seeds? How often do you eat breakfast on the go?