This coming weekend I turn the grand old age of 32! It's a bit scary how quickly time has flown since I hit my thirties. The big 3-0 was a huge turning point in my life, I set up Uniquely Healthy as a business and basically really got my shit together and figured out what I wanted out of life. I sit here now as a Mama to be and I couldn't be happier with where I am, occasional body image wobbles aside! Although my hormonal issues were hard to deal with, they were part of my path and getting pregnant rather surprisingly when I did has been perfect timing. When I was younger I was in the 'must have children before 30' camp, and to be honest I'm glad that things didn't wind up that way because I feel like I'm in a much better position to be a parent now for so many reasons!
It's been quite a reflective week on the blog, I think birthdays can make you do that! Looking ahead I'm so excited about where things are going in my life. Obviously the little man is well and truly on his way now and business wise things could not be better, I have some huge plans for next year that I can't wait to get stuck into as long as I balance family time too. The last piece of the puzzle is our housing situation, I'm visualising and manifesting the hell out of this new house we will need within the next 12 months!
As I was saying on Tuesday I can not wait for a serious post birth shopping spree, but people have asked me what I would like for by birthday and I have pulled a few ideas together of course…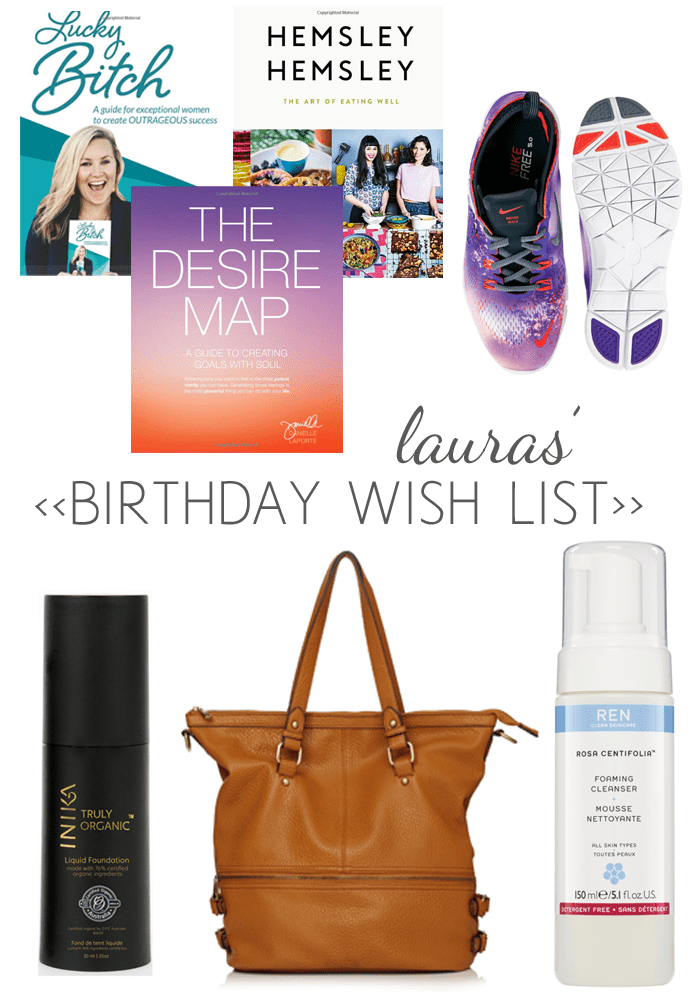 Lucky Bitch >> Amazon
Hemsley Hemsley The Art of Eating Well >> Amazon
The Desire Map >> Amazon
Nike Purple Free 5.0 Trainers >> ASOS
Inika Organic Liquid Foundation >> Feel Unique
Luella Slouch Tote >> Oliver Bonas
REN Rosa Centifolia Foaming Cleanser >> Feel Unique
Ok so confession, I've ordered a few of these things already! I am lucky enough to get a little bit of birthday cash so I thought I'd order a few things so they are here for Sunday. I like reading but struggle with fiction sometimes, however I love personal development type books and Lucky Bitch (came across this via the lovely Emma Cossey) and Desire Map look right up my street as well as cookbooks of course! I couldn't decide whether to get the kindle version or the hard copy of these even after a long convo on Facebook with my ladies! But in the end I thought that I would get the hardcopies, I don't have an actual Kindle, just the app on my iPad and at least I can read the hardcopies in the bath! I've been looking for some good trainers for a while, and decided to just go ahead and get some instead of waiting until after the baby comes. I these are a gift from James. Other treats I wouldn't mind include the organic foundation, as well as unpictured finishing powder which I've already ordered and the REN foaming cleanser. I also fell in love with that bag from Oliver Bonas, although I should really be thinking about changing bags instead of handbags right now!
Tomorrow I'm having myself a 'me day'. It's something I really believe is important for your wellbeing, and even included it as an action in one of my e courses. I haven't had one in way too long! I'm thinking I'll start the day with some yoga then get ready and pop to town for a coffee and a look around the shops, get a nice healthy lunch somewhere and then treat myself to a cake from my fave bakery. On the evening I think James and I might watch a movie together or I might start reading one of my new books!
Ideally a massage would have been lovely, but I need to look at my budget for that. When I asked Facebook and Twitter what they would treat themselves too, spa days where high on the list!
How do you feel about birthdays? What's on your wish list at the moment? How would you spend a day all to yourself?
P.S You can check out my Wish List on Pinterest, I keep adding things to it of course ;-)