At this time of year I develop somewhat of an obsession with chai. I love the sweet spiced tea, which I usually make with black tea and my own spice mix. When I saw that Rebel Kitchen had a chai spiced milk I knew I needed to get my hands on that stuff and and use it for my first Rebel Kitchen featured recipe.
For anyone that isn't familiar with Rebel Kitchen, they make the most amazing naturally sweetened coconut based drinks which are vegan, gluten free and paleo friendly. I also LOVE their branding and packaging. I am delighted to be their Blogger of the Month for October! They have a kids range of drinks: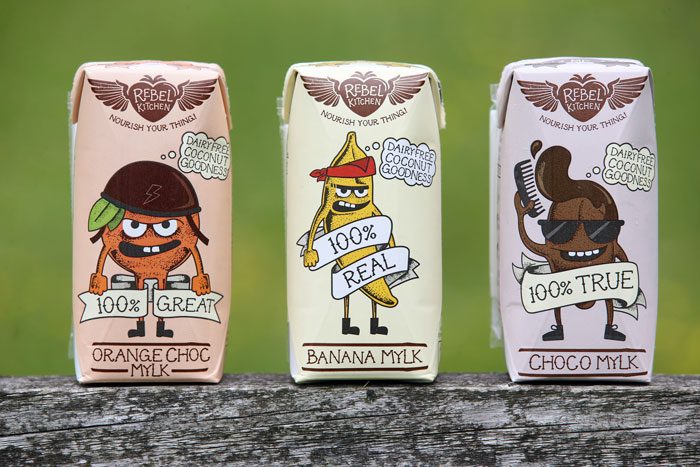 And an adult range:
All of which taste simply amazing. Seriously you need to try these if you haven't already! If you have trouble locating them in stores (you should find them in Waitrose) you can order from their website, which I will be doing because I am obsessed. Back to the recipe, I wanted to use the chai milk in something seasonally appropriate and what is more warming and comforting than a bowl of porridge on a chilly autumn morning?
This is a nice simple recipe which can be made quickly without too much faff so would make an extra special weekday breakfast just as much as a fun weekend breakfast. I topped my porridge with coconut and walnuts which do go exceptionally well with the chai flavour, but use any toppings you fancy.
Chewy Chai Spice Porridge with Rebel Kitchen Chai Milk
2014-10-02 11:37:30
Ingredients
1/3 cup of porridge oats
250mls Rebel Kitchen Chai Milk
1 tbsp chia seeds
Toppings
2 tbsp coconut
2 tbsp chopped walnuts
Instructions
Combine the oats, chia and chai milk in a pan.
Place over a medium high heat and cook until the porridge has thickened.
Transfer to a bowl and add your toppings.
Enjoy!
Wholeheartedly Laura https://wholeheartedlylaura.com/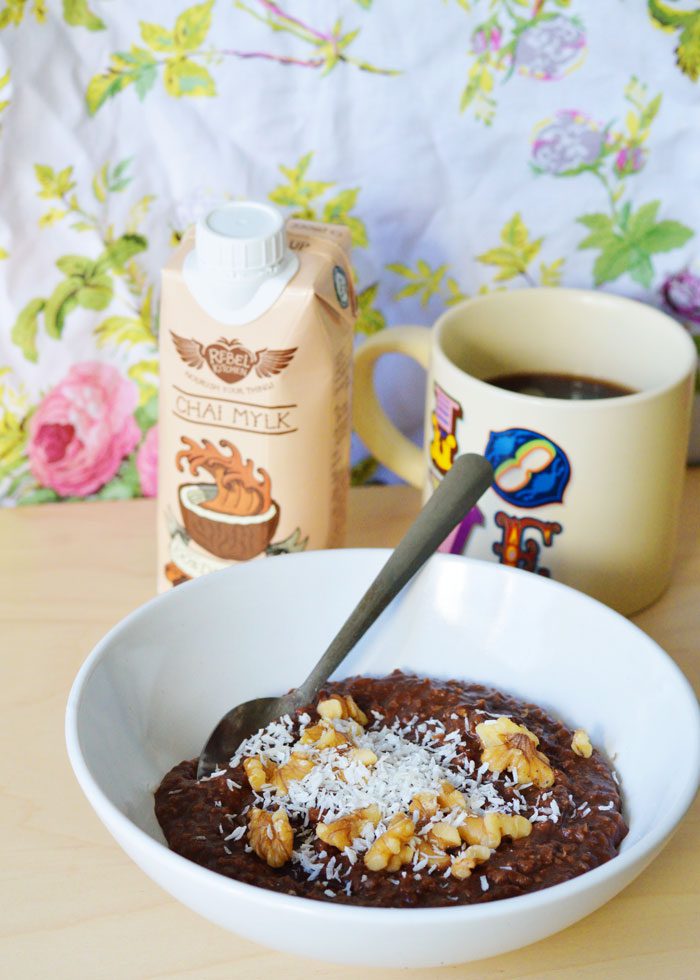 The porridge has this great texture which is almost chewy from the consistency of the oats and the added chia seeds, a perfect way to start your day!
Have you tried Rebel Kitchen drinks? Are you a fan of chai flavours?