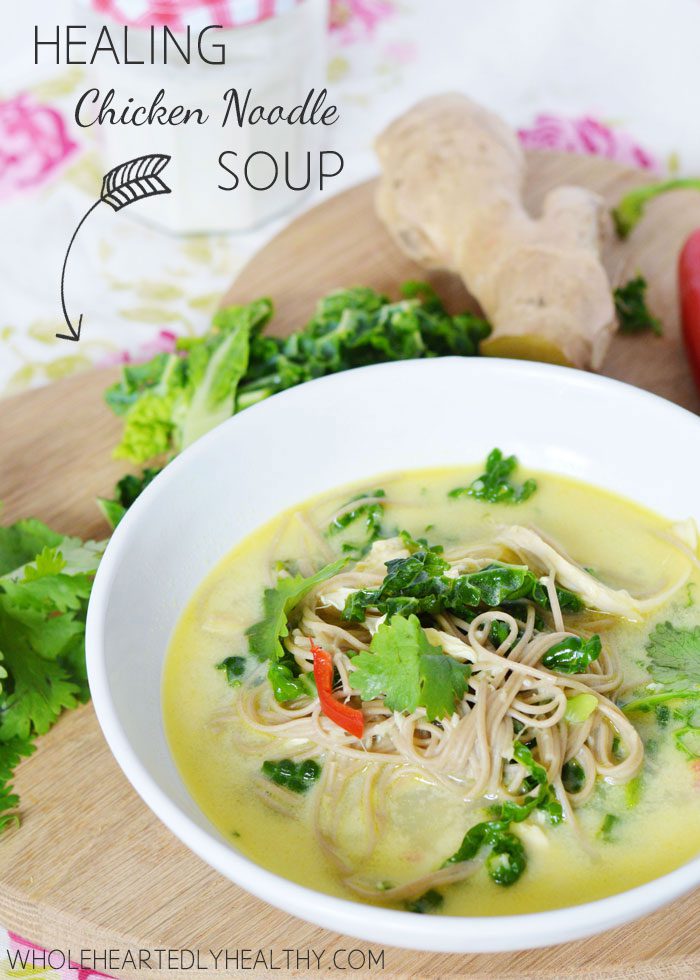 Last week our whole household came down with a cold. Often I'm quite good at shaking them off, but sometimes they really knock me for six and I think the lack of sleep from taking care of a newborn took it's toll! Whenever I do feel poorly I tend to crave the same foods now, my cold busting smoothie and any warm spicy foods like chilli or curry.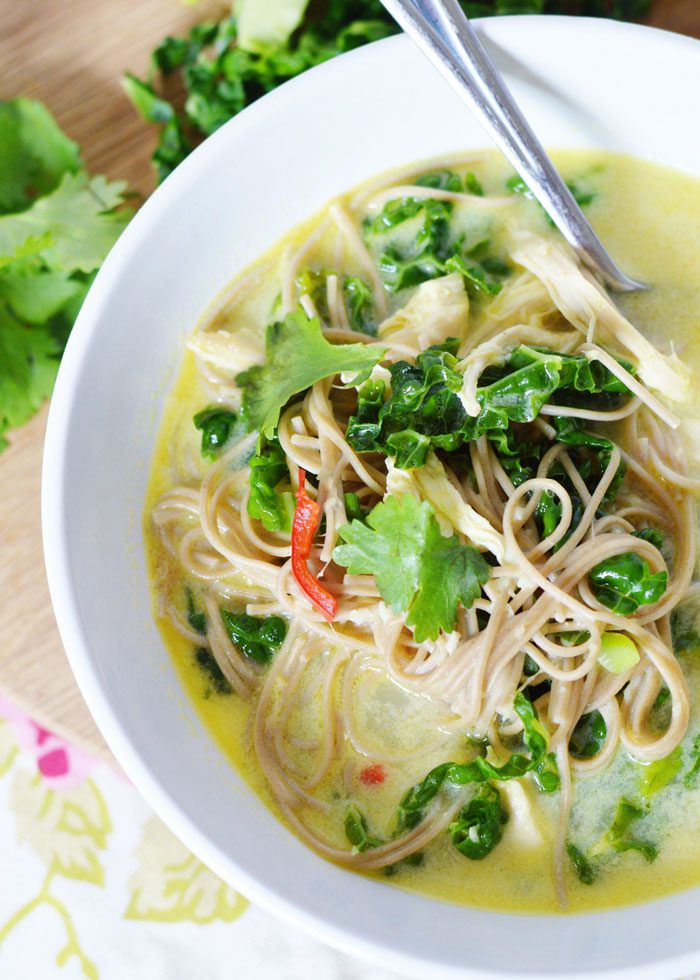 I decided to make a nourishing soup to perk us both up packed with delicious yet cold fighting ingredients such as homemade chicken stock, coconut milk, turmeric, chilli, garlic and ginger. I added some soba noodles to make it more filling and some fresh green shreds of savoy cabbage to up the veggie levels. This is wonderful made with a whole chicken, for example leftovers of a Sunday roast as freshly made chicken stock is much more healing than stock cubes, however you can use a couple of whole chicken breasts or thighs and poach them in the broth then shred instead.
Healing Chicken Noodle Soup
2014-10-08 16:03:36
Serves 4
Ingredients
1 tbsp coconut oil
2 red chillies
1 thumb size piece of ginger
2 cloves of garlic
1 tin of coconut milk (full fat or light, up to you)
1 tbsp turmeric
1 tbsp of soy sauce or tamari
2 cups of chicken stock (see note for freshly made)
3 chicken breasts or thighs or a couple of cups of shredded roast chicken
2 portions of soba noodles
4 leaves of savoy cabbage or 2 cups of shredded kale
Fresh coriander to serve
Instructions
Heat the coconut oil in a large pan over a medium high heat. Grate the ginger and garlic and finely chop the chilli. Fry for a minute or so then add the turmeric, soy sauce, coconut milk, chicken stock, chicken and soba noodles. Simmer until the soba noodles are tender. If using chicken breasts or thighs don't add the noodles until they are cooked through first. Remove them and shred with folks before returning to the pan. Serve topped with the fresh coriander.
Notes
To make fresh chicken stock, save the bones from a whole roasted chicken (saving some of the meat for the soup) and boil in a pan covered in water along with 2 tbsp of apple cider vinegar and any bits of veg you have hanging about like onions or kale stems. Keep on a very low simmer for as long as possible before draining the bones and saving the stock. This stock or bone broth is full of minerals and healthy fats and is highly nourishing.
Wholeheartedly Laura https://wholeheartedlylaura.com/
To make a vegan version of this omit the chicken and use vegetable stock. Add some cubed tofu or soya beans for protein.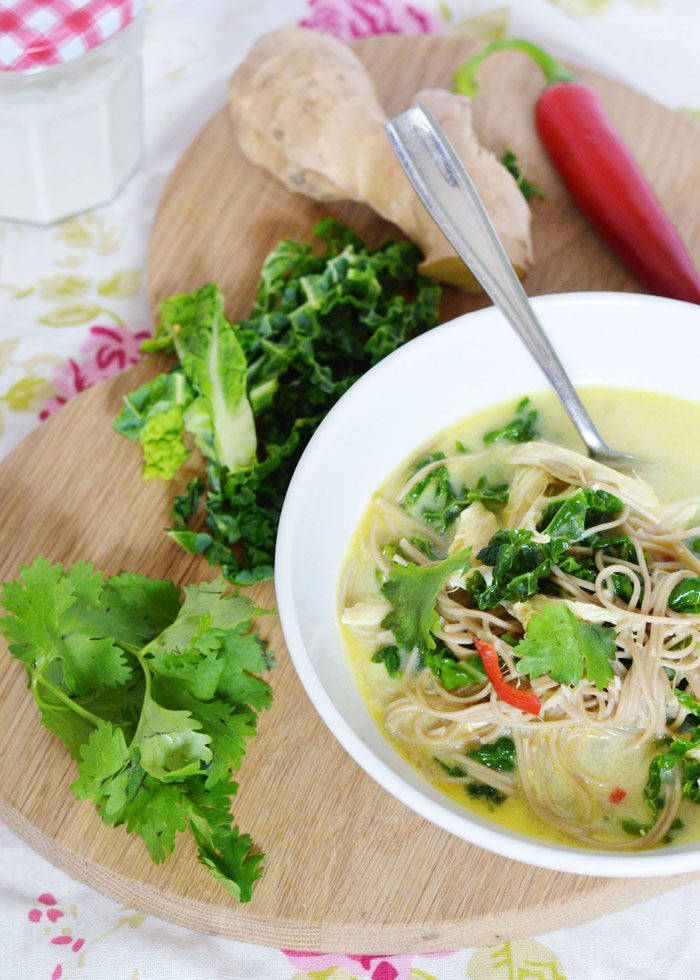 What food do you turn to when you are feeling poorly?