There's no escaping the fact that Christmas is on it's way. Once we get past Bonefire night I allow myself to start feeling a bit Christmassy and one thing I love about this time of year in the run up to it is gingerbread!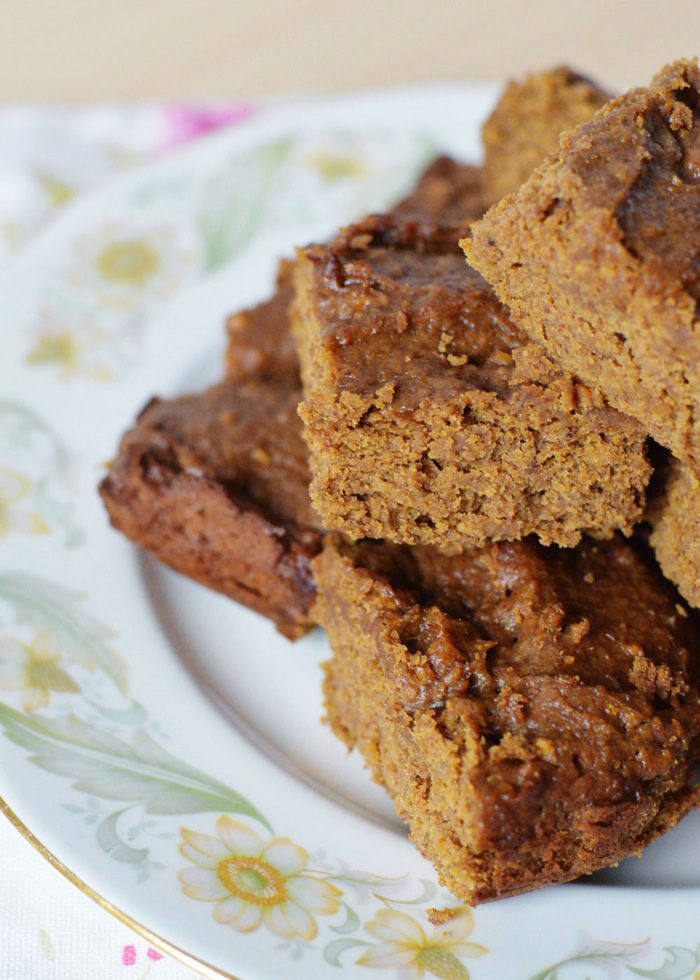 A couple of years ago I shared a recipe for gingerbread made with spelt flour and pumpkin which is also delicious. However I couldn't help myself creating another recipe, and this time it's vegan and paleo.
I was inspired after I made Purely Twins Peanut Butter Chocolate Chip Blondies that make use of plantain, a banana like fruit. They had the most amazing texture which I thought would work well in gingerbread and hence this recipe was born. You should be able to find plantains in green grocers, if I can find it in Durham I'm sure it can be found elsewhere too! Depending on the ripeness of the plantains they might have a very slight bananary taste, but that can be quite a welcome additional flavour anyway!
Gingerbread (Paleo, Vegan, Grain Free)
2014-11-16 11:35:48
Serves 12
Ingredients
2 large greenish plantains
1/2 cup almond butter
1/4 cup honey or maple syrup
2 tbsp black treacle or molasses
2 tbsp ground ginger
1/2 tsp baking powder
1/2 tsp bicarb
1/4 cup coconut oil
Instructions
1. Pre heat the oven to 180 / 350F and grease and line an 8x10 baking tin
2. Peel the plantain and add to a food processor or blender along with the almond butter. Blend until smooth.
3. Add the honey / maple syrup, treacle / molasses, ginger, baking powder and bicarb and blend again.
4. Melt the coconut oil and with the food processor or blender running, drizzle in the coconut oil
5. Pour the batter into the prepared tin and smooth the surface. Bake for 30 minutes until a toothpick comes out with just a few crumbs.
5. Slice into squares. Can be kept in the fridge for a couple of days or wrapped in foil and stored in the freezer.
Adapted from Purely Twins Chocolate Chip Peanut Butter Blondies
Wholeheartedly Laura https://wholeheartedlylaura.com/
I used black treacle in this recipe as that's what I had on had and technically I don't know if either black treacle or molasses are paleo, but heck, if it mattered that much to you just leave it out and add a touch more honey. They will still taste great!
This gingerbread is chunky, dense and filling, the perfect accompaniment to a cup of chai tea on a cold November or December afternoon!
Are you a fan of gingerbread? Have you tried making your own? Have you ever used plantains before?