Without wanting to sound like a broken record, I can hardly believe that my baby is 12 weeks old! Of course this month has been a huge month for us as a family. Finley finally had his successful heart surgery and since then we've been able to start settling into family life. In some ways his operation was like a new birth, he's been growing like a weed since the op!
It has been a hard month at times for me as I talked about in my body and mind after birth update, but slowly I'm feeling happier and more settled in myself and my role as a mother. I feel like we are discovering each other all over again! He's smiling away now and seems to be developing pretty well. He absolutely loves his baths and napping in the wrap, something I'll talk about in a moment. I also think his eyes are very slowly starting to change from dark blue to a more brown colour like mine and James.
Somethings I've been loving this month…
Breastfeeding
One of the best things this month has been getting back to exclusively breastfeeding. After tube feeding and top up formula feeds I can really appreciate how much more simple breastfeeding is, at least for us. I talked in detail about breastfeeding in this post, and I am so glad that we've been able to continue post op! His weight gain has been very good, something I'm hoping continues. Due to him arriving 5 weeks early and then having slow weight gain due to his heart, he's still a very little baby for his age at just 8lbs 1, but apparently these little ones catch up!
He still feeds very frequently and doesn't go much longer than 2 hours between feeds which means I'm knackered, however he sometimes does sleep up to 4 hours in the evening when James watches him so I can at least get in that stretch of sleep.
Baby Wearing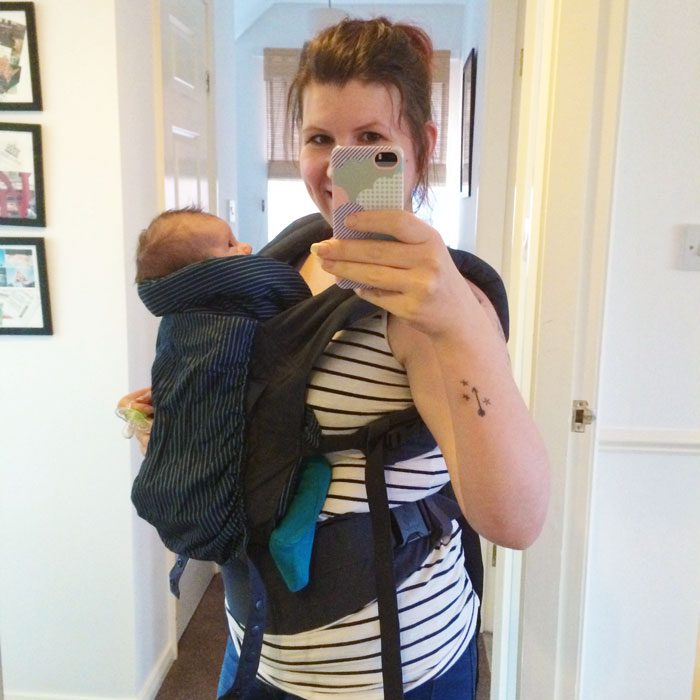 Since we got back from the hospital Finley really does not like being anywhere other than in someones arms! He will have a kick about and play on his mat, but he won't nap in his moses basket longer than 30 minutes so baby wearing is keeping me sane right now! I mostly use my Kari-Me stretchy wrap which I adore. He probably spends about 2-3 hours a day in it on me while I potter about round the house. A couple of weeks ago we invested in an Ergo Baby Carrier with infant insert as something that will last us a little longer as well as being better for James to use (as he feels the wrap is a little feminine for him!) As we are still in the upstairs one bed flat the pram lives in the car so for ease I often go for walks with him in the wrap and use it when going shopping instead. It really was a great purchase!
Bed sharing
As I was saying, since the op Finley will not sleep for long anywhere other than in mine or James arms or literally lying right up against me so we've kind of been forced to bed share. I had been using the baby moov cosy sleep to co-sleep with him – i.e. the baby moov on top of the duvet with his own blankets but he won't even go for that now! I'm not sure how it developed and to start with I was really worried, but after a chat with my health visitor and reading the brilliant Sweet Sleep from the La Leche League I'm quite comfortable with bed sharing and the way we are currently bringing him up, i.e. very much an attachment parenting style. The Sweet Sleep book is also brilliant for making sure that we are doing everything safely too. Right now Finley and I have the bed and James sleeps in the living room on the floor so he can get some sleep! In future we'll probably swap as I once Fin is rolling around I'd prefer something with no big drops at the sides. I do think we will be working on getting him to sleep longer in the moses basket, but for now we are happy with things and most importantly Finley is happy with things too! I am really hoping he'll start and sleep a little longer at night though!
What has been challenging this month is oral thrush. The poor little one has had it for a while and it doesn't seem to be shifting. I think it's developed because at the hospital they were giving him sucrose to calm him when talking bloods and of course sugar feeds yeast. Luckily I don't have it in my breasts but we are both being treated to make sure we aren't passing anything back and forth. I'm using coconut oil and a grape seed oil wash on my nipples and some anti fungal cream and I'm using pro-biotics, grape seed wash and some anti fungal gel on Finley. It makes his mouth sore so sometimes feeding has been a challenge. I'm just hoping it will clear up soon!
Dummies
I bloody hate dummies! However, we ended up giving him one is desperation after he came out of hospital and just wouldn't settle and to be honest it's been a godsend. Anything that helps calm my baby is good by me. Of course I'm sterilising them meticulously with his thrush, but I do think that it's the thrush that is making him so unsettled so hopefully once that's cleared up he'll be off them.
How lush right!? I know I'm totally bias but he is the most gorgeous baby in the whole world! Every where we go people stop us and comment on how beautiful he is. How he came from me and James I'll never know!
The third month has definitely been full of highs and lows (mostly highs though!) and I'm really looking forward to what's to come, especially seeing him gain more weigh and chunk out even more. He's just a pleasure!
If you are a parent did you baby wear? Would you bed share with your baby?