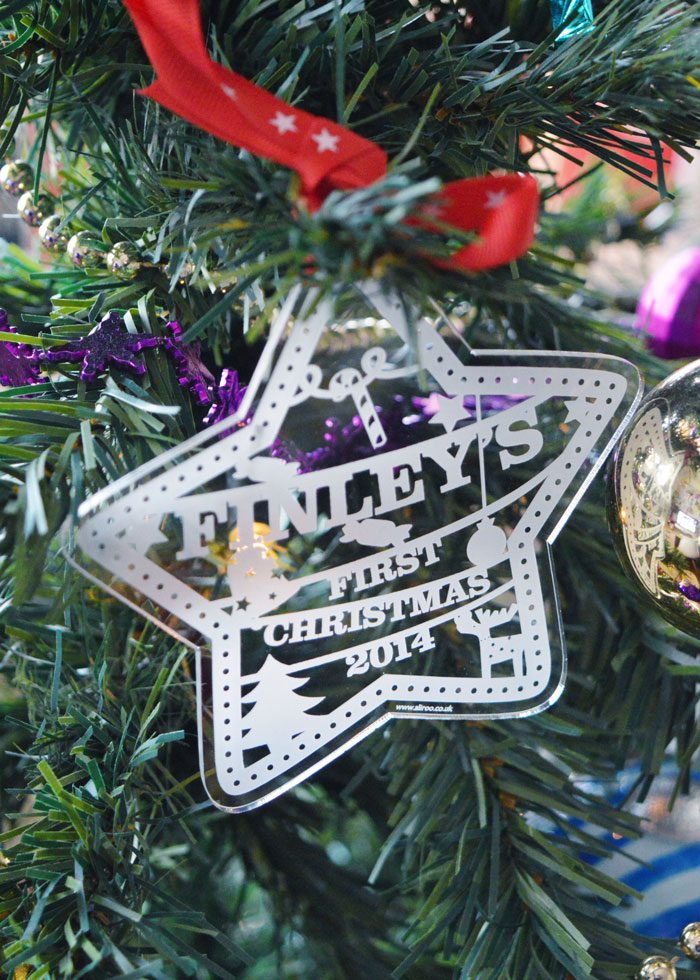 Hello hello! Hope you all had a wonderful Christmas! We had a good one, although I came down with a really nasty cold on Christmas Eve so I certainly wasn't myself. However I was determined not to let that spoil Finley's first Christmas. On Christmas Eve I cooked the beef and made the gravy and dessert then we went out for drinks with my family and best friends before coming home and getting settled in for the night. Then on Christmas Day we went through to James' Dad's, then my best friends then finally to my Mam and Dads for lunch. It was lovely seeing my nephews opening all their presents! I felt so poorly on Christmas night that James took Finley so I could get 6 hours straight sleep, what a difference that made! On Boxing Day we just chilled out, I made some bread and did some online sales shopping then had a bath, it was bliss!
Eat
Christmas Organic Veg Box
More Christmas fruits and veggies from the green grocer
Christmas Day breakfast – homemade granola, persimmon, pomegranate and full fat greek yoghurt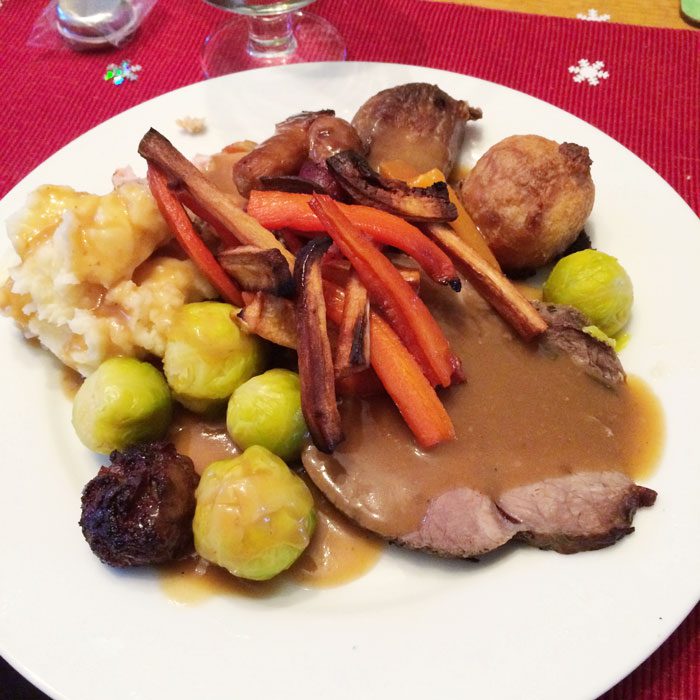 Christmas lunch! Turkey, beef, mash, sprouts, roasties, stuffing, maple roasted parsnips, honey roast carrots and my own homemade gravy
Based on Jamie Oliver's Winter Pudding Bombe, I made a version with pandoro, cherry jam, vanilla ice cream, frozen sweet cherries, cocktail cherries and amaretto. It was delicious!
Porridge with apple, sweet mince meat and greek yoghurt
Boxing Day leftover Turkey Salad with pomegranate, balsamic and lemon infused rapeseed oil
Move
Haha you are joking right? ;-)
Wear
Christmas Eve outfit: fairisle scarf: Topshop, black t-shirt: H&M, black velvet patterned kimono: New Look, jeans: New Look, ankle boots: Fenwick
Christmas Day outfits – all the Christmas jumpers! Mine was from Topshop worn with a necklace from H&M, Finley's was from Boots and James was from George at Asda
Considering I felt so ill I don't think I looked too bad! I'm miffed at those jeans I wore on Christmas eve, they are new and with them being skinny I bought them in my 'bigger' size thinking that would be needed for them to fit, but as they have stretch in they have become so baggy after a 20 minutes of wearing them, grrr!
Love
Of course it being Finley's first Christmas was the major highlight of the week! He's doing so well, all of a sudden he's started to grasp toys, it's such a delight seeing him discover the world around him. He's also gained another 8oz this week which for a 4 month old is a cracking gain, slowly he's catching up. He was treated to some lovely gifts, we got him a jumperoo, a illustrated portrait of him and some clothes and friends and family also got him more clothes and a light projector from my parents which he loves, as well as a play den from his other grandparents and a tummy time mat. Also…
My pressies! I get so spoilt and I am very blessed. I got some slipper boots, pjs, under ware, chocolates, a Sailor Jerry's rum set, Dead Sea Spa set, some converse trainers, Sarah Millican DVD (bloody love her!) an amazing personalised calendar from my sis in law and an unusual plate from my Sis from Anthopologie that says 'those that do not believe in magic will never find it'. My gift from James is still on it's way, but I can't wait to get my gold necklace with anchor pendant with Finley's name engraved on it. I also love giving gifts and I think one of my fave gifts I gave was the adult colouring in books to my sister and best friend.
Link
I've hardly been online this week so no exciting links I'm afraid, but I will leave you with this link to one of my old posts about how to be Healthier and Happier in 2014 – all just as relevant for 2015 too!
Oh and here's another cheeky link to get signed up to my email updates as I promise you I have some good stuff coming up for subscribers in 2015!
Well I have to say, even as I haven't ate as 'badly' as I usually do at Christmas because of feeling poorly I'm totally feeling ready to get back to normal healthy eats. Probably because I have been poorly, all I want is green smoothies and clean foods!
How was your Christmas? What was your favourite gift you gave? What was your favourite gift you received?