'If you eat well, you'll feel good'. A statement I wholeheartedly agree with of course! Rennie challenged me to illustrate that statement with a mind blowing recipe that shows how healthy eating can be appealing and delicious. Since it's Christmas, I had to go with a festive spin on it and these truffles definitely meet the healthy and mind blowing criteria!
These truffles can be completely refined sugar free depending on which chocolate option you go for. They are also an excellent source of healthy fats from the coconut and cashews. Cacao is packed with anti oxidants too.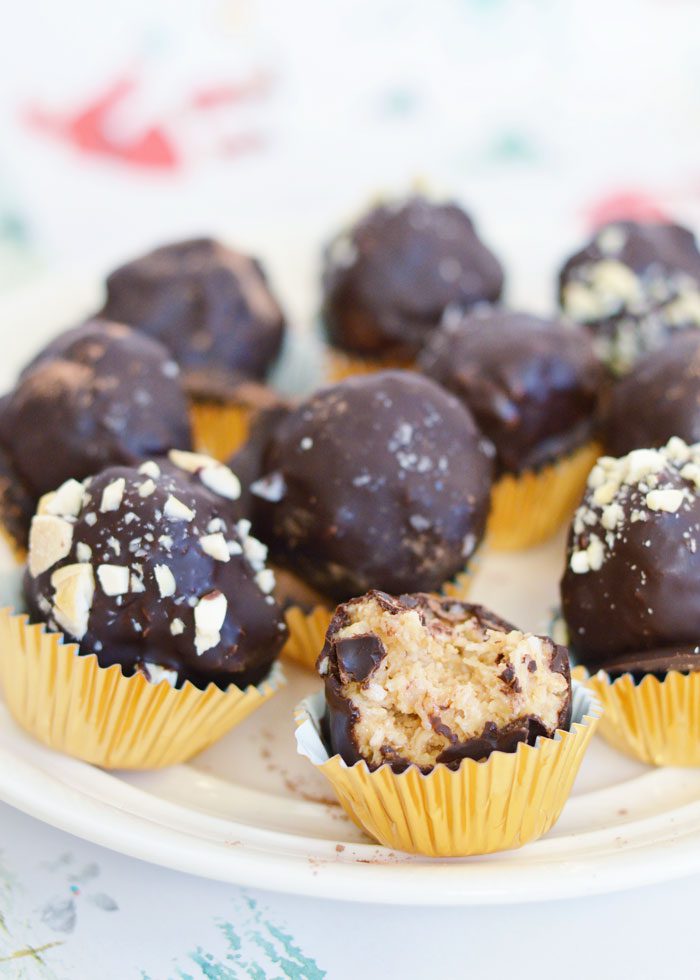 As well as being healthy, they are wonderfully indulgent, but a treat that won't give you a sugar hangover. They have a wonderful texture, smooth from the cashew butter but with crunchy bits from the coconut.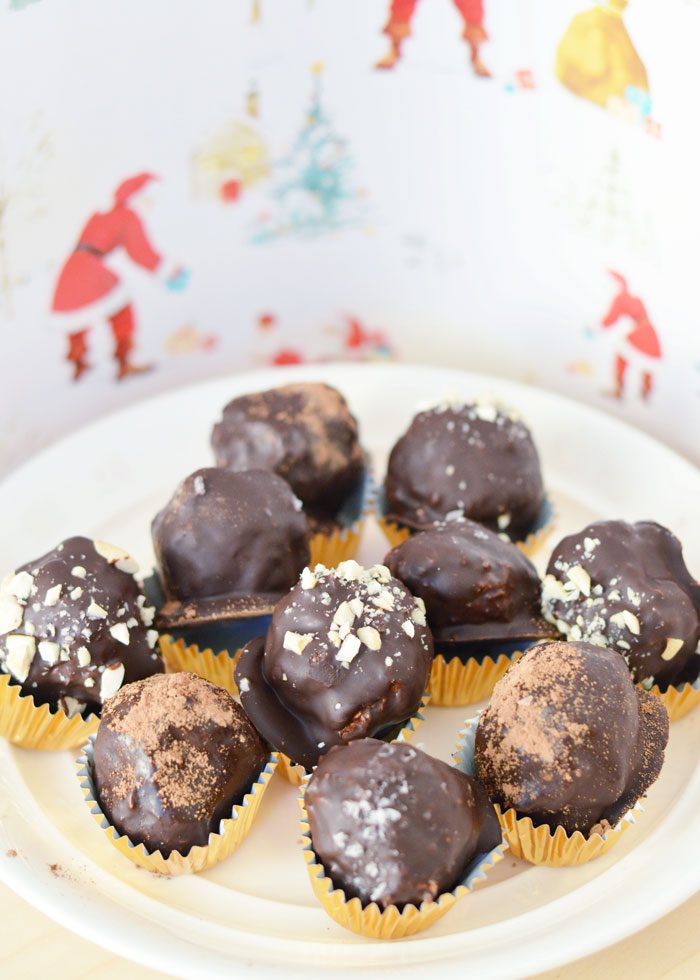 You can make these with melted regular dark chocolate or raw chocolate, the choice is yours…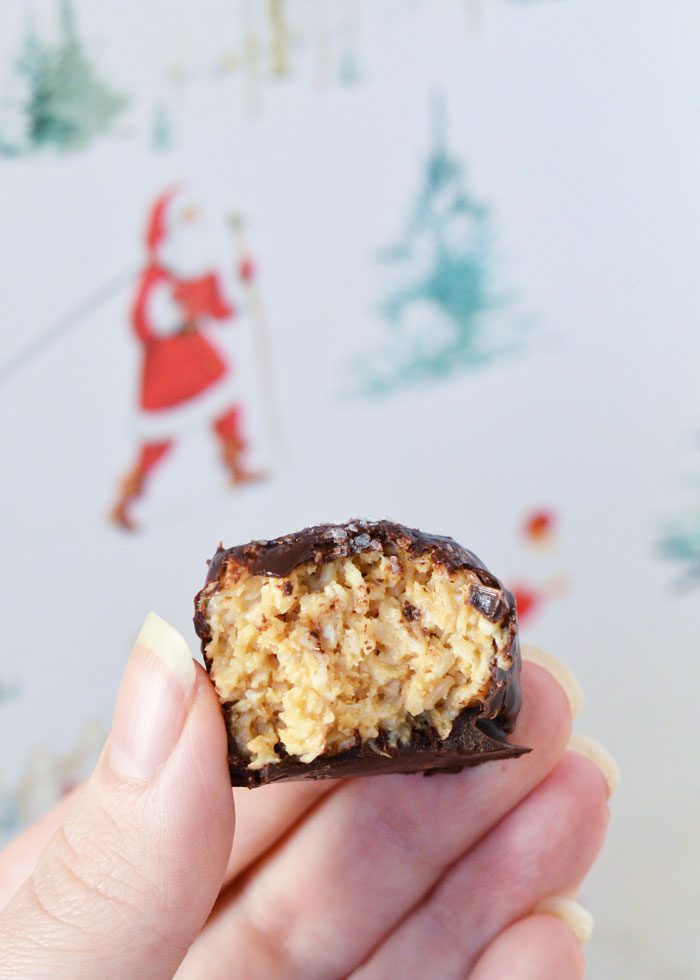 Cashew Coconut Truffles
2014-12-13 16:51:02
For the filling
1/2 cup cashew butter
2 cups desiccated coconut
2 tbsp honey (or other liquid sweetener)
2 tbsp coconut oil, melted
To coat the truffles
100g 70% dark chocolate
OR
1/2 cup coconut oil
1/2 cup of cocoa powder or raw cacao
1/4 cup coconut sugar
For the coating
Chopped cashews
Flaky sea salt
Cocoa or raw cacao powder
Instructions
1. Combine the cashew butter, coconut and honey together in a bowl. Add the melted coconut oil in a drizzle and stir well to combine. Wrap the mixture in cling film and chill in the fridge to firm up for 30 minutes.
2. Roll the mixture into small balls. If needed, return to the fridge to chill and firm up again.
3. Line a tray with greaseproof paper. Melt the dark chocolate in a bowl or if making the raw chocolate option, melt the coconut oil and mix in the cacao and coconut sugar. Prepare your toppings.
4. Dip each cashew coconut ball in the melted chocolate to coat it well (this does work best when they are chilled straight from the fridge) and place on the tray then immediately sprinkle on your topping. Chill again until firm then eat!
Notes
The raw chocolate version needs to be kept chilled, however the regular dark chocolate is ok at room temperate and would be better suited if making these as gifts.
Wholeheartedly Laura https://wholeheartedlylaura.com/
To change this recipe up, try using peanut butter or almond butter in place of the cashew – I now definitely want to try a peanut butter version! I decorated the truffles with either chopped cashews, a dusting of cacao powder or a sprinkle of sea salt, but again you could try different options.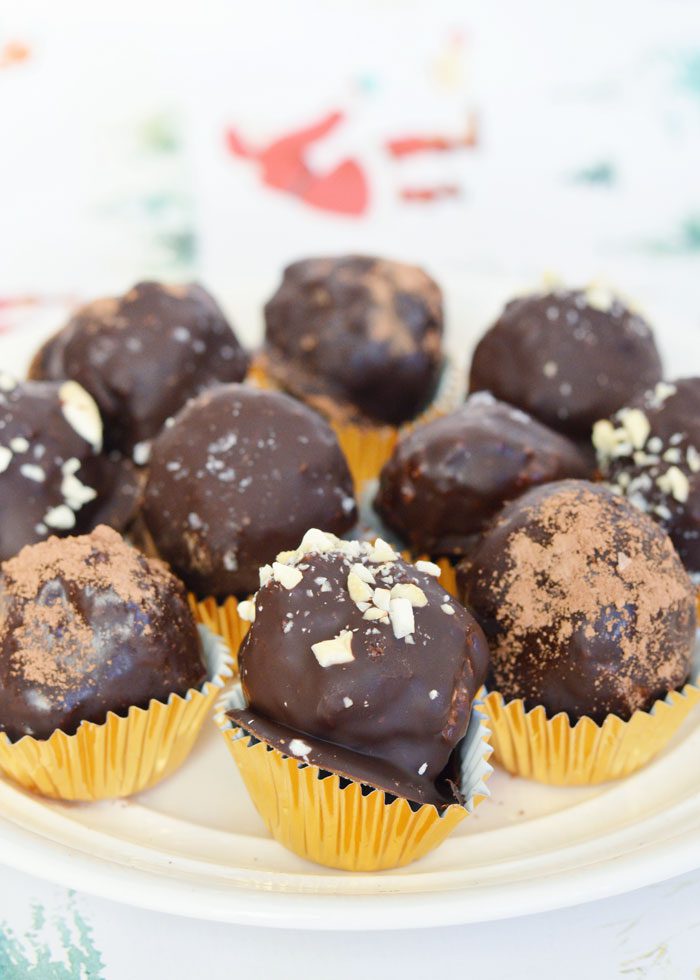 Do you like truffles? What kind of recipe do you think best demonstrates how delicious healthy food can be?
If you love recipes like this, make sure you are signed up for my email updates so you can get your hands on your exclusive FREE Healthy Christmas Sweet Treats Ebook at the end of this week!
'This post has beensupported by Rennie®, but all thoughts are our own'