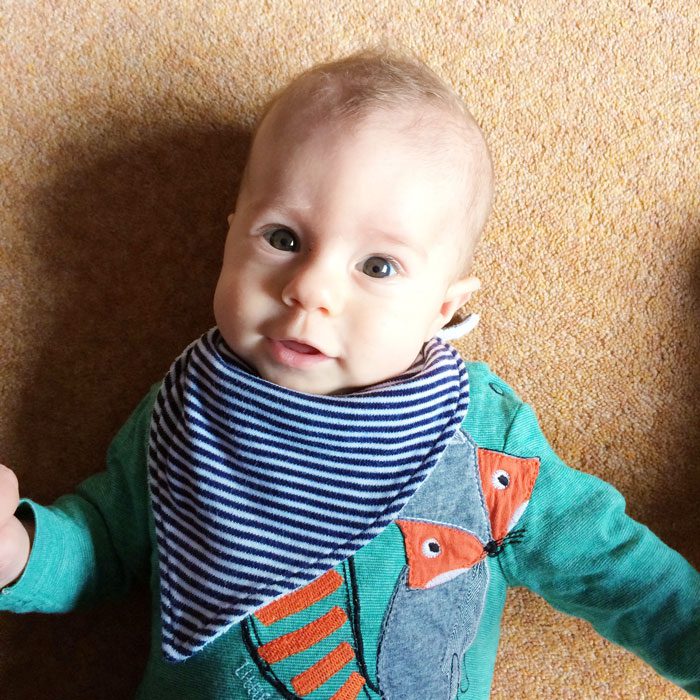 Little poser isn't he! Yep my little man is 6 months old today. Just as I said in my last baby update, things are feeling like normality and the last month has probably been the best so far. He's coming on so brilliantly, it's a pleasure to be his mama!
Feeding
This last week we started weaning which has been so much fun. I made sure I didn't set my expectations too high, but he's been doing wonderfully well. We started him off with pureed avocado mixed with breast milk for lunch. Then I just started mashing it rather than pureeing it. He's also had homemade sweet potato puree mixed with expressed milk which he devoured! I froze some in those big baby food trays you can get and he ate a full cube which I was very pleased with. I've also been offering him slices of apple and pear to gnaw on for breakfast. As I said last time we are going for a mix of purees, mashes and baby led style finger foods. The whole thing actually feels quite natural to me, I'm definitely going to follow my instincts. I'm going to continue to offer him vegetable and fruits and then start introducing other foods, particularly higher fat foods. I'm thinking I might try him with a little organic preservative free coconut milk and coconut yoghurt.
His weight gain has been ok and he's still following his percentile line but he's dropped down slightly. With that in mind I made the very hard decision to add some formula into his routine. Now that he's not exclusively on breast milk I felt more ok with it. To be honest the health visitor is completely fine with how he's developing, so it's more for me and my anxiety than anything else. I've had a few moments of tears in her office after weigh ins. I know he's fine, but when I see him next to other babies looking so tiny it breaks my heart it really does. I know I need to stop comparing him, after all not many other babies have had his start in life and other heart babies that are bigger are generally bottle or tube fed.
Rather than regular formula I've been giving him Nanny Care Milk which is a formula derived from goats milk. This is much closer to human milk and is easier on the digestion than cow's milk based formulas. He's only getting one bottle a day and we are waiting to see whether or not it impacts on his weight, along with the solid foods. I'm hoping that he'll have some kind of growth spurt, but ultimately I need to accept that my baby is happy and healthy and developing ahead of target really, he's just small. Maybe he's just meant to be small or maybe he'll pick up when he's older who knows. Right now he's better than ok, he's thriving, and I need to remember that!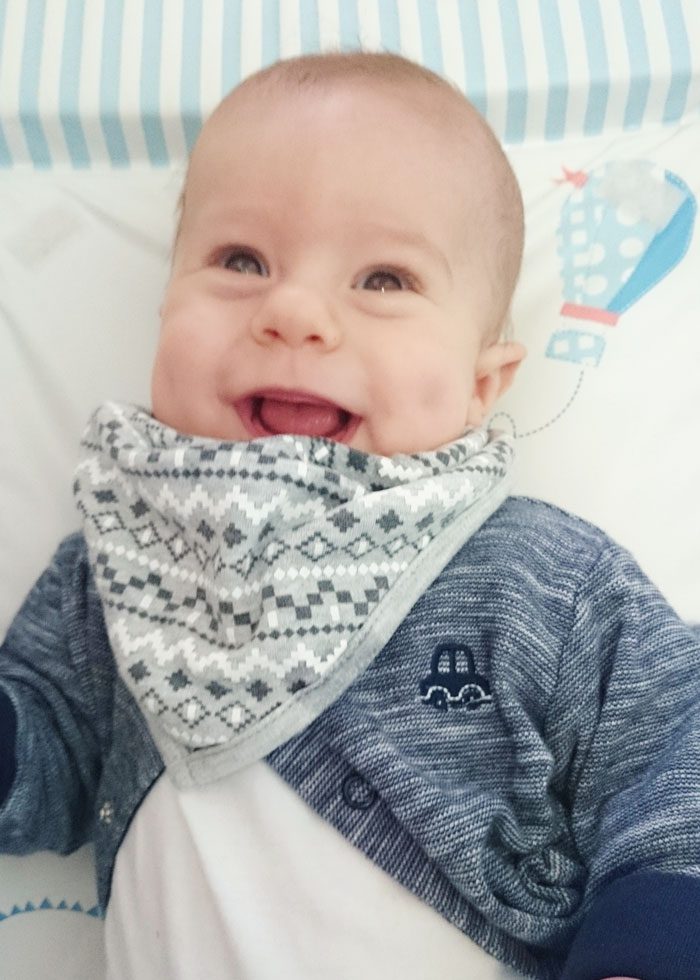 Sleep
Well for once I can be positive about sleep! This last month he's got a lot better. We still have rough nights but on the whole it's good with him going for 3-4 hour stretches rather than the 1-2 hours we were having! I'm now wondering if he was just going through the 4 month regression in line with his due date. He does still roll on to his tummy as I said last month, but is totally fine. The best thing we've had is that he will now sleep by himself for 1-2 hours on an evening which means James and I can have some time together. I can't tell you what a huge difference that has made to my wellbeing! Just not feeling like the evenings are rushed, being able to watch TV, catch up on emails and have a cuddle with James just makes life feel more liveable. I've pretty much accepted that this may be as good as it gets while we co sleep but I'm ok with that. There's something special about snuggling with him at night and being so close, I just love it. Nothing beats the smiles in the dark or how he nuzzles into me. He's a very cuddly baby and loves skin to skin contact. For now, I'm happy to enjoy all of that while I can still get those cuddles!
Development
He is doing so well considering him coming early and everything he's had to deal with. He's sitting up unaided completely now and one of the most fun things this month has been him gurgling and cooing all the time. He's a chatter box! He's very sociable as well and a bit of a flirt, he smiles for the ladies and he definitely knows how cute he is! At the moment we go to one playgroup a week. We were enjoying Tiny Talk but the timing of the class isn't the best so we are thinking of dropping that and finding some new activities. I really want to take him swimming soon!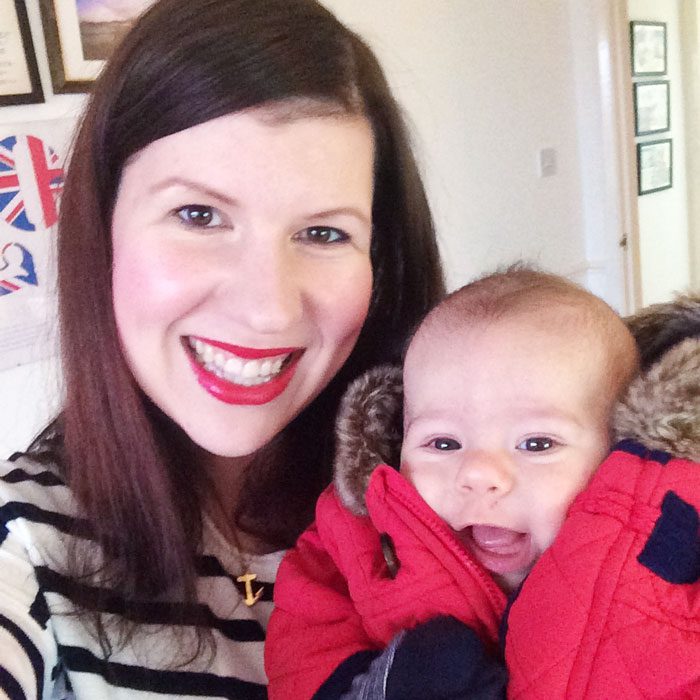 Childcare
He starts nursery next week and I have really mixed feelings about it. On one hand I get the full mama guilt for leaving my baby and I'm dreading next Monday when he has his first full day away from us. But then I know it's the right thing for us both. He will benefit from the different surroundings and social interaction and I will benefit from having the time to work. Things could be worse if I had to return to a full time job, so we are blessed to have the option of it being a part time thing. I have to admit, once we are both settled into the situation I'll feel far more content in myself instead of having the mad juggle that I have now. I'll also have the time and space to work on my business plans (which are very exciting!) Obviously I adore what I do to make a living, but it will be good to get weekends back and make them a family time.
Me
Other than a bloody sore boob due to a blocked milk duct and the anxiety about his weight gain I've been doing great! As I just said, it is a juggle when you run your own business but I know how much that will improve soon. The evenings have been wonderful as well, going to bed at 9 rather than 7 is a big difference and because he's sleeping better I still feel just as rested, if not more so because I have that time to chill. One thing that I have started to think about is how long to breastfeed for. Ideally it would be wonderful to do it for as long as he wants (within reason of course!) but realistically I'd like to get to a year and then reassess things.
Overall things are really good for us right now, but whenever we have a rough day or night I just remind myself that this time with him is precious. There will be a day, not too long from now I'm sure, when I will shed tears wishing I could have it back and live it all over again. So for now, I'm going to enjoy every cuddle, every snuggle, every breast feed, every splashy bath, every dancing hand across my chest in the night. Blimey I'm welling up just writing this, I'm such a softie!
If you breast fed, how long did you do it for? If you have little ones what activities do you / did you, enjoy the most? What was your little one's first food?