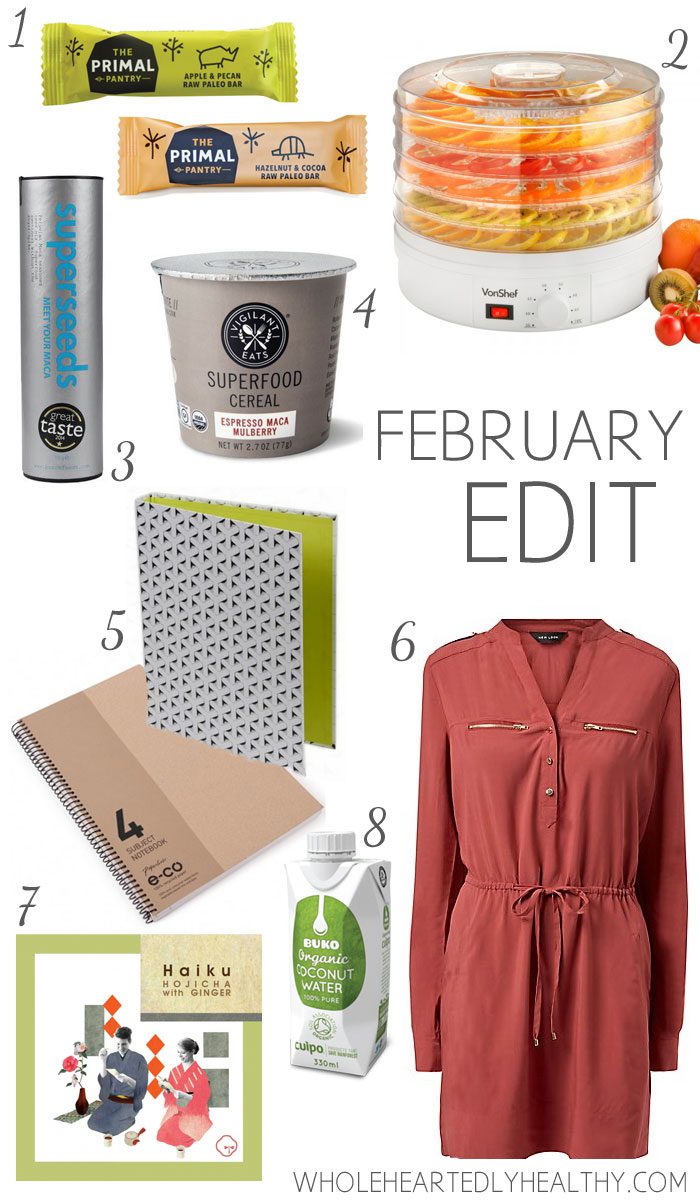 Hey lovelies, I hope you've been having a good February, I have to admit I'm rather looking forward to March now! This month has been a bit random for me, but I have certainly developed a few new loves during the month. Here is my February Edit!
1. Primal Pantry Bars* – The new apple and cinnamon and hazelnut and cocoa bars are delicious and really handy as handbag snacks. They are similar to Nakd bars, but these have a more chunky texture. Very simple whole food ingredients in a nice easy grab and go package!
2. VonShef Dehydrator* – I used to own a fancy pants dehydrator but it was too big for my kitchen so I sold it. This one is a nice size and is very handy for making raw kale chips. My big love this month is activated nuts where I soak them in water then dry them in this. It makes them more digestible and gives them an awesome crunch!
3. Meet your Maca Superseeds – I got these in the Share the Love Lifebox and I'm addicted to them! I've been loving adding a few seeds to salads and on top of porridge. I think having the tube there is really handy so when I've finished that tube I'm going to fill it up with my own seeds.
4. Vigilant Eats Superfood Cereal in Expresso Maca Mullberry – Oh my word these are divine! I haven't loved a new product as much as these in a long time. They are perfect for breakfasts on the go and just taste incredible. They are basically a super healthy version of the porridge / cereal pots you can get at the supermarket. I'd much rather have one of these! You can find out more about the product here and to get these in the UK contact josh@rawbiteuk.com.
5. Paperchase stationary – As I've been saying in my weekly life updates I've been on a decluttering mission and I've also been getting my finances in order. I always have a big notepad on the go for taking client notes and other scribbles and I love this one from Paperchase as it has colour coded sections so I can keep my notes more organised. I also love this ring binder for getting my new financial year finances sorted!
6. This dark pink colour, the dress is from New Look – I do love that dress, but what I'm really loving is that deep pink colour. I have that dress and a vest which I love, I feel like the colour suits me and it seems to be very much on trend!
7. Tombo Tea Haiku Hojicha with Ginger* – while I was pregnant I totally went off green tea. Not long after Finley was born and I fell back in love with it in a big way. My favourite 'posh' green tea right now is this loose leaf from Tombo tea. I adore the flavour and the packaging! The website has an amazing range of Matcha powders in different grades. I have some matcha for baking mix which I plan to use soon!
8. Buko Organic Coconut Water* – This is such a beautiful coconut water. It's super pure and has a great ethos behind it investing back into the community where the coconuts are sourced.
Have you tried any of these products? What is your favourite colour at the moment? What would be in your February edit?
Items marked * are PR samples which I received with no obligation to feature.