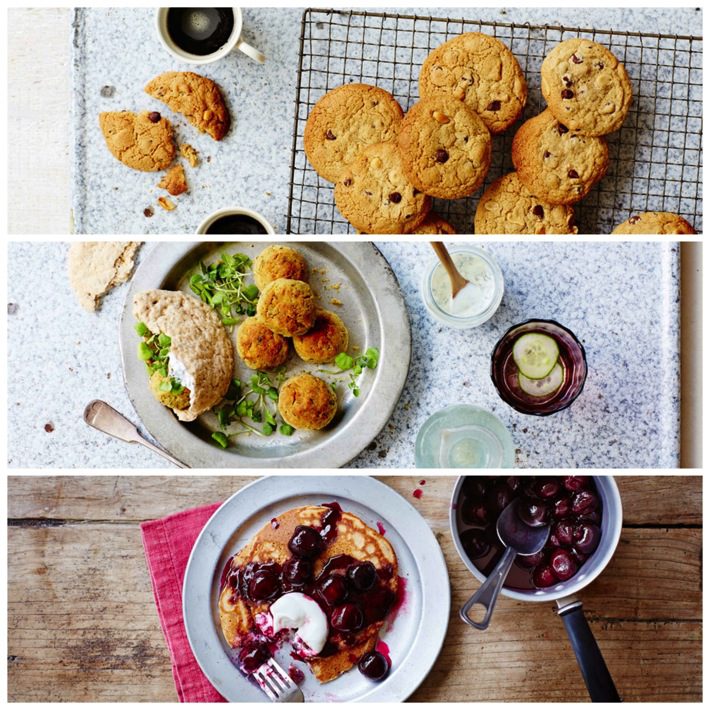 Today is the day! Grains as Mains is out and I'm delighted to be able to share with you my favourite recipes from the book to give you a taster of what to expect.
The book is packed with 150 recipes that put ancient grains centre stage. Everything from breakfast recipes, soups, burgers, pilaffs and desserts are included, with many being gluten free. The grains featured in the book include quinoa, millet, buckwheat, farro, teff, sorghum, polenta, barley and many more. The book also contains a comprehensive guide to these grains including how to prepare and cook them, their nutritional properties and distinct characteristics.
Grains are incredibly versatile, and when prepared and cooked to maximise their nutritional benefits, they make a wonderful addition to your diet. Here are my favourite recipes from the book!
These pancakes are amazing! The delicious nutty gluten free buckwheat flour is soaked and fermented with yoghurt overnight to make them kinder on your digestion. Paired with a sweet cherry almond sauce they make the perfect breakfast.
American Style Soaked Buckwheat Pancakes with Cherry Almond Sauce
2015-03-01 09:41:22
Ingredients
150g buckwheat flour
60ml plain yoghurt
200ml milk
2 eggs
3/4 tsp baking soda
1/4 tsp baking powder
1/2 tsp vanilla extract
1/8 tsp salt
1-2 tbsp coconut oil
Greek yoghurt to serve
For the sauce
350g cherries, stoned
3 tbsp sugar
1 tsp almond extract
Instructions
1. For the batter, place the flour, yogurt, and milk in a large bowl. Mix to combine, cover with a kitchen towel, and leave at room temperature for 8 hours or up to 24 hours.
2. Place the eggs, baking soda, baking powder, vanilla, and salt in a large bowl. Whisk lightly until well blended. Then gradually pour the egg mixture into the flour mixture and whisk until well combined.
3. Heat a large non-stick frying pan over a medium-high heat and add the oil once the pan is hot. Pour tablespoons of the batter into the pan, leaving space between them for the pancakes to spread. Each pancake should spread to about 15cm (6in) in diameter.
4. Cook the pancakes until small bubbles appear on the surface and the underside is firm. Then turn them over and cook for a further 1–2 minutes or until cooked through. Transfer the cooked pancakes to a warm oven. Continue cooking until all the batter is used up, adding more oil to the pan as needed.
5. For the sauce, place the cherries in a large, lidded saucepan and cover with 100ml (31⁄2fl oz) water. Add the sugar and place the pan over a medium-high heat. Cover and simmer until the cherries have broken down. Then uncover and cook until the liquid becomes syrupy. Remove from the heat and stir in the almond extract. Serve the cherry almond sauce with the pancakes and Greek yogurt.
Notes
The milk can be switched for almond or coconut etc if desired. The sugar in the sauce can be switched for honey or coconut sugar to make this refined sugar free.
Wholeheartedly Laura https://wholeheartedlylaura.com/
I adore falafel, so I knew I had to develop a falafel recipe using a grain for this book. I added quinoa to provide a wonderful texture to the delicious falafel.
Quinoa Falafel with Mint Yoghurt Sauce
2015-03-01 09:50:13
Serves 4
Ingredients
60g (2oz) uncooked quinoa
1 egg
2 garlic cloves
1 tbsp cumin
1⁄4 tsp salt
2 x 400g can chickpeas, drained
4 tbsp chopped coriander leaves
1 tbsp plain flour, for dusting
1–2 tbsp olive oil, plus extra for greasing
For the sauce
150g (51⁄2oz) Greek yogurt
4 tbsp chopped mint leaves
juice of 1 lemon
Instructions
1. Rinse the quinoa under running water, place in a large saucepan, and cover with 170ml
(6fl oz) of water. Place the pan over a medium heat and bring to a simmer. Cook the quinoa for 15 minutes or until almost all the water has been absorbed. Remove from the heat, drain any remaining water, and set aside.
2. Place the quinoa, egg, garlic, cumin, salt, and 350g (12oz) of the chickpeas in a food processor. Pulse until well combined. Add the coriander and the remaining chickpeas and pulse lightly for 1 minute, until the chickpeas have broken down but still retain some of their texture. Transfer the mixture to a large bowl and chill in the fridge for 30 minutes.
3. Preheat the oven to 200°C (400°F/Gas 6). Grease and line a baking sheet with greaseproof paper. Divide the falafel mixture into eight equal portions. On a lightly floured surface, roll each portion into a smooth ball and press down lightly to form patty-like shapes.
4. Brush the falafel with a little oil on both sides and place on the baking sheet. Bake in the oven for 20 minutes or until the falafel are well browned and crispy on the outside. Remove from the heat.
5. For the sauce, place all the ingredients in a bowl and mix well. Serve the falafel and mint yogurt sauce with pitta breads and a green salad, if liked.
Notes
To keep these gluten free use a gluten free flour blend in place of the plain flour
Wholeheartedly Laura https://wholeheartedlylaura.com/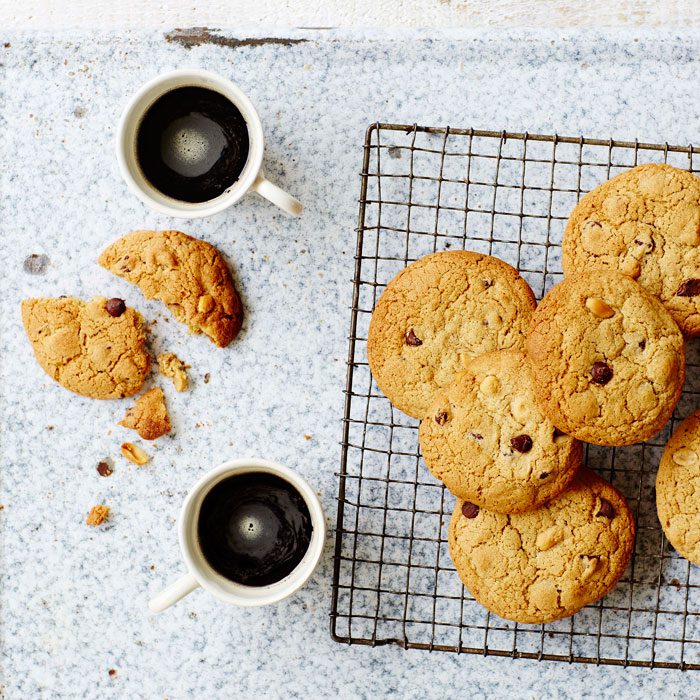 Cookies are just one of my favourite things and these chocolate chip, peanut and buckwheat cookies are fabulous! Made with sugar and butter, they are a gluten free treat full of flavour.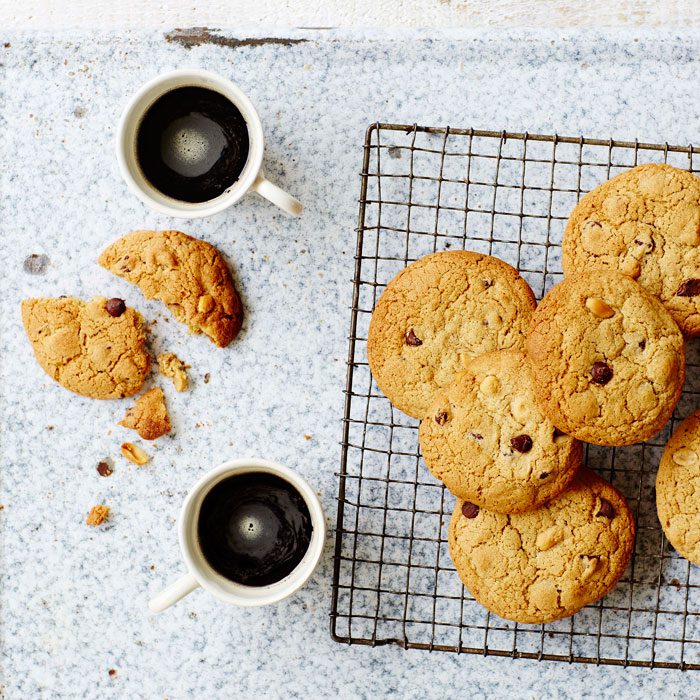 Chocolate Chip, Peanut and Buckwheat Cookies
2015-03-01 09:53:07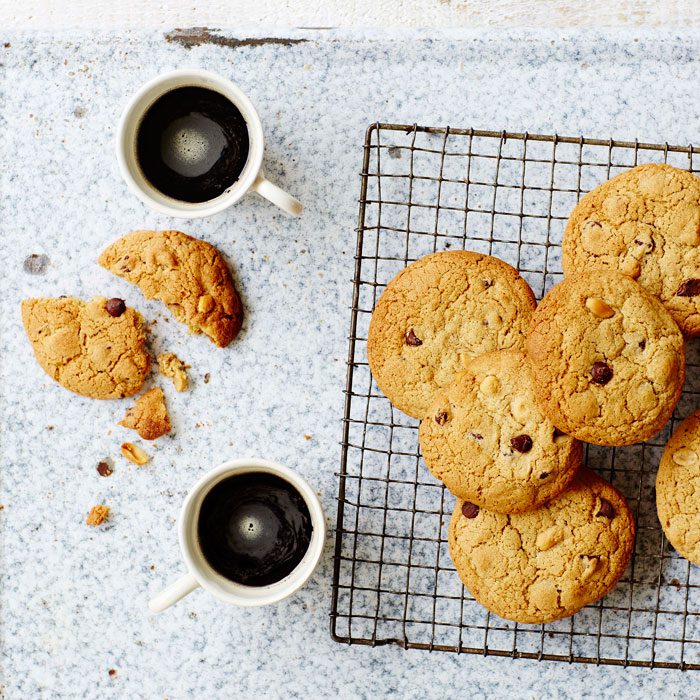 Ingredients
110g (4oz) unsalted butter
175g (6oz) brown sugar
1 large egg
200g (7oz) buckwheat flour
1⁄4 tsp salt
1⁄2 tsp baking powder
85g (3oz) dark chocolate chips
85g (3oz) salted peanuts
Instructions
1. Line two baking sheets with greaseproof paper and set aside. In a large bowl, cream together the butter and sugar with an electric whisk until light and fluffy. Then beat the egg into the mixture until well combined.
2. Place the flour, salt, and baking powder in a separate bowl and mix well. Fold the dry mixture into the butter, sugar, and egg mixture,
a little at a time, until thoroughly incorporated. Add the chocolate chips and peanuts to the mixture and stir well to incorporate. Cover the dough with cling film and chill in the fridge for about 30 minutes. Preheat the oven to 180°C (350°F/Gas 4).
3. Place golf ball-sized pieces of the dough on the prepared baking sheets and flatten them gently. Make sure they are placed at least 5cm (2in) apart, as they will spread while baking. Bake the cookies for about 15 minutes, until they start to turn golden but still look a little under baked. Remove from the heat and leave on the baking sheet for at least 10 minutes to cool and firm up. Then transfer to a wire rack to cool completely. Store in an airtight container.
Wholeheartedly Laura https://wholeheartedlylaura.com/
Grains as Mains is available from all major bookstores including
Amazon
and
DK.com
.
Are you a fan of ancient grains? Would you try any of these recipes?