I love a good recipe book, and love a healthy one even more! The Detox Kitchen Bible contains over 200 dairy, wheat and refined sugar free recipes developed by Lily Simpson, founder of The Detox Kitchen in London, and Rob Hobson a nutritionist.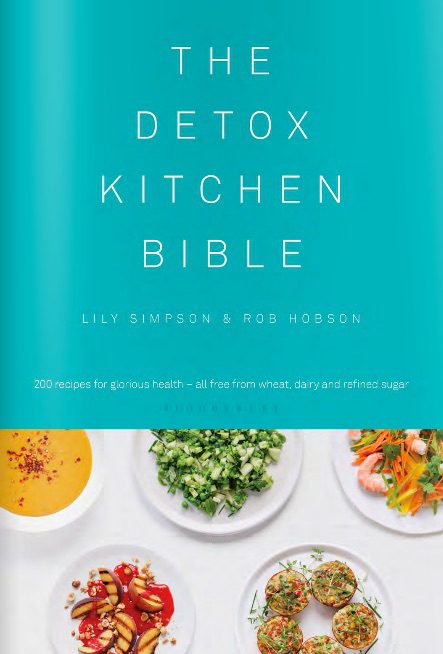 'Lily Simpson and Rob Hobson are a chef‐and‐nutritionist team shaking up the healthy food industry. Chef Lily Simpson takes her ideas from travels in France, Spain, Italy, Thailand, Morocco and Sri Lanka. She founded The Detox Kitchen, a unique detox food delivery service, in 2012. Having launched with dazzling success and a loyal following of celebrity clients, they now serve a range of delicious, healthy dishes from delis in London's Kingly Street and Harvey Nichols. Rob Hobson is one of the UK's most talented nutritionists. He runs two food and nutrition consultancies in London, and has worked with private clients, government agencies and the NHS. An obsessed foodie and skilled cook, he regularly contributes food and nutrition features across a wide range of media platforms.'
The recipes are full of vibrant flavours thanks to Lily's use of herbs, spices and oils. Not only are the recipes tasty, but with Rob's guidance they can be used to target your health needs.
They kindly offered me an exclusive recipe from the book to share with Wholeheartedly Healthy readers…
AVOCADO SMASH WITH TOASTED NUTS & SEEDS
Serves 2 • 460 calories per serving
You may be apprehensive about having a salad for breakfast, but if you try this one with a few slices of toast, you will be converted. The creamy avocado mixed with all of our favourite nuts and seeds and some protein-packed lentil sprouts tastes wonderfully fresh and really will keep you feeling full until lunch. Avocados contain high levels of a plant compound known as beta-sitosterol, which is thought to help balance cholesterol levels.
Ingredients:
20g cashew nuts
20g hazelnuts
1 tsp sunflower seeds
1 tsp white sesame seeds
1 tsp black sesame seeds
2 ripe avocados
Juice of 1 lemon
4 fresh chives, finely chopped
50g lentil sprouts
Salt and pepper
To serve: Chopped fresh coriander or micro coriander Lime wedges
Directions
1. Preheat your oven to 200°C/fan 180°C/gas 6.
2. Spread all the nuts and seeds in a small baking tin and toast in the heated oven for 8 minutes until golden. Tip them into a mortar and lightly crush with the pestle. Set aside.
3. Cut the avocados in half and remove the stones, then scoop out the flesh and put it in a large bowl. Add the lemon juice, chives and some salt and pepper and crush with a fork. You want to create a creamy but chunky texture. Add the lentil sprouts and mix through.
4. Add the crushed nuts and seeds to the avocado mix. Serve sprinkled with coriander and with wedges of lime to squeeze over.
Rich in Vitamins B6 and E • Potassium •Magnesium • Phytoestrogens • Beta-sitosterol • Fibre
I think that sounds so delicious and unusual for a breakfast dish! Also, avocado, enough said!
Have you heard of The Detox Kitchen before? What is your favourite recipe book?

Enjoy this? Get me in your inbox! >>>
[mc4wp_form]