What a little dude! Yes, my baby boy is now 10 months! He's really coming into himself now and is developing a real personality.
This last month has been pretty good. He's been continuing to go through the nursery illnesses, but I think we might have got through it. What we are now contending with is his teething. He has 7 teeth, his two front bottom ones and one to the side, his front two top and two are just coming through at the side of those ones. They are the trouble makers I think!
He eat's pretty well when he is well and naturally meal times are quite a mess! We ended up getting rid of his old highchair and replacing it with a cheap IKEA version. We definitely should have just gone for the cheap and effective option as this one is so much better than the other more expensive Chicco one we had! We still breastfeed with high cal formula when he would be getting a bottle anyway so at nursery and when he's with my Mam. I have no idea when breast feeding will end and I'm really mixed on whether I should go for mother led weaning sooner, or baby (or more likely) toddler led weaning much later!
Developmentally he's doing well. He's desperately trying to crawl and has mastered backwards crawling so I think forwards crawling is just a matter of time! He can clap his hands together and understands when you say 'clap, clap'. He's also showing a lot of separation anxiety and getting upset when I leave the room, bless him.
We do seem to be having a rough patch with sleep. He's quite hard to settle at times and recently we've been having two hour awake periods. I can only put it down to teeth and perhaps the 8-10 month regression, so hopefully things will improve soon. However naps are brilliant right now. He seems to be the process of transitioning to two 1.5 hour naps morning and afternoon (when we are at home and not out and about) which is awesome!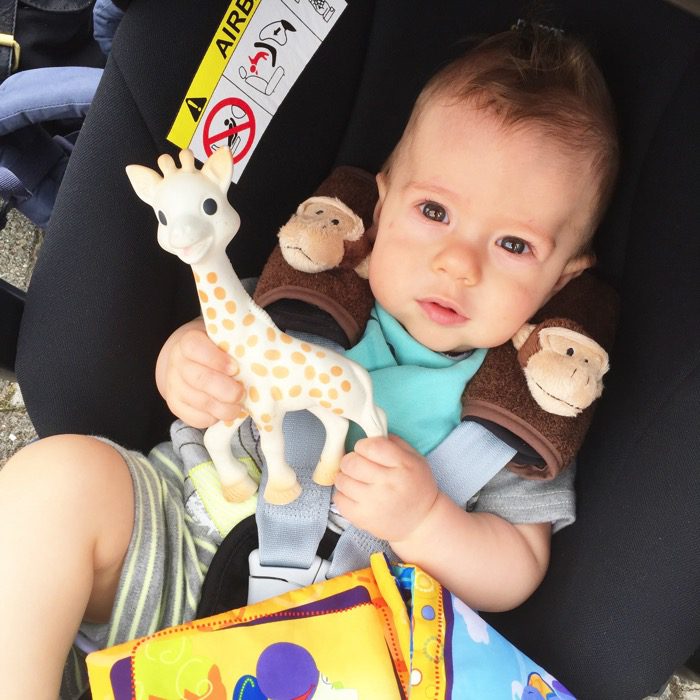 We have also started using the baby carrier more often. We actually hardly ever use the buggy, we are both happier using the sling :-)
Yesterday we had a visit from our Health Visitor which was lovely. I am so lucky to have an awesome health visitor! We also have his cardiac check up tomorrow which I am slightly nervous about, but I know he'll be fine. His weight is still slow and low, but I've been reassured that he's just going to be a small baby. He's certainly happy enough!
I'm doing really well at the moment, although I do occasionally get hit with really bad tiredness which in turn causes me to feel low. I know when that happens I need to refocus on my nutrition and try and get even earlier nights in. This parenting thing is wonderful, but I think you always feel like you're learning. As I said on breastfeeding I'm mixed on how I'd like to progress. Part of me is totally on board with natural, attachment based parenting and continuing to breastfeed and bed share as long as needed. But at the same time I do ask myself if Finley would sleep better in a cot and if I would feel better not breastfeeding. Honestly, I think I know that I'll be very sad when breastfeeding stops as God know's I fought hard to be able to do it and I still enjoy it. But it is hard at times when you second guess yourself and get fed up with pumping when he's at nursery!
Overall we are doing wonderfully really. He is just such a joy and I miss him whenever I'm not with him. He's just the most adorable little boy!
Any tried and trusted teething remedies?

Enjoy this? Get me in your inbox! >>>
[mc4wp_form]