Generally speaking I'm not a big fan of 'mini' desserts. Where's the rest of it? Bitesized is NOT for me, I like my portions big! But like everything in life, there are rule breakers and these mini cheesecakes are one of them.
This recipe came about when one of my lovely ladies I work with in the community requested a healthy cheesecake recipe. I have to admit I was pretty stumped for a while. Yes, there are plenty of healthy cheesecake recipes with dreamy creamy raw cashew layers and nutty sweet bases. I've created two such recipes myself in my raw chai spiced cheesecake with pistachio walnut crust and my cookies and cream cheesecakes. However I knew that kind of thing wouldn't really cut it. Lovely as those recipes are, they aren't close to the velvety richness and biscuit crunch of a traditional cheesecake.
As far as 'proper' cheesecakes go, I am some what of a connoisseur. My favourites have to be Nigellas Chocolate Lime Cheesecake and New York Style cheesecake, both of which are amazing! I wanted to find a recipe that would be closer to those, while being on the lighter side.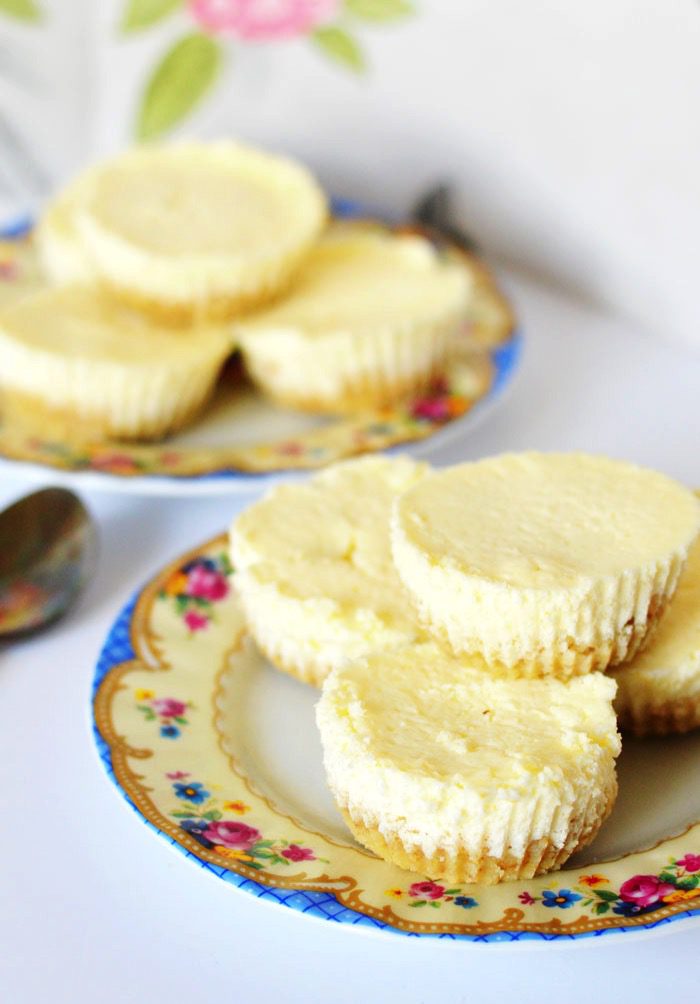 I am happy to say I succeeded!
Of course whether or not you see these as 'healthy' completely depends on your perspective. Instead of a processed biscuit base, we have oats, ground almonds and coconut oil with a pinch of sweetener. For the creamy topping we have full fat cream cheese (organic if you wish) with egg whites, sweetener and flavour. Much healthier than shop bought cheesecakes packed with trans fats, refined sugars, binders, fillers and other artificial ingredients.
I decided to make them mini purely for practical purposes as the cooking time of a large one would have exceeded the time we have in our sessions. I also love the fact that these only take 30 minutes to make start to finish, plus some chill time if needed. Another benefit of them being mini is that they are portion controlled, and believe me, one of them is enough to satisfy any sweet tooth!
Healthy Mini Baked Cheesecakes
2015-06-22 12:25:50
For the base
3/4 cup porridge oats
3/4 cup ground almonds
6 tbsp coconut oil
1-2 tbsp granulated sweetener (I used Truvia)
For the cheesecake
2 large egg whites
1/2 cup of granulated sweetener (I used Truvia)
1 tsp vanilla essence
Juice from half a lemon
1 cup of full fat cream cheese
Instructions
1. Add all the base ingredients to a food processor. Pulse until the coconut oil has combined with the other ingredients and the mix has the texture of sandy rubble.
2. Prepare a tray with silicone or paper cupcake liners
3. Add approximately one tbsp of the mixture to each liner and press down firmly into the base.
4. Put the liners in the fridge to chill while you make the filling.
5. Pre heat the oven to 190c (170 fan oven)
6. Add the egg whites, sweetener, vanilla and lemon to a large bowl and whisk with a hand or electric mixer until foamy.
7. Add the cream cheese and whisk until creamy and frothy (the mixture will still be liquid, the consistency of a thick single cream)
8. Take the liners out of the fridge. Fill each one with the filling so they are 3/4 full.
9. Bake for 15 minutes until the cheesecakes are set and have a few cracks on the surface.
10. They can be enjoyed warm, but are better left to cool and then refrigerated for at least an hour before eating
Notes
Will keep in the fridge for 4 days.
I'm currently testing them for freezabilty!
Wholeheartedly Laura https://wholeheartedlylaura.com/
These little nuggets of deliciousness really do hit the mark. As they have been baked you get that proper dense biscuit like base and velvety creamy topping. I left these plain without any kind of fruit, which of course you could add. You could also use this recipe as a base for different variations…try adding some cocoa powder to the base and switching out a few tablespoons of cream cheese for peanut butter to create a chocolate peanut butter version. I'm practically drooling at the thought!
Are you a cheesecake fan? Do you have a favourite flavour or version of cheesecake you love?

Enjoy this? Get me in your inbox! >>>
[mc4wp_form]