It goes without saying that it is such a surreal feeling to have a one year old! I really can't fathom how fast this year has gone, it's been the best (and at times worst) of my life. Since our little Finley decided to put in his 5 weeks early appearance, my life has been changed so completely in the most wonderful way.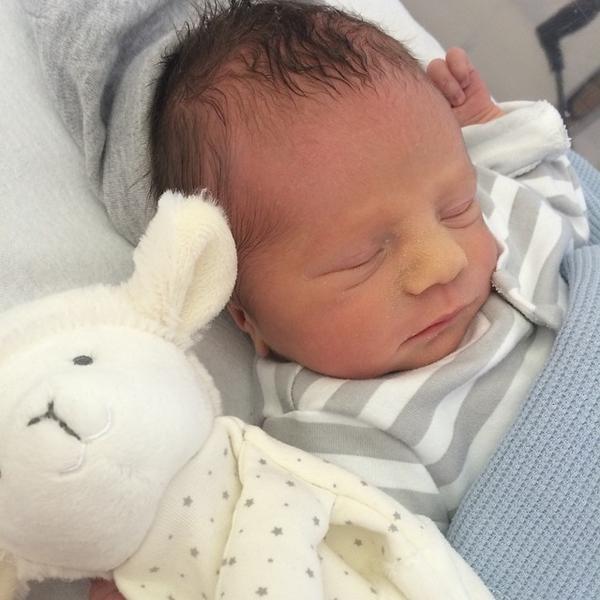 It's been quite strange thinking back to this time last year, I would have still been in hospital while he was having his jaundice treated. Not long after that, we found out about his heart defect. The first few weeks of his life were like a blur while we waited for his open heart surgery. Thankfully when I reminisce, it's all the good stuff that comes back. Watching films and eating Reece's Cups in hospital, going to the breastfeeding cafe and making new friends and making the most of night feeds by watching random stuff on Netflix. There was a day just before he went in for surgery (the time when I was at my lowest and didn't want to leave the house) when I decided to go out, popped him in the wrap and had a walk around Durham with a chai latte in my hand. His feeding tube was hidden as his head was turned to my chest, and for that hour or so I enjoyed feeling like a 'normal' mama.
We seriously could not be more thankful to the Children's Heart Unit for basically saving our baby boy's life. Watching the Festival of the Tyne and the Great North Run last year, and then really focusing on the idea of us doing the run gave me so much strength when Finley was ill. I'd visualise myself doing the run and having Finley there all better, and it's all come true :-) I'm actually welling up as I type this, life now compared to then really is a dream come true. You can find out all about Team Finley here.
I wrote a lot on the blog about my adjustment to becoming a mama, and now it feels like this is what I've always been. Breastfeeding in public is no longer awkward, I don't feel the horrible anxiety about what each night might hold and it's comfortable in the most wonderful way.
Finley himself is just an absolute joy. Considering all that he's been through in his short life, he's doing really well. He is still very small for his age, but that seems to just be him for now at least. He's crawling, coasting around on the furniture, saying dada and baba (although sadly no mama just yet!) making friends at nursery and just being completely awesome. He also has his eight front teeth in and I think his molars are starting to try and get though at the moment.
He's doing great with his food and we continue to combi feed, having the boob when he's with me and formula when he's at nursery or being cared for by anyone else. Sleep is still not great. He starts the night in his cot and then when he wakes (usually after 2-3 hours) he comes into bed with me and we bed share. It works for us, and I have no issue with continuing to bed share, certainly while we are still in the flat. It's been the best way for us to get the sleep we need. He still wakes a few times a night, and when he's not teething or having a developmental leap he'll settle back to sleep really easily.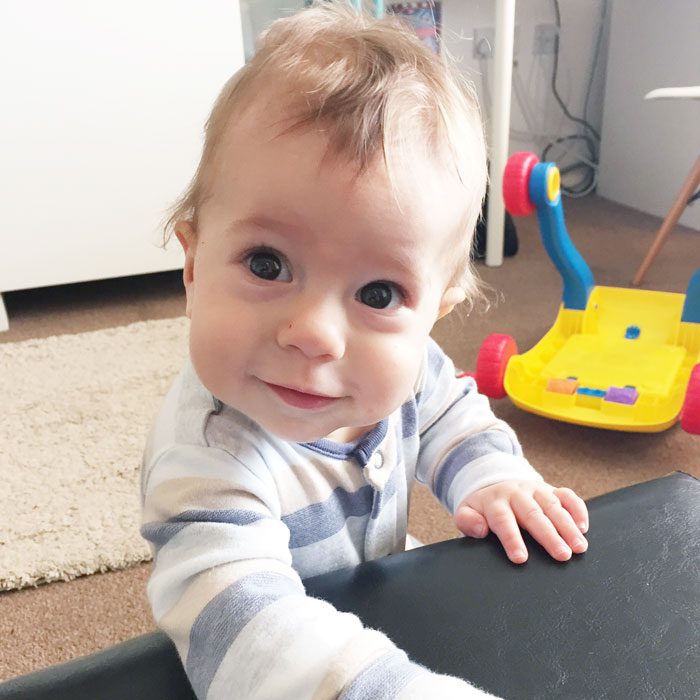 On Sunday we had a little tea party for him with some of my friends and his baba friends. I was determined to make his birthday cake, and in the end I decided to make Jamie Oliver's gluten free carrot cake in a double layer with extra cream cheese icing. I also made a separate dairy-free cake (my Vegan Victoria Sponge cake) for one of my friends and her little girl who have a dairy intolerance.
It was a really fun afternoon and a lovely celebration! For his birthday we got him some toys and clothes but I'm also in the process of creating a photo book using Blurb, which I reviewed a few months ago. It should make a lovely keepsake.
I have learned so much over the last year about motherhood and myself. I guess the biggest thing I've learned is that you really need to be flexible and just open yourself up to that flow. There is nothing 'routine' about having a baby, Finley is changing all the time, and the best way to deal with that for me, is by letting go of any assumptions or expectations about how things 'should' be.
Given the unusual circumstances we had to deal with at the start, I think it's fair that I felt down and depressed at times, but that aside, I do know that my expectations of what motherhood would be like didn't help. Further on, since I ditched the expectations that Finley would sleep through the night, do this thing by then, etc, I've come to relax and enjoy motherhood so much more. I've also stopped comparing him to other babies – if any child is going to be different, it's him, and actually he's doing absolutely wonderfully!
I believe I also said here on the blog that a turning point for me was when he started nursery. Yes, there's a shitload of guilt that goes alongside that, but I am a far better mother when I have some time for me to both work and to just recharge. Oh and there's another thing, the mama guilt! I think it's almost inevitable that you will feel it at some point but you just have to do what's right for your situation and your beliefs and no one deserves to be judged for that. I'm a breastfeeding, co-sleeping, baby-wearing hippy, who also needs some time away from her son sometimes, and that's ok.
I've always been into self care, but this year that has just blown up for me. When you suddenly don't have time for it, you notice how much you need it and if there's one thing I'd say to another new mama it would be to work in the self care as a priority. I know it's not always easy, but it is so worth it. I'm just better in every sense of the word when I take care of myself, certainly a better mother all round.
Body-wise, I'm really happy with it a year after giving birth. I am finding myself feeling a renewed need to focus on eating well and exercising more consistently again, but changing my body isn't the focus, rather it's about how much better I feel when I eat really well and have a good exercise routine. I also had a kind of pleasant surprise a few weeks ago when my period returned. After several years of no periods and everything that went into getting pregnant, it's a beautiful sign to me that my body is in a great place right now.
Looking ahead, I couldn't be more excited about life with a soon-to-be toddler! I can't wait to enjoy autumn to the full (I really feel like it slipped me by last year) and of course do this Great North Run and give something back to the people that helped us so much.
If you have children, how did you find the first year changed you? What advice would you give to a new mama?