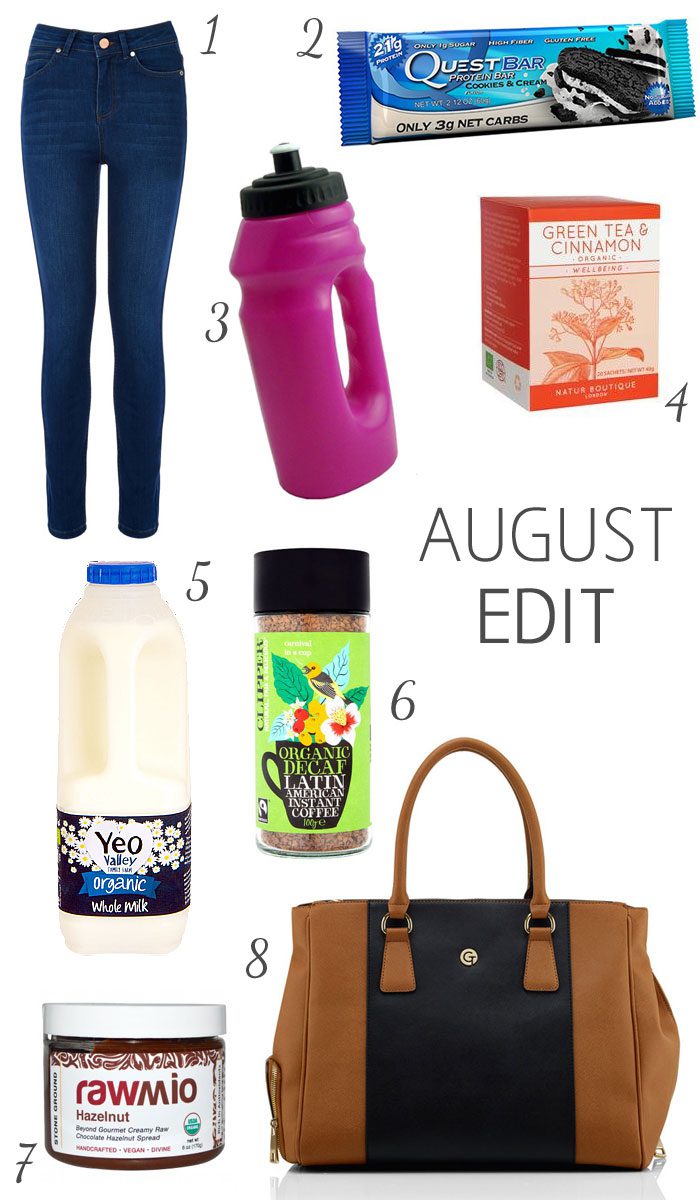 It's that time of the month again and I'm sharing some of my fave things from August!
1. Oasis 'Lily' Jeans – I have bought two pairs of these, one in blue and one in black, as they are such a great fit. They are stretchy, skinny, high-waisted ankle-grazers and I love them! The sizing is a bit strange as I was a bigger size in the black and smaller in the blue, but a great reasonably priced pair of jeans
2. Cookies and Cream Quest Bars – I bought these from iHerb but they are also available in the UK from places like Protein Pic n Mix. I love them as an occasional treat as they taste very naughty but aren't too sugary or calorific.
3. Pink Water Bottle – I usually don't take water out when I'm running less than 6 miles so I needed to get a decent water bottle now I'm running longer distances. This one is cheap and cheerful from Amazon but does the job.
4. Natur Boutique Cinnamon Green Tea* – I love my green tea and really enjoyed Natur Boutique's cinnamon version. Cinnamon is great for sugar cravings and as I don't enjoy fruity teas, it's a green tea variation I can enjoy.
5. Yeo Valley Whole Organic Milk – I know that regular full fat, all dairy milk isn't the 'in' thing, but I've been loving this stuff recently! I started getting whole milk for Finley and when I ran out of almond milk, used it in my coffee. It's just delicious, I can't believe I used to drink skimmed milk! Their cows are mostly grass-fed and I'm confident of the quality. I also love their full fat plain yoghurt. I don't use milk that much, so I've pretty much switched from almond milk to this for occasional use. When you think that bought almond milk can still be fairly processed, I don't mind the odd creamy coffee with full fat milk instead.
6. Clipper Latin American Instant Decaf – I've been buying this for a while, but have refocused on it this month as I've been cutting down my caffeine intake. It tastes great with the Yeo Valley whole milk and is wonderful made hot or iced.
7. Rawmio Hazelnut Spread – another iHerb treat, this healthy Nutella-style spread is made with just hazelnuts, cacao and coconut sugar. It was insanely good!
8. Sophia Gym Tote – I technically bought this in July, but I've used it so much this month I just love it. Although I'm not a gym goer, it's the perfect bag for me as a biz mama. I can fit in my laptop and nappies, baby snacks, toys, etc and still look smart and chic.
Have you tried any of these products? What would be in your Edit this month?
Items marked * are PR samples which I received with no obligation to feature.