Hello lovelies! So last weekend I ran the Great North Run for the third (and most likely final) time. As I've previously mentioned, we decided to sign up for the run last year so we could raise funds for The Children's Heart Unit at the Freeman Hospital in Newcastle where Finley was being treated for his heart defect. We decided to put together a team – my brother in law (my sisters husband) James, my Dad, my husband James and little old me.
To be honest, as the run drew nearer, I seriously thought I must be off my rocker to have signed up to run a half marathon with a barely one year old baby that doesn't sleep very well. The training had been pretty tough, and I'd had to cut it back to just one gradually increasing in length run a week. Not the best way to train for 13.1 miles!
Two weeks before the run we did a 10 miler which I managed without too much trouble, so I was quietly confident I'd finish although I knew it would be no where near my previous Great North Run times of 1hr52 (2011) and 2hr7 (2010). As James kept reminding me, I had nothing to prove to anyone having already done the distance twice, and having achieved the sub 2 hour time.
We decided to sleep over at my parents house on the Saturday night so we could get an early start on Sunday morning. We got ready and headed to South Shields to get parked before catching the shuttle bus to the start in Newcastle.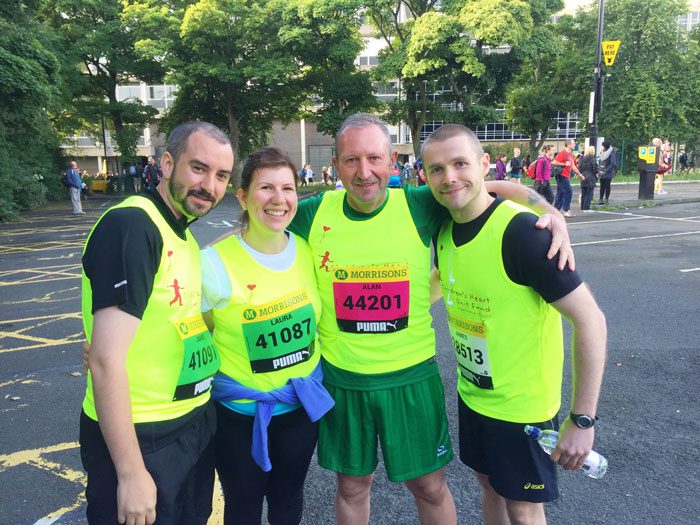 We immediately went and waited for the loos and took a group pic before making our way to the starting line. I went back to join my Dad in his pen, for some reason I should have reversed our times when we signed up! It seemed to take forever for the race to start, but we chatted to others and found a couple of other people running for CHUF so it passed fairly quickly, although it was starting to get very hot!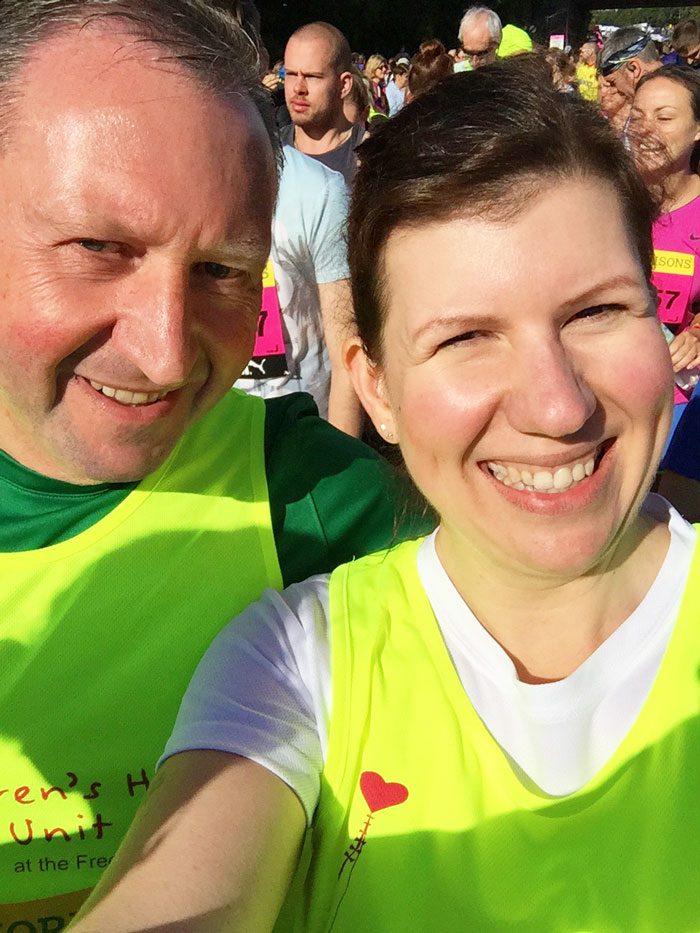 I was reminded that everyone who does that run has a story for why they are doing it. People can be incredible sometimes :-)
Then we were off! I had the biggest smile on my face, and I have to say I enjoyed it all so much. The Tyne Bridge is a great part of the race. I really surprised myself with my performance running non stop until 8.5 miles. In all of my 'training' I'd been doing walk / runs so I was mega chuffed to manage that, and actually enjoy it! In the end the heat and what felt like the continuous bloody hills were just too much and I started the run / walk to the finish line. I'm not a great fan of Lucozade but it saved me that day as I was sweating so much. The showers were also so good and some locals had their hose pipes out as well! I also had a gel in my pocket which I took when I started to walk at 8.5 miles.
When I reached the final stretch I feel felt myself flagging until I saw the CHUF supporters and I don't think I've ever smiled so widely while also trying to hold back the tears. It felt like we'd come full circle with Finley's heart issues and I was just bursting with pride in myself and my amazing family.
In terms of my time, I just wanted to enjoy the race and not be concerned about that, but I kind of had a rough goal of 2.45 in mind. I finished in 2hrs 40 which I'm over the moon with! I just enjoyed every single second of the race, so much more than I did the first two times I did it. The support along the whole route was amazing and my fellow north easterners really did us proud.
After the race I headed to the CHUF tent to find James, my Dad, the other James and my Mam and Fin. I was so proud of them all, this was their first half marathon and for my Dad at 55 years old getting a time of 2hrs25 is really impressive. James now has the running bug and is looking forward to more races. His dedication to his training was amazing (he was getting up at 5am to fit in his training runs). My Mam was also fabulous, she took care of Fin and made sure we were all organised!
After we'd had some cake at the charity stand we walked back to our cars and got changed then sat in the park and ate fish and chips. It was just the best day ever!
It looks like we will have raised around £2000 for CHUF as we have some offline donations still coming in and both my Dad's and James' work are adding in some match funding.
Now that I've completed my third Great North Run, and enjoyed it so much, I think it will be my last. Running long distances is not my favourite form of exercise, however I did start to enjoy having some time to myself at the weekend listening to podcasts and I also enjoyed parkrun so I'm hoping to keep up the odd 5k, something I never thought I'd say!
Have you ever ran a half marathon? Would you want to? Did you watch the race on the TV?