Everyone needs a lazy dinner or breakfast recipe in their heads for when they just can't be bothered. This is mine, the humble hash. To be honest I'm not so sure what makes a hash, a hash technically speaking. I think potato and onion in some shape or form is essential though, and this certainly has both.
This really is a super simple recipe, and is so healthy too. I make this fairly often for James and I as this is something he actually likes. For him, I often add bacon or ham and an extra egg (or two). I've also made this with kale and other leafy greens, but the green outer leaves of the savoy cabbage has to be my favourite.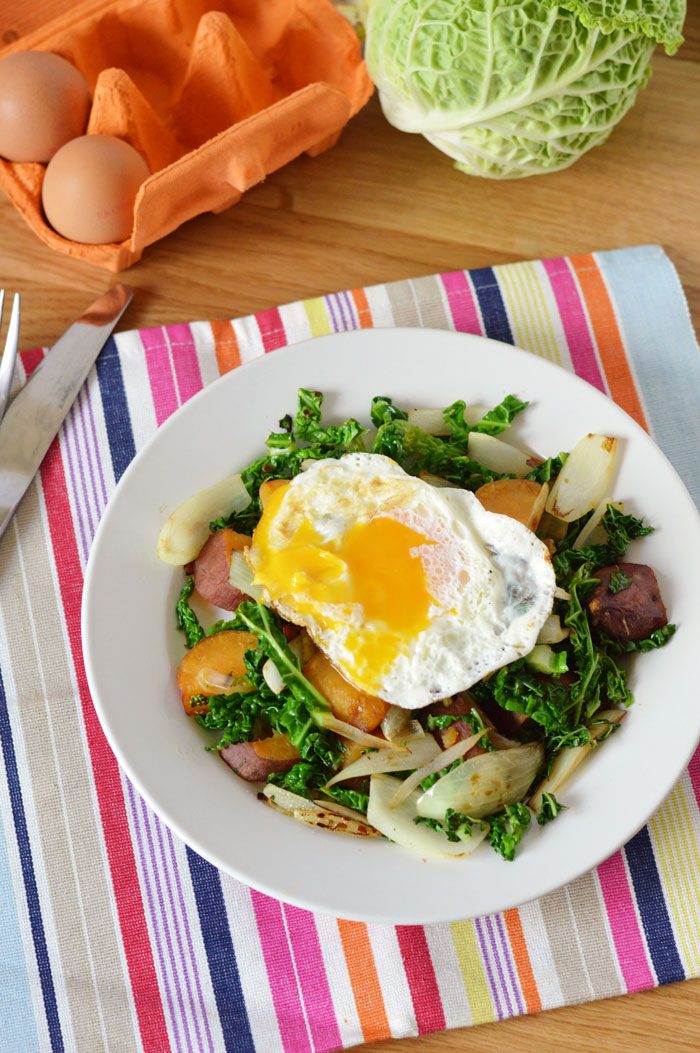 Basically a hash is the result of throwing a bunch of ingredients into a pan and letting them get crispy. For me, that always has to be accompanied by a fried egg on top. In this recipe, I also add a sneaky ingredient that really makes the flavours pop.
This is comfort food at it's best, while still being really healthy and surprisingly light. It can also be eaten for breakfast, lunch or dinner – such a versatile meal!

Sweet potato and cabbage hash
2015-09-07 15:09:53
Serves 1
Ingredients
1 tsp coconut oil
1 small onion
1 baked sweet potato
2-3 cabbage leaves (preferably savoy cabbage)
Dash of tamari or soy sauce
1 egg
Instructions
1. Chop the onion into thick wedges.
2. Warm the coconut oil in a medium size frying pan over a medium high heat, then add the onions and fry until golden and softened.
3. Roughly shred the cabbage and add to the pan, continuing to cook until wilted and crispy.
4. Chop the sweet potato (skin and all if you're lazy like me!) into pieces and add to the pan.
5. Once everything in the pan is crispy, add a dash of tamari or soy sauce and then transfer to a plate.
6. Replace the pan on the heat and add more coconut oil if needed. Crack the egg into the pan, cook until the underside is solid then flip and cook for just another minute. Flip out on top of the hash and split the yolk with a knife. Eat immediately!
Wholeheartedly Laura https://wholeheartedlylaura.com/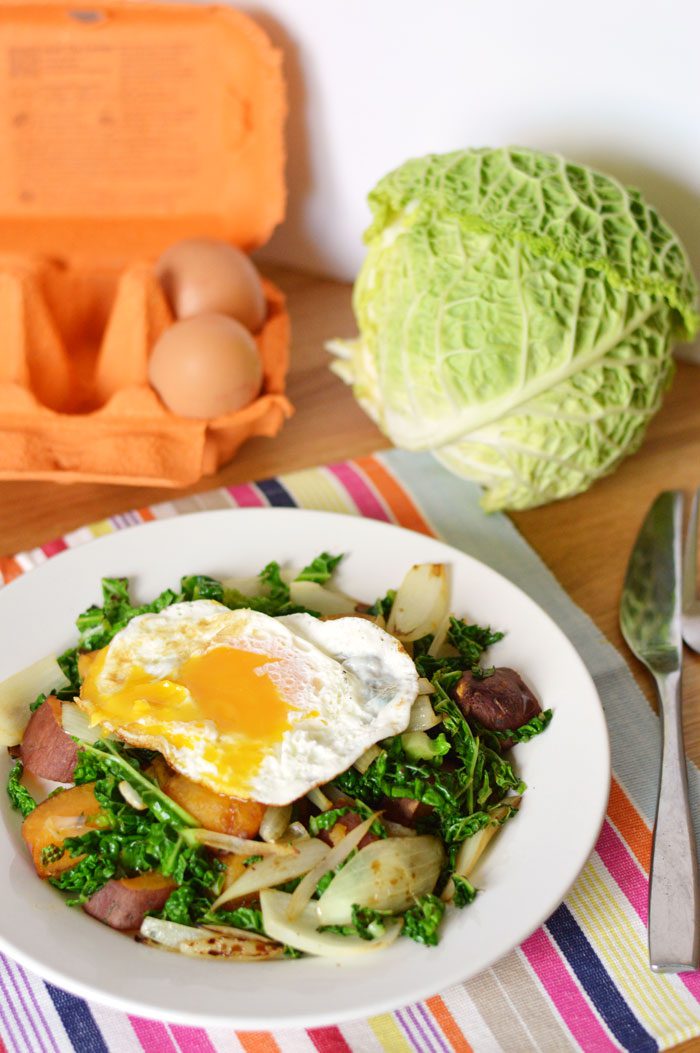 Are you a fan of the hash? What do you put into yours? Breakfast, dinner or both?