You guys know I'm all about doing what I can to stay healthy over the winter. Today my friend Dan from Urban Turnip is sharing one of the easiest ways to nurture and grow your own foods – sprouts!
_____________________________________________
If you're not growing sprouts in jars, then you should be. They're cheap, tasty and there is heaps of research proclaiming their health benefits… the little broccoli sprout, for instance, contains up to fifty times as many antioxidants as a mature plant.
Their history is an intriguing nutritional tale too. They were prescribed by ancient Chinese physicians, eaten by 18th century sailors to prevent scurvy, and are even referenced in the Old Testament!
The other good news? They only take 3 to 5 days to grow. I'll show you exactly how…
First, Pick Your Seeds…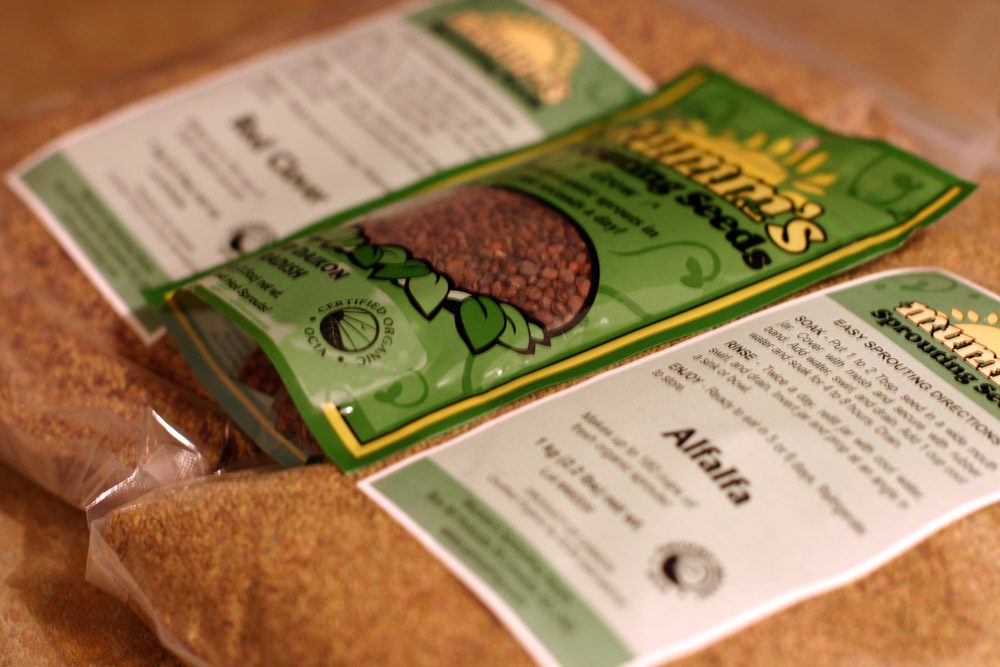 A sprout is a plant in its earliest stage of growth. Moisture triggers germination, during which the seed sheds its coat and puts out its first root (also called the radicle) and leaves (cotyledons).
Always buy seeds that are labelled for sprouting. Normal seeds can often harbour bacteria that will flourish in the incubator-like growing conditions you'll provide (there's a little bit more on that later). I personally buy from Premier Seeds on Amazon.
Here are some of my favourite choices…
Alfalfa
These are the most-consumed sprouts in the States. High in protein, calcium and B-group vitamins.
Flavour: slightly earthy and mild
Time to harvest: 4 – 6 days
Broccoli
Well-known due to its high sulfurophane content (a potent antioxidant). They like an additional rinse.
Flavour: pleasantly "fresh" mild flavour
Time to harvest: 3 – 5 days
Mung Bean
Mung Beans might just have been the first seeds ever sprouted for the purpose of eating. Originating in China.
Flavour: sweet and crunchy
Time to harvest: 2 – 5 days (harvest earlier for sweetness)
Radish Daikon
Amongst my favourites, radish daikon seeds (not the same as normal radishes) make excellent sprouts.
Flavour: spicy!
Time to harvest: 3 – 6 days
Then…Sprout 'em!
To get going you'll need the following: some cheesecloth, a jar (washed in soapy hot water) and an elastic band.
Pop a tablespoon of seeds into your jar and fill it about halfway with cool water. Attach the cheesecloth with an elastic band and set it aside, in a spot with

indirect light

(not directly in the sun), for eight hours or overnight.

After the soaking period, drain the water through the cheesecloth and give the sprouts a rinse. Set it aside in the same place, making sure the jar is as well-drained as possible. Repeat this draining process every eight (or so) hours, or every morning/evening.

They're ready to eat when they're an inch to two inches in size. A good check is when most of the seed hulls rise to the surface of the water. Give them a final rinse before eating.
A Quick Note About Safety
There have been a handful of concerns raised about safety, in particular in relation to E.Coli and Salmonella. The issue is that the warm, moist interior of the sprouting jar is conducive to bacterial growth – hence the need for consistent rinsing. Most infections come from contaminated seeds, which is why it's so important to buy products labelled as suitable for sprouting.
All of that said, cases of food poisoning are tiny and with proper rinsing and preparation, there is no need to worry. You can perform a simple check by smelling the jar before harvesting. If there's mould you will know. Don't mistake tiny root hairs for mould, however. After rinsing, these will fall back to the roots, essentially disappearing.
Thanks Dan! All of these sprouts would give a great nutrient boost to a salad or even sprinkled onto a soup, they'll add some raw enzymes.
Have you tried growing sprouts before? Would you give it a try now?
Dan writes about growing food in pots. You can visit his blog to learn more.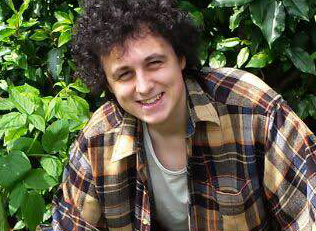 Image credits: Candace, Julia Frost, Vigilant 20, Lenore Edman, Jack Amick