I could not be more excited about 2016, I have such a great feeling about this year! 2015 was good on paper, but when I've looked at things honestly, it hasn't felt good and that's something that needs to change for me.
So how am I making sure this year is going to be amazing?
Feeling, planning, doing, believing
I shared my favourite planners for 2016 last year, and my faves are still the Shining Year Workbooks from Leonie Dawson and the Desire Map from Danielle LaPorte. The first step towards making the year a great one is knowing what you want and how you want to feel. Then comes the planning part.
The workbook helped me see where things fell a bit short last year, and helped me get super specific on what I wanted to happen this year. This is the process I went through during December:
– Re-read as much of the Desire Map as I could and used the free workbook to get an idea of my core desired feelings
– Went out for coffee on my own and filled out the Shining Year Workbooks
– Sat down and grouped up actions and specific things I need and want to do to reach my goals
– Typed them up into Evernote with ticky boxes *to do list freak that I am*
Doing that helped me create some key words, desired feelings and specific goals I'd like to use for making 2016 amazing…
My key words are: Nourish and Grow
My core desired feelings are: joyful, peaceful, abundant, vibrant, electric
My specific goals are:
– Create an amazing new home for my family (we should be completing on our new house very soon)
– Be a picture of health – reclaim my healthy living habits, prioritise my self care
– Increase my income and reduce my spending
– Nurture my spiritual side
There's more specifics under each of those goals and I also have very specific things I'd like to achieve biz-wise too. It's helpful to drill down and get specific with the actions you need to do to get to the end goal. One of my favourite parts of the Shining Year Workbooks is the section where you list 100 things to do in 2016. That bit has helped me focus on the doing and not the dreaming, the latter of which I'm very good at!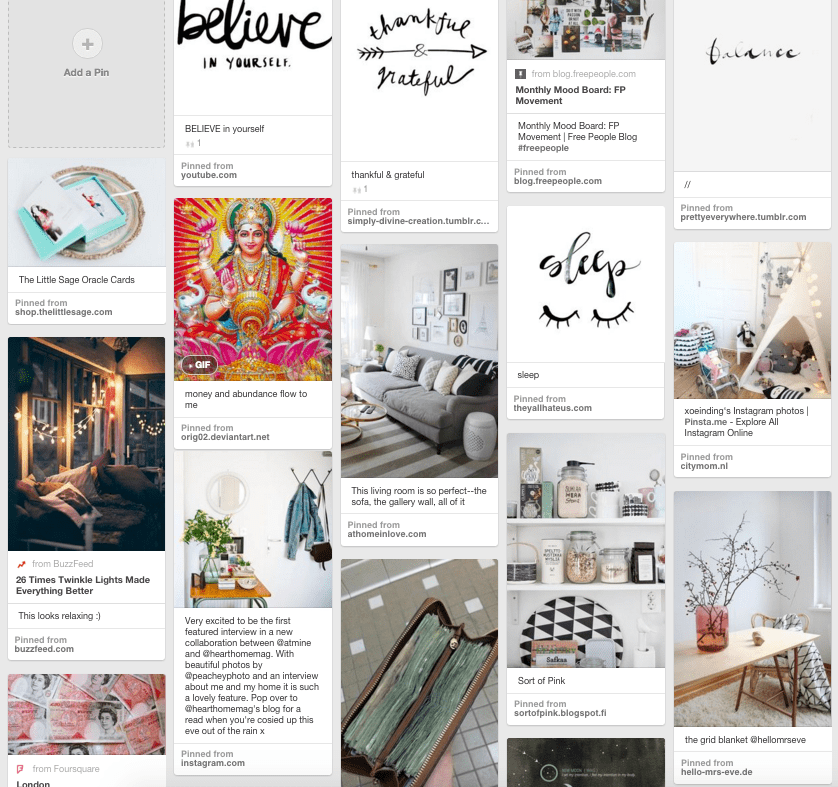 My Pinterest board for 2016
It's having that clarity and the 'doing' actions that will ensure you make the most of the year and really have a good shot at your goals. For example, as soon as I saw Ignite London advertised I snapped up tickets straight away, knowing that nurturing my spiritual side and feeling joyful, vibrant and electric are goals and desired feelings. I've already made plans to go to an actual yoga class at least once a month, and I've had conversations with James about the support I need from him to be able to feel more balanced and thrive.
Another thing I've done is mark in my diary a time each month to check in with everything. I already have a great habit of using my monthly planning sheet (sign up here, or it's in the VIP section for existing subscribers) so making sure that I review and re-plan and adjust as needed is key.
You don't have to use those planning tools – although they are amazing – just think hard about what you want to achieve or change in 2016, how you want to feel and try and sum it all up in a few words. Get specific with your goals and break them down to be doable! Keep your goals and key words handy so you can be reminded of them, and if possible start and do something related to them right now like buying tickets, ordering a book, signing up for a class etc.
– Have some space to dream, and think about how you'd like to feel, what you'd like to achieve or change in 2016
– Break it down into specifics
– Make it doable
– Do something NOW that will help make them happen – ordering tickets, signing up for a class etc, strike while the iron's hot!
– Review, reflect, re-plan
– BELIEVE!
Do you have any New Year's Goals or Resolutions? What would you love to achieve or change in 2016? How would you like to feel?