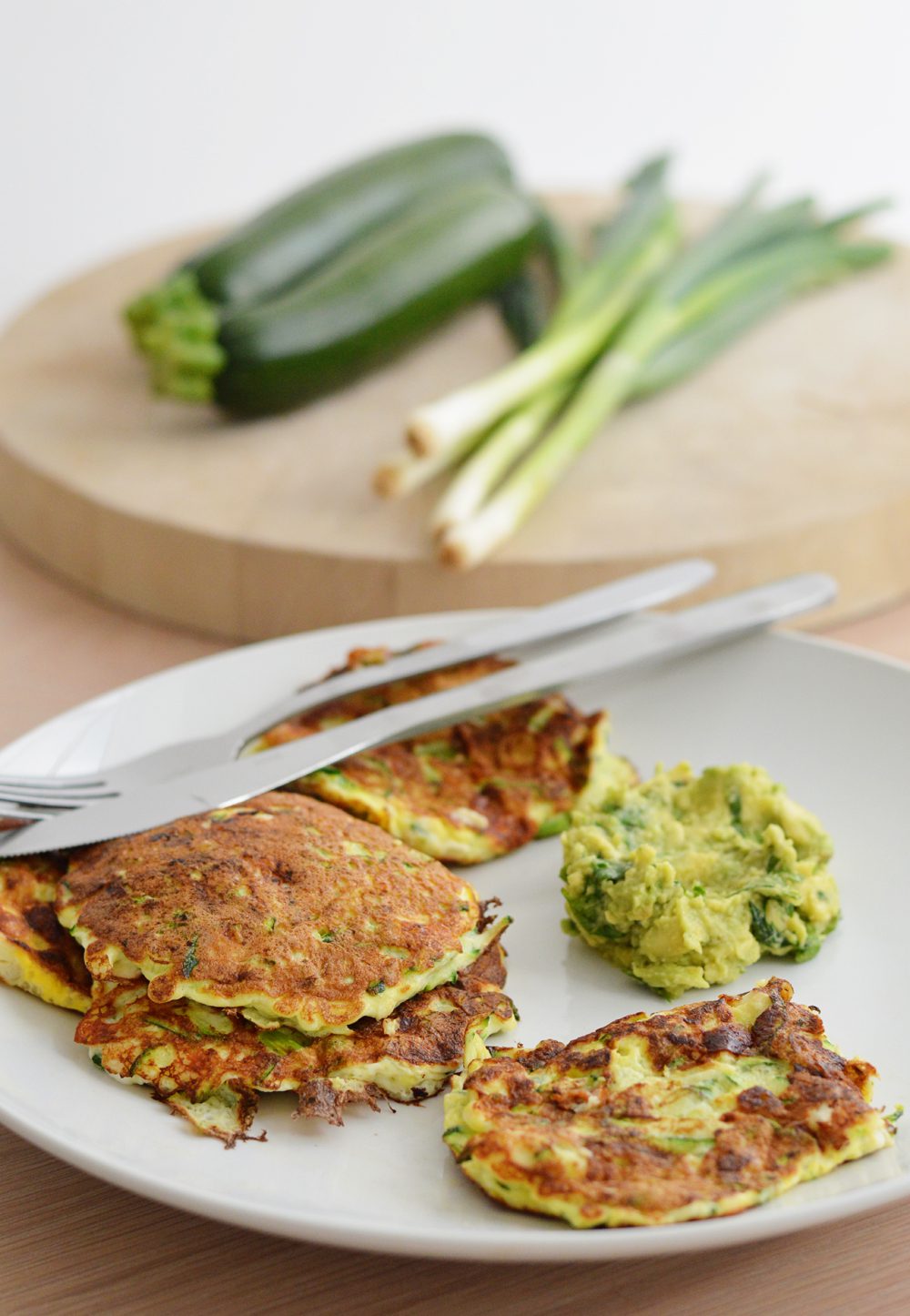 Now that I have a kitchen all to myself, I've really loved getting creative with food again. Obviously I want to eat delicious healthy food, but I also want to make sure I'm offering Finley a variety of healthy options. This recipe was first created as something for him to try, an eggy pancake packed with veggies and grated organic cheese. He quite enjoyed them and so did I, hence came this slightly more adult version.
Not unlike my bulgar, carrot and courgette fritter recipe in Grains as Mains, these little fritters are perfect for a light lunch or even breakfast. For this slightly more flavoursome version than the ones I made for Finley, I've added a good dose of salty feta cheese and little chunks of spring onion and served alongside a very simple avocado mash packed with herbs.
Having no large source of carbohydrate in the recipe also makes these low carb if that's your bag. Even if not, the fact that this recipe is full of protein and healthy fat whilst also being vegetarian makes it a filling, blood sugar balancing meal with all the goodness of a decent portion of veg.
Courgette and Feta Fritters with Herbed Avocado Mash
2016-04-20 11:58:20
Serves 2
Ingredients
2 medium sized courgettes
4 eggs
6 spring onions
100 g feta cheese (more if you like)
1 avocado
1 lemon
4 basil leaves
6 flat leaf parsley leaves
Instructions
Begin by grating the courgette and placing in a bowl lined with kitchen paper or a clean tea towel. Once grated, squeeze out all of the water from the courgette and set aside.
Finely chop the spring onions and add to the courgette. Whisk the eggs and mix into the vegetables then crumble in the feta.
Place a frying pan over a medium heat, adding some coconut oil if it's not non-stick.
Place heaped spoonfuls of the mixture into the pan, taking care not to overcrowd the pan. Cook each fritter for 3-4 minutes a side, or until the underside has browned and the fritter is cooked through.
Place the cooked fritters on a plate under a warm grill while you repeat with the remaining mixture.
To make the avocado mash, scoop the flesh from the avocado and mash with a folk adding the juice from half a lemon and the herbs, finely chopped.
Serve the fritters with a good dollop of the herbed avocado mash and enjoy!
Notes
This recipe is very easy to make in a single serving (or for 2 servings for a child) just halve all the ingredients.
Wholeheartedly Laura https://wholeheartedlylaura.com/
To make these baby or toddler friendly, use regular cheese instead of the feta (which I think is a little too high in salt for wee ones) and perhaps omit the spring onion for babies. The avocado mash can most certainly still be served alongside, maybe with less herbs, more finely chopped.
Have you tried a fritter-type recipe before? If you have littles, what's their favourite food?