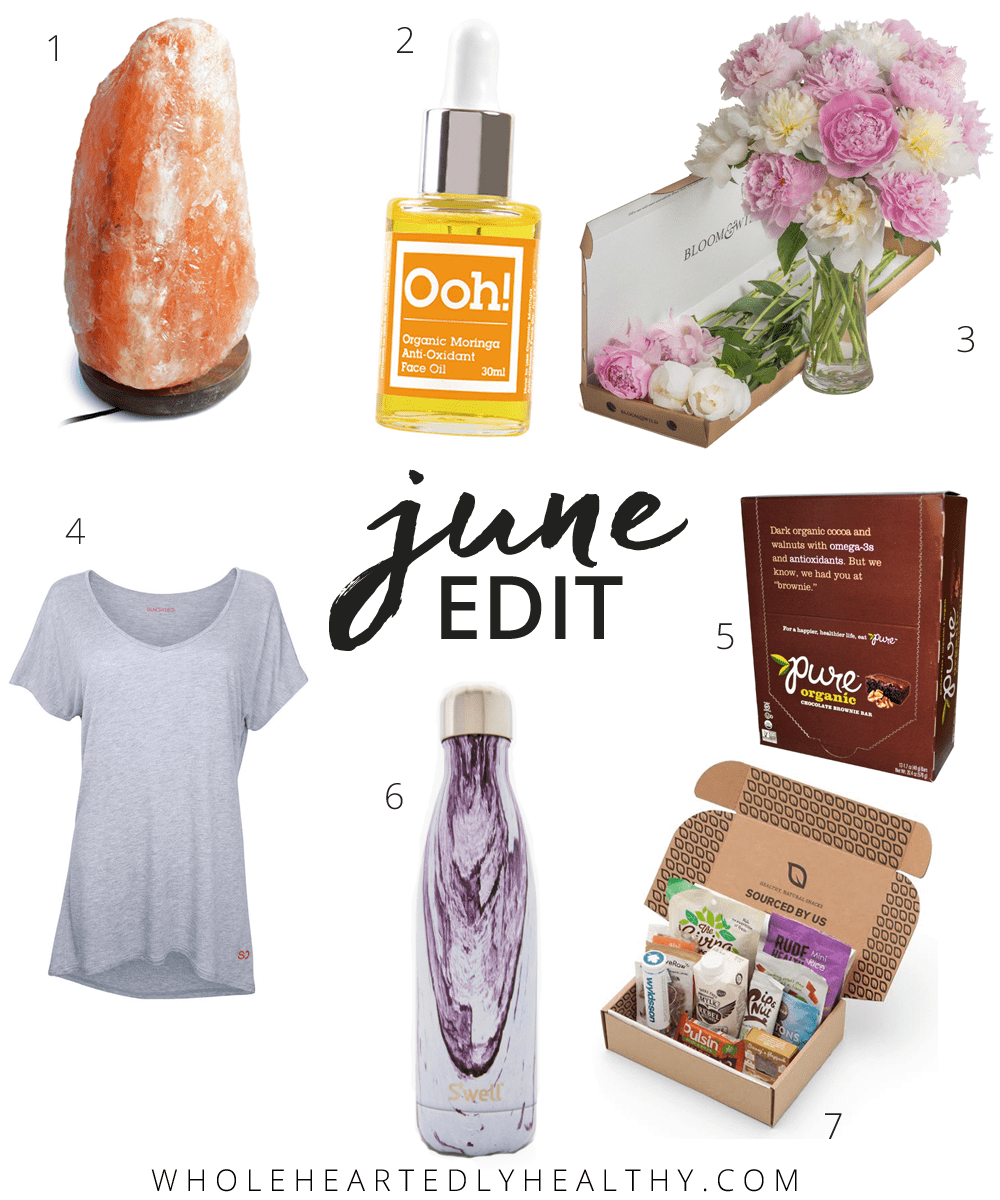 It's that time again, here's a few of my fave things from June!
1. Himalayan Salt Lamp – I can't remember what prompted me to buy one of these, I know I ended up researching their benefits which include improved respiratory function. I have it in my bedroom and not only does it look pretty, the warm pink light is great for promoting better sleep.
2. Ooh! Organic Moringa Face Oil* – I first mentioned this when I shared my new beauty routine (which is going awesomely thank you, my skin feels great!) I've been using this every few days and I love it. My skin feels so smooth and nourished and because it's rich in antioxidants it's great for protecting skin against sun and pollution damage.
3. Bloom & Wild – I don't know why it's taken me so long to share Bloom & Wild in an Edit post but here they are. I first received some of their flowers through the letter box as a thank you when I presented at an event and ever since they've become my go to place for gifts and thank yous. I even treated myself to a self love gift this month of the most beautiful peonies.
4. Sundried Grivola Tee* – I'm really liking this tee for running and doing my beloved Barre3, it has a great loose comfortable fit as an alternative to wearing a vest for working out. It also washes really well. Sundried uses sustainably sourced and environmentally friendly materials to create design-led activewear, definitely check them out.
5. Pure Bars – every so often I place a cheeky iHerb order and I've been gobbling up these Pure Bars. Kind of like Nakd bars (but much more brownie-like). I first tried them when I went to New York a few years ago. I love having a stash of healthy snacks for when I just need a fix.
6. S'well Water Bottle – I can't believe I've kept forgetting to share this in an Edit as I bought this a while ago, but something I use daily is my S'well water bottle. It keeps warm drinks warm and cold drinks cold, I even used it for my coffee when I drove to Brighton last month! It looks beautiful and is a really good way to remind yourself to drink more.
7. Sourced Box* – Sourced Box is a health snacking subscription box. I was very impressed with the contents, unlike some other ones I've tried it's all killer, no filler in terms of deliciousness.
Which new products have you enjoyed this month?
Items marked * are PR samples which I received with no obligation to feature.