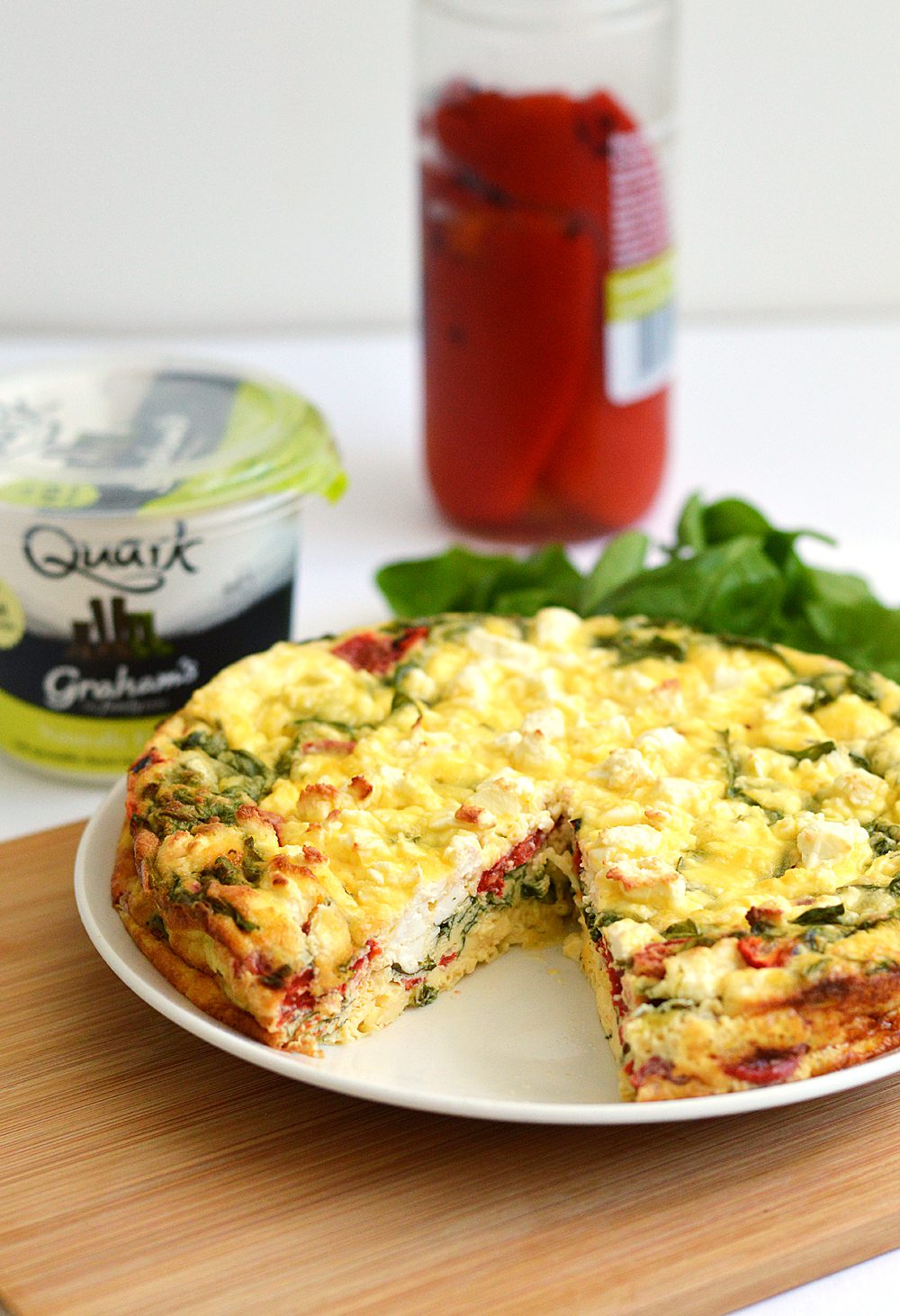 Quiche is one of those dishes that really makes me think of summer and parties. My Mam's quiche is definitely my favourite, packed with bacon, onions and cheese and a pastry crust. As delicious as it is, it's a bit rich for eating often, so I've become a real fan of making crustless quiches as a great healthy and protein-packed make ahead lunch or evening meal option.
Now I just pop in whatever spare veggies I have into my quiches, but for this recipe I thought I'd try out a couple of special ingredients and I'm very glad I did! Roasted red peppers from a jar have such an amazing flavour and lift this quiche from everyday staple to something I'd happily serve for guests at a party. Adding protein-rich Quark cream cheese makes it more filling, whilst creating a much more pleasant texture than if you just used eggs on their own. I used plain Quark from Graham's The Family Dairy as it's such a versatile ingredient.
Quark is high in protein, low in fat and salt but still has a really creamy texture. If you wanted to make this quiche even higher protein and lower fat, try replacing two of the whole eggs with three egg whites.
To make the crustless quiche I like to use a large silicone pan so it's easy to remove it when cooked and it doesn't stick to the sides. If you're using a regular pan just make sure it's well greased so it doesn't stick!
I love to serve with salad and add some boiled new potatoes for a more complete meal, delicious!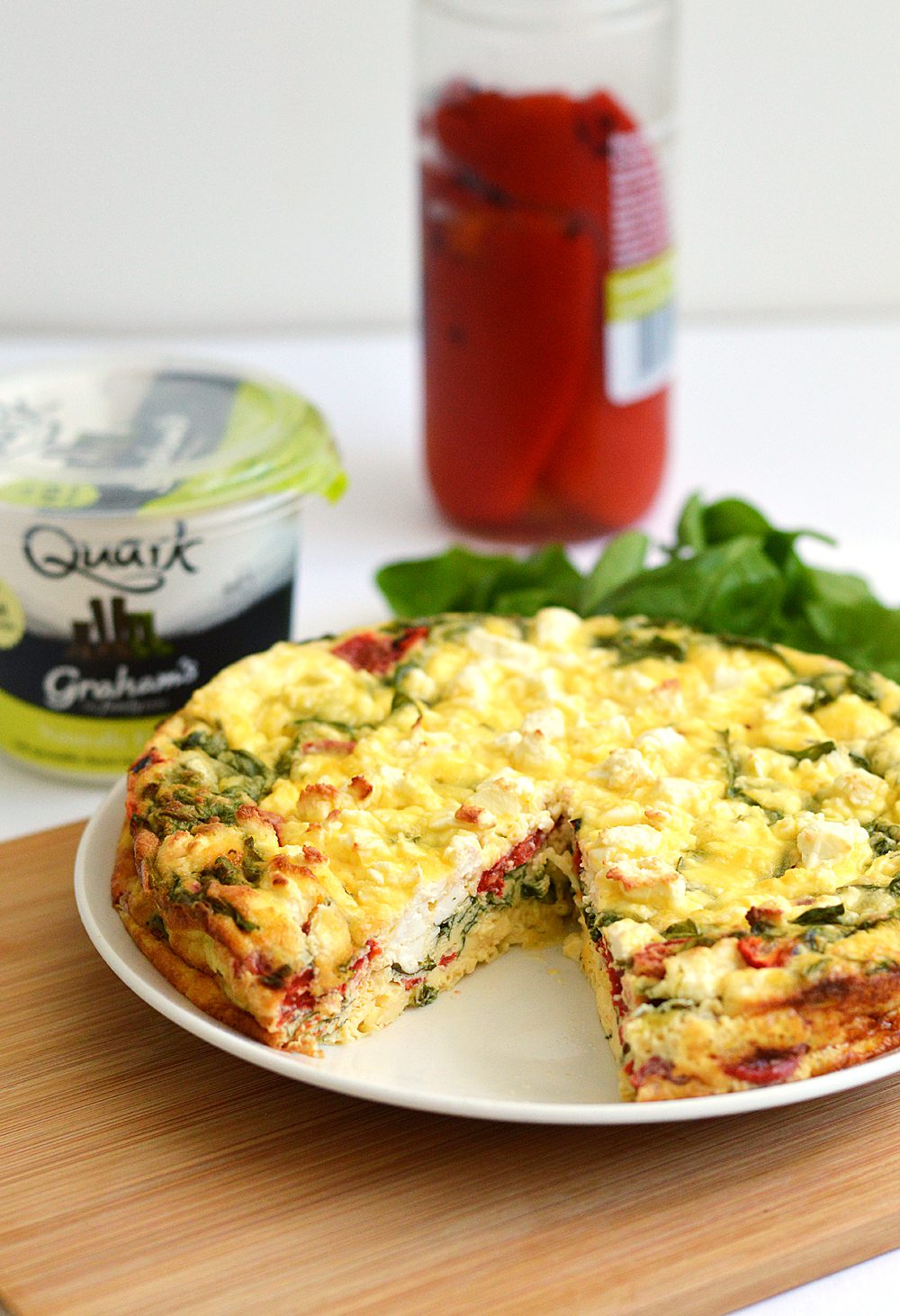 Roasted Red Pepper, Feta and Spinach Quiche with Quark
2016-08-03 15:52:30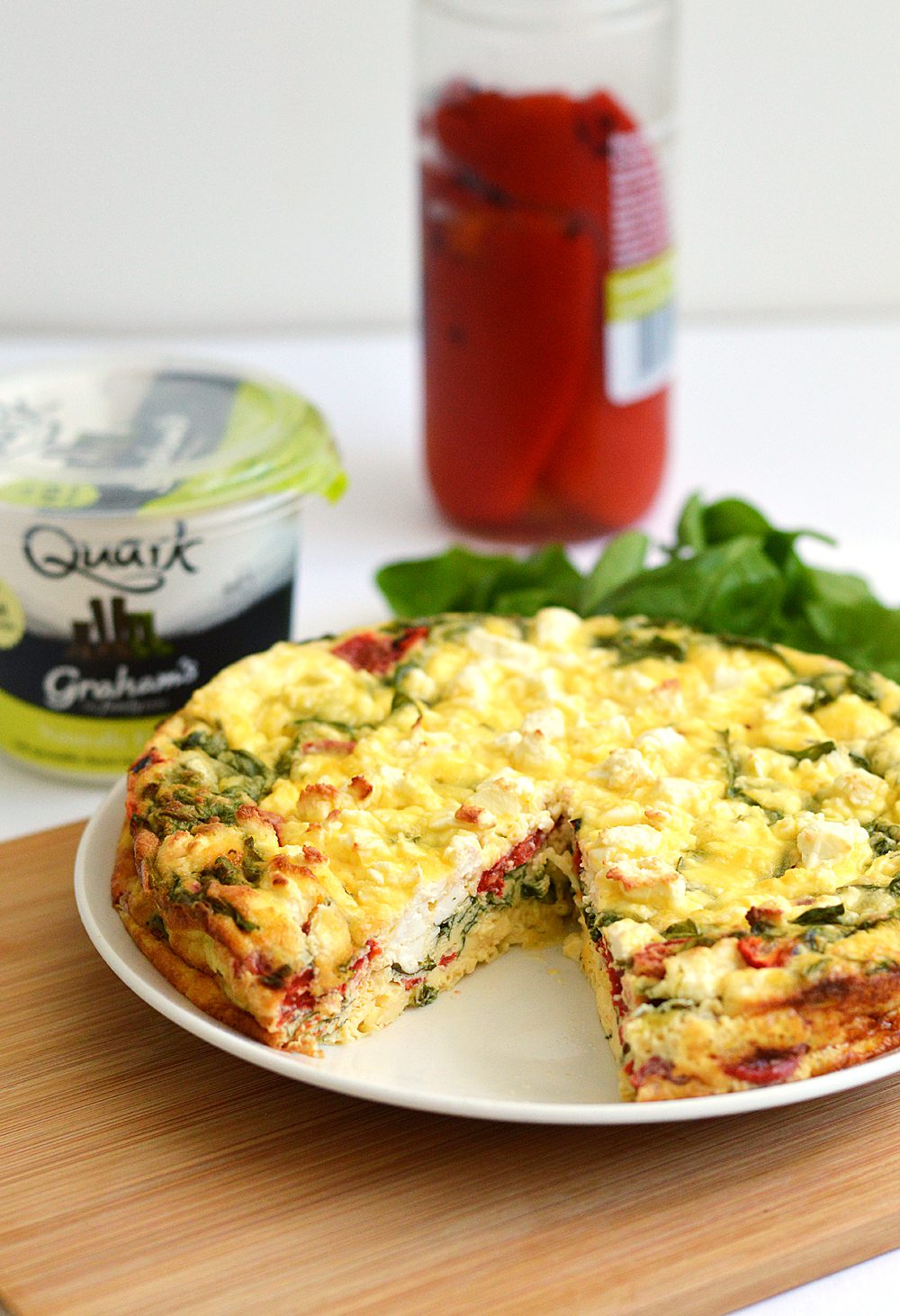 Serves 6
Ingredients
1/2 cup / 150g Quark
6 large free range eggs
2 roasted red peppers from a jar
2 large handfuls of spinach
100g feta cheese
Instructions
Begin by pre-heating the oven to 180C / 160C fan assisted.
Whisk together the eggs and quark in a large bowl and set aside.
Finely chop the spinach and slice the peppers into thin strips. Add to the whisked egg and quark mixture.
Pour the mixture into a 20 cm greased or silicone non-stick pan.
Crumble the feta on top, pressing some of it down into the mixture.
Bake for 30-40 minutes until firm. If the top starts to brown before fully cooked, cover with foil to prevent over browning.
Notes
Can be served hot or left to cool and served from the fridge where it will keep for up to 5 days.
Wholeheartedly Laura https://wholeheartedlylaura.com/
Looking for more recipes using Quark? Check out my Passionfruit and Blueberry Cheesecakes in a Glass recipe
Have you tried making a crustless quiche? How would you use Quark in a recipe?
*post in collaboration with Graham's The Family Dairy