How long has it been since you tried something new? While I often develop new skills in running this blog, it's been far too long since I learned something new that has nothing to do with computers!
Pink Lady® apples got in touch with me to see if I'd like to take part in their Pass It On Project – a kind of positive chain letter of projects with other bloggers. The idea behind the project is to encourage us to embrace a new skill and try something different which also serves as a way to get in some self care time away from the rush of daily life. This was most certainly something I could get on board with!
I sent a package on to the lovely Claire at claireabellemakes.com so she could enjoy making a delicious Toffee Apple Upside Down Cake, using Pink Lady® apples of course! Check out her blog here for the recipe!
I was delighted to receive a package from illustrator Emma Block inviting me to try creating an illustration inspired by Pink Lady® Apples. I was so excited when I opened the box to find a set of beautiful water colours an example of an illustration and instructions for creating my own version. As a former art student who hasn't picked up a set of watercolours in many years, I felt like this was a wonderful opportunity to reconnect with my creative side.
I set aside some time when I knew I wouldn't have a toddler around ready to ruin my work and sat down with the watercolours, pencils, paper and some bright Pink Lady® Apples for inspiration.
Emma had given me step by step instructions for creating an image of three apples in a Moroccan patterned bowl. When I got started I felt nervous I might not do a great job, but then I reminded myself that isn't really the point – sitting down with your paint brushes and creating something that's yours is such a lovely form of creative self care. As it happens I think I did a good job of it anyway!
Just taking the time to paint was so relaxing, it's a really great way to practice mindfulness and just being in the moment without a bunch of thoughts taking over. Now I have the watercolour set and brushes I'm going to challenge myself to take more time to get back to painting again. The experience has also reminded me that I should be more willing to try something new – and not be as concerned with failing at it when the whole point is to just give it a try!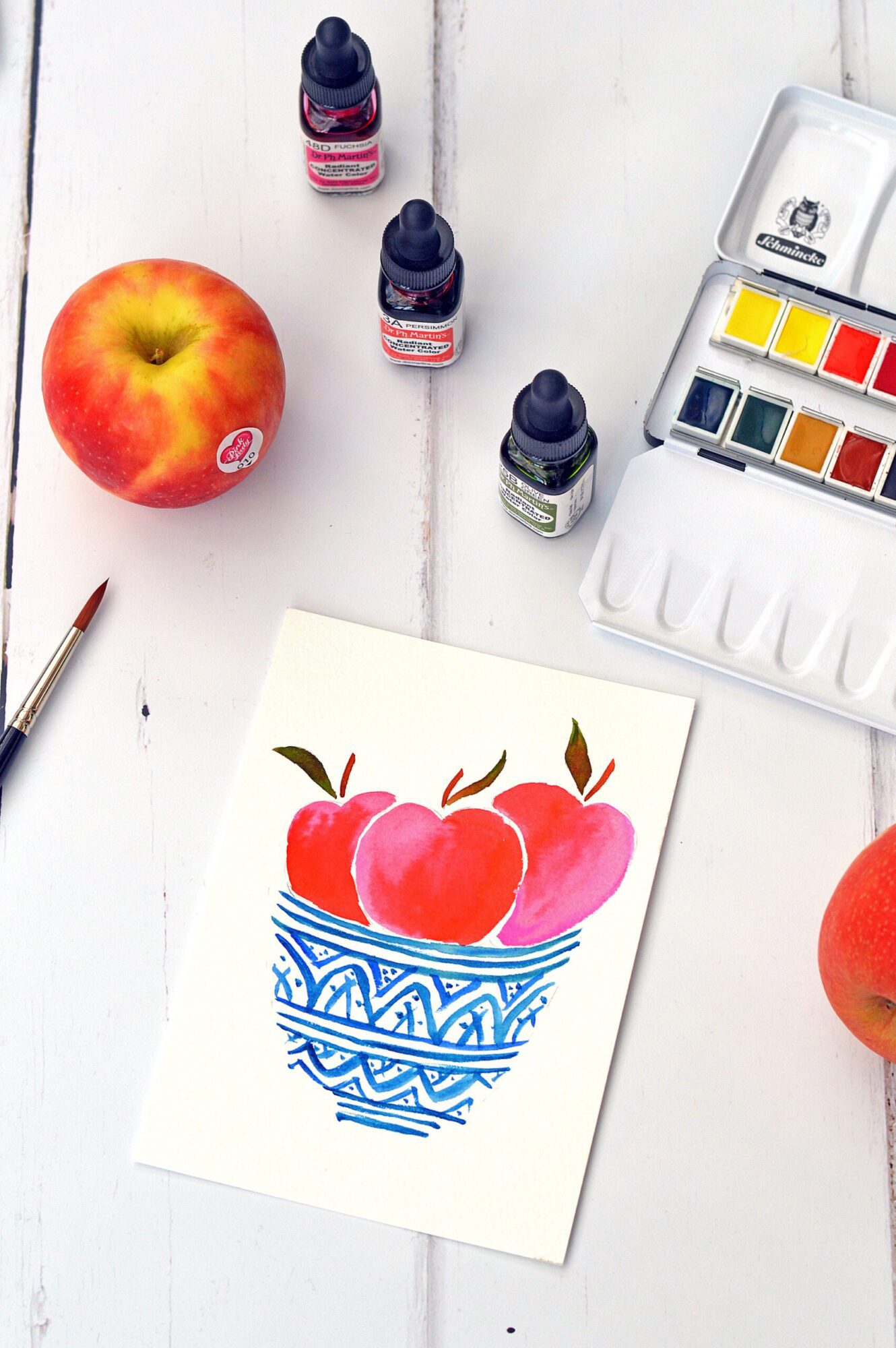 Have you tried something new recently? Has this inspired you to give water colour painting a go? What new creative activity could you try as a form of self care and mindfulness?
*post in collaboration with Pink Lady® Apples