I know that I don't post as much about my day-to-day life these days – I felt like I was just repeating everything I was posting on Instagram, but since things have changed over there I feel like there's nowhere I really share the behind the scenes stuff (although I do love Instagram stories when I remember to do it!)
So I thought I'd share this post for a few reasons, firstly so I can look back and see this 'snap shot' of what life is like for me right now, but secondly to show you guys what working for yourself in my line of work looks like – at least for me. Not to #humblebrag but I am mostly pretty proud of what my life looks like because it didn't just happen by default. I had to make specific decisions and take some risks to get it looking and most importantly, feeling the way it does now. I'm also aware of the privileges that exist which have helped me get here too.
I'm not perfect and my life sure as hell isn't either, but one thing I'm committed to is being as wholehearted as I can in everything I do!
Something that helped me as I was transitioning from working full time as a project manager for a charity to working for myself, was visualising in as much detail as possible, my ideal day. This ideal day exercise is really helpful! The thing to remember is that what feels good to you will shift and change as you go along, so it can be handy to do this every few months and make tweaks as you go along which is what I've done.
My week tends to follow a pattern. I work four days a week, with Finley at nursery for three days and with my Mam for one day. Usually we have Fridays off together and spend that day doing something with my other Mum friends like going trampolining or to the woods.
When Finley is at nursery we get up just after 6am when James takes him downstairs to have breakfast and I jump in the shower and get ready. I used to feel a lot of pressure to exercise or go to the gym first thing, but I found it really hard to get myself motivated then and I really missed my morning routine so now I exercise later. Once we're all ready, James takes Fin to nursery on his way to work and I get my day started.
My mornings on my own are my favourite thing. I love making breakfast and a cup of coffee and I usually sit in our conservatory with the doors open while I have that. I always have BBC 6 Music on the radio up until lunchtime. Then I sit down with my bullet journal – on a Monday I do a spread for the week including pulling a few tarot cards as well as my daily journal spread. Doing my journal always helps me feel more settled into the rest of the day. These days I'm also trying to do a short meditation or round of EFT with Brad Yates on YouTube before I start work as well.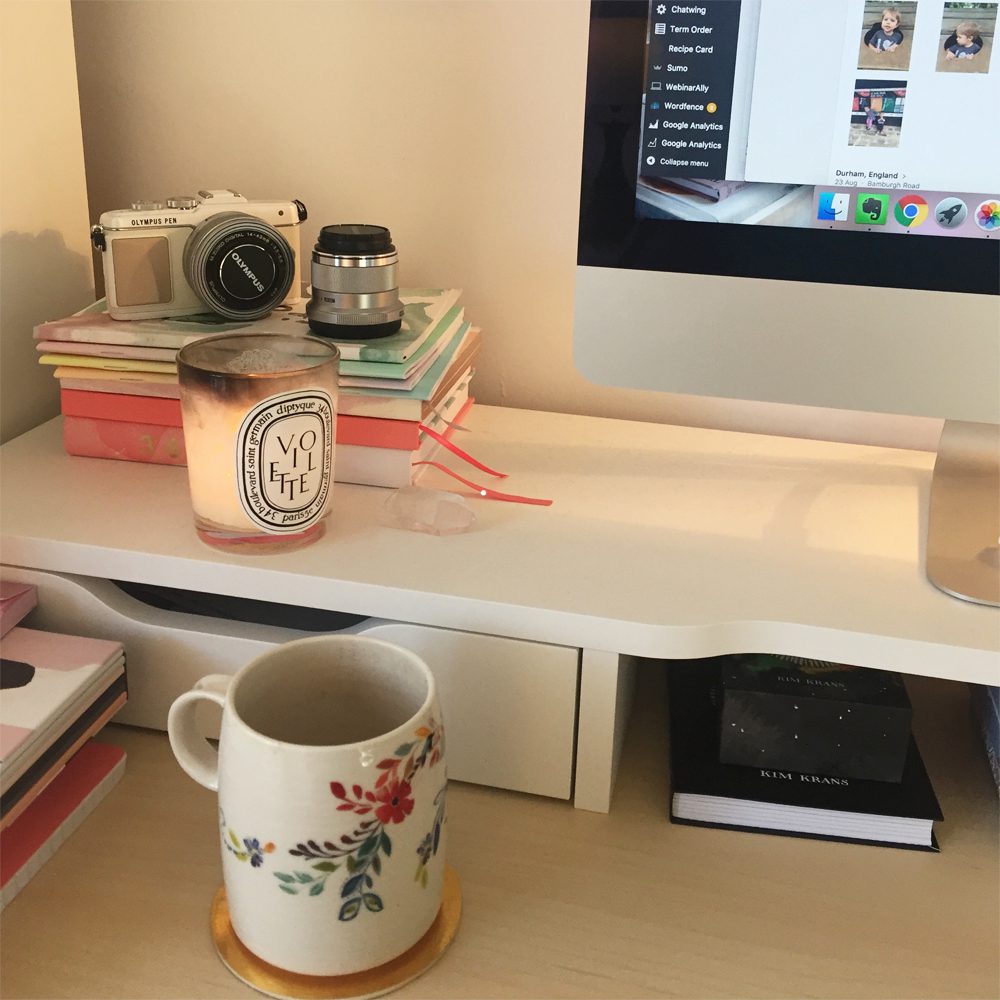 I know that can sound like a lot but it maybe takes 30 minutes and it seriously makes me feel so filled up before the day even starts that it's become a bit non-negotiable for me!
By 8am or 8.30 I'm usually sat down at my desk unless I'm working from a coffee shop. I always try and do emails first and then attempt (usually fail if I'm honest) to not look at them until the end of the day because I can so easily get sucked into them. I also check social media, particularly Facebook where I pop in to The Balance Club Facebook group to respond to any posts in there.
On a Monday I try and write a to do list for the rest of the week, so the rest of the day is spent working my way through those tasks in amongst seeing clients or having meetings which are usually on Skype. To give you an idea of the kind of things on my to do list, here's what's on it right now:
Blog post (this one lol), newsletters, retreat prep, plan for October, pay myself, client tasks (which this week include setting up domain names and WordPress back ends).
I tend to have lunch around 11.30 / 12 and then just continue working until 3 (switching my listening to podcasts or Spotify which we've just got a subscription for) when I check in on social media and emails before getting ready for the gym. Now I don't go to the gym every work day but I do aim for 3 out of 4 days if I can, or I'll do a yoga workout at home. I workout from 3.30 – 4.30 and then go and collect Finley or if my Mam has him he gets dropped off.
Then I make dinner for myself and supper for Finley – James eats separately as he doesn't get home until later and I'd be eating my own arm off if I waited that long! Every other night Fin will have a bath and then we read him a bedtime story before one of us (usually me) lies in bed with him until he falls asleep.
I don't mind admitting that most nights it's not long until I'm off to bed myself after that! Fin can still be unsettled during the night so I always need the extra sleep. Before bed I take all my makeup off and sort my face and then I try and read or I pointlessly scroll on my phone – (a work in progress!), before falling asleep. Friday nights are when James and I eat together and watch a movie once Finley has gone to bed.
That's how most work days go at the moment! I am working on getting over to Newcastle a few days a month to work from coffee shops and to go to a yoga class at Happy Yoga Newcastle because I recognised that after 5 years of home working I needed to shake things up for my own sanity. I also have a lovely co-working morning once a fortnight with my friends Paula and Kathryn.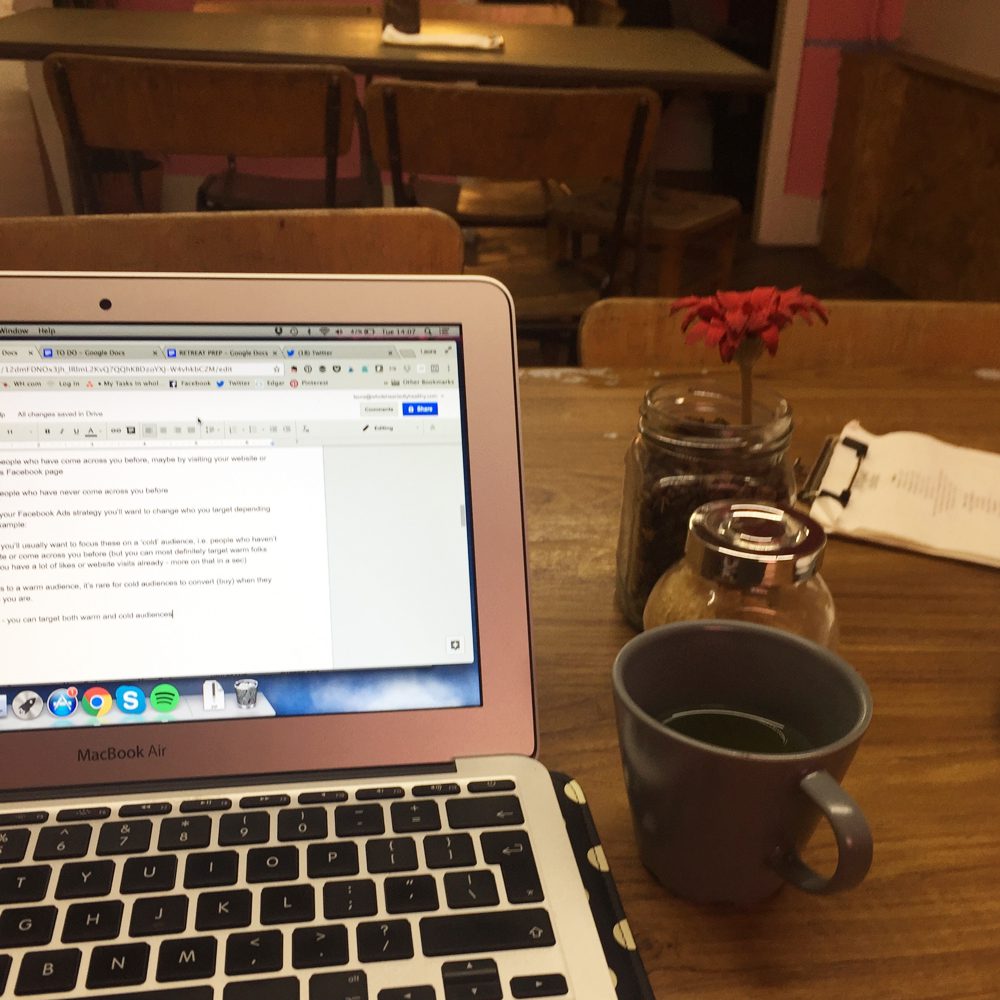 On days when I'm not working, my morning routine is totally different – I made peace with not being able to keep that up a long time ago! Instead it's full of Cbeebies and I usually make a bee line for the coffee before I do much else. That in itself is quite nice too. On weekends, sometimes we don't get ready until much later and it's just so nice to all lie on the sofa and not have to rush about.
Once a week if I'm organised enough I'll get some grocery shopping delivered so I don't I feel like all I'm doing is going back and forwards to Sainsbury's for random things.
And there you have it, that's pretty much how my life looks right now. Obviously there are shitty bits in there every now and again, but those come more as a result of specific situations rather than the structure of it, if that makes sense? Finley has meltdowns, I have self doubt and sometimes vulnerability hangovers, dinner gets burned, the heating breaks – that sort of thing.
Changing when I exercise, working from a coffee shop and co-working are just a couple of the really conscious changes I've made lately and all have had a massive positive impact for me so far. On weekends I've become more aware of my energy and what I need – this is a big form of self care for me because in the past it was easy to overfill my days, particularly at weekends, and then end up totally burned out because of it. I still mess that up sometimes but generally I now know not to say yes to a children's birthday party on a Sunday when the evening before I'm going to a girls night that will probably feature two bottles of fizz!
I really love that I can work 4 days a week doing things I really, really enjoy and within that I have time for relaxed mornings, yoga, going to the gym and working from cute coffee shops – I see it all as a work / life blend rather than balance. Just now I've signed up to a home study tarot course, I'm teaching myself to paint with watercolours again, I'm working my way through listening to the back catalogue of Kate Bush and The Beatles as well as hopefully planning a trip away in the late autumn, decorating some of our living room and of course doing lots of things with Finley and James. So many lovely things that fill me up and make life that bit more shiny. I love it!
What does your life look like right now? Do you feel you have work life balance (or blend) right? What would be one change you could make to help you life look and feel more like your ideal day?