Knowing what's actually going on inside your body can be difficult. Without certain tests, it's easy for elements of our bodies wellbeing to go unnoticed before we really start and feel unwell.
Thriva created their testing service to be an easy way for people to track what's actually going on inside your body as a preventative health measure. It's a much better idea to be able to make lifestyle changes before things start and go wrong, and with certain tests you can pick up things before they start negatively impacting your health.
Basically, what they offer is a range of blood tests that you can do at home and send off, which test you on a range of different markers where the results are known for impacting your health.
I was sent the Baseline test which measures cholesterol, liver function, vitamin D, iron and B12. The kit comes in the post and then you register it and create an account with Thriva where your results are saved.
The little box is brilliant, it guides you through the whole process of doing the blood test at home and sending it off. One thing you need to remember with it is that it's best to do on a week day, first thing before breakfast and on a day when you can post off the sample on the same day.
The lancet that is used to piece your little finger doesn't hurt that much, and I found that by placing my hands under warm water before piercing my finger helped the blood come out really easily. At first I had worried how I'd fill the little tube but plenty of blood came out thankfully!
Then you package it up and send it off! I was extremely impressed with how quickly your results come back, I think I had mine back within 3 days of posting the sample. You are emailed with a link to your dashboard where you can view the results.
A doctor looks over each of your results and gives you feedback and advice. It was super interesting seeing mine!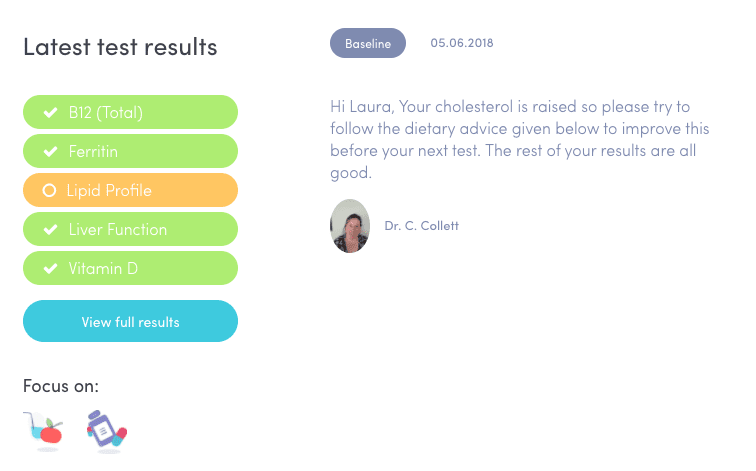 Most of my results were within good ranges, my iron levels and vitamin D are right at the lower end of good, so these are two areas I'd like to see an improvement in as I have struggled with low energy lately.
Although my cholesterol came back slightly raised, I'm not really concerned as my cholesterol ratio (the ratio between good cholesterol and bad cholesterol) is ok, however it's almost borderline so it is something I need to keep an eye on. I will be watching my saturated fat intake especially dairy!
Now of course your Doctor can order blood tests for you in these areas, but since I can't imagine most Doctors would encourage you rocking up every 3-4 months asking for blood tests, or the fact that you won't routinely be tested unless something is wrong, I think Thriva is an amazing service.
It's really made me think about my health and I feel quite empowered and reassured knowing what's going on in my body.
The baseline test from Thriva is £49 per test (a subscription that sends out a test every three months). Other tests are available which test different markers such as thyroid and diabetes.
You can find out more at Thriva.co.
Would you consider getting a home blood test like this?
*Thriva test gifted in exchange for honest review